EDITOR'S NOTE: This story first appeared in the Denton Record-Chronicle's 2019 football magazine. It has since been updated to include new information about Guyer and Ryan playing in their respective state championship games.
Nine years ago, Joey Florence paced the sidelines at AT&T Stadium as Ryan's head coach in an unprecedented Texas high school football event.
The Raiders were duking it out with Lake Travis in the Class 4A Division I title game, marking the beginning of a rare championship marathon.
With Guyer playing in the Class 5A Division II title game immediately after Ryan, it was the first time since 1962 that two schools from the same district played for a state championship.
Since 2010, the feat has not been replicated.
But it will be this weekend.
After winning their respective semifinal games this past Saturday, Guyer and Ryan are once again heading back to compete for a state championship.
The Wildcats knocked off Spring Westfield in Houston to advance to the Class 6A Division II final against Austin Westlake. Ryan completed a convincing 35-7 drubbing of No. 1 Frisco Lone Star to advance to the 5A Division I final against Alvin Shadow Creek.
For the second time in a decade, Guyer and Ryan rewrote the record books.
Except this time, Florence is getting to watch everything as Denton ISD's athletic director.
"It's just something you marvel at a little bit," Florence said. "It's one of those rare years. You just have to enjoy it while it's here, because it may not happen again. State championships in football in Texas are very difficult to win. Having two schools in the same year playing for it is pretty special."
History in the making
Down a long, vacant hallway at AT&T Stadium, Ken Purcell stood stoically, peering out a window.
The area was vacant, save from the occasional passerby. It was there that Purcell was afforded seclusion, something difficult to come by in a billion-dollar stadium that seats upward of 100,000 fans.
But on this day — Dec. 18, 2010 — Purcell had every right to escape the mayhem unfolding below. Purcell, then-Denton ISD's athletic director, had not one, but two teams vying for state championships a few hundred feet below him.
The angst, Purcell recalls, was at an all-time high.
"People didn't know this about me, but during ballgames when my teams were playing, I would go find a place away from the press box by myself if the games got really tight," Purcell said in August. "I was just too nervous to sit around a bunch of people. In that hallway there was a window with nothing there, and I ended up standing in that little area. I ended up watching both games from there."
Purcell's routine once he got to the stadium remained virtually unchanged, despite the magnitude of the upcoming title games.
The longtime athletic director arrived at AT&T Stadium roughly two-and-a-half hours prior to the 11 a.m. kickoff between Ryan and Lake Travis. Purcell made his way onto the field and chatted, like he always did, with Florence.
Normally, that would have been the end of it. Purcell would watch Ryan and call it a day.
But with Guyer playing immediately after Ryan, Purcell was in for an exceptionally unique marathon.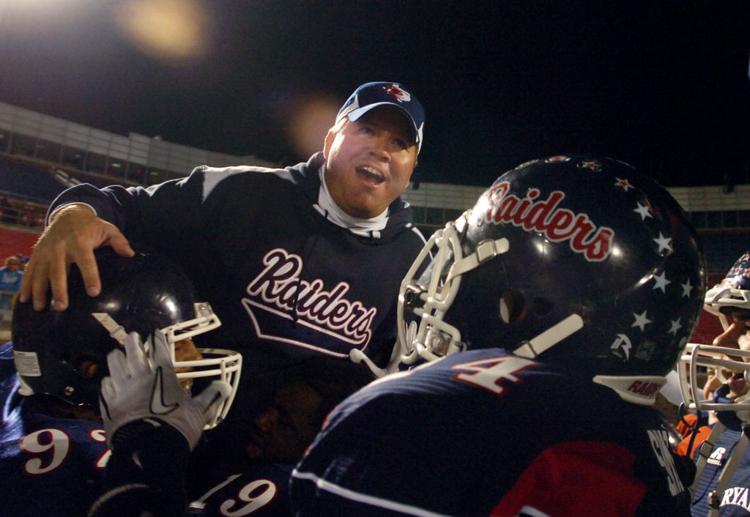 "You didn't think much about it at the time," Florence said in August. "Looking back on it now, it's impressive for a school district to do that. You knew you had two great football teams in Guyer and Ryan. We were really proud for Denton at the time. It was a great day."
High above the field in the lofts of AT&T Stadium, Purcell spent the next six hours nervously watching Ryan and Guyer battle but come up short. The Raiders fell to Lake Travis 27-7, and shortly after, the Wildcats lost a nail-biter to Cibolo Steele 24-21.
The experience, Purcell described, was a fantasy for any athletic director.
"It was a dream," Purcell said. "I had butterflies. It was really something to watch your teams go back-to-back at AT&T. There was a lot of pride in what our kids and the coaching staff had done. The only negative was that we ended up losing both games."
Deja vu all over again
Plenty has changed since that December doubleheader in 2010, but the consistency of the Wildcats and Raiders has not.
With 17 returning starters and a bevy of talent on both sides of the ball, Guyer coach John Walsh drew an immediate connection to his 2010 squad this past summer.
"This has a chance to be [one of Guyer's most talented teams]," Walsh said in August. "I think growing up in this program, these guys were all in elementary and middle school going to AT&T to watch those [past] teams play. I think the expectations have always been there for them. Now, they're going, 'Hey, we're one of those teams. That can be us.'"
Guyer already has several Division I starters, with quarterback Eli Stowers committed to Texas A&M and defensive lineman Grant Mahon pledged to Oklahoma State. Wide receiver Seth Meador will be off to Air Force after his senior year.
Running back Kaedric Cobbs and cornerback/wide receiver Deuce Harmon are among a host of other Wildcats with Division I offers who have yet to commit to a school.
"Denton, Texas, and Denton ISD is good at a lot of things, not just football," Walsh said. "That's the standard presented to us from the top — from [Denton ISD Superintendent] Jamie Wilson on down. It's a standard of excellence. Then, you throw in the fact that there are some pretty good football players running around Denton County."
For Ryan, that feeling is mutual.
"Obviously, it's pretty special to have two teams from the same district playing for a state championship," Ryan coach Dave Henigan said. "There's a lot of good players in this area. It's definitely exciting for both schools, the kids and coaching staffs."
In August, Henigan added that one of the keys for the Raiders over the past several seasons has been not fixating on what might happen in December. Instead, Ryan focuses on the day-to-day tasks while never losing sight of the bigger picture.
"I don't know if I'd call it pressure, but there's an expectation to win and to win every game," Henigan said in August. "That's the standard at Ryan, and it always has been. I knew that when I signed up for the job. I wouldn't want to coach anywhere else where that wasn't the expectation. I don't know if it's realistic, but we've come pretty close."
So far this season, Ryan has certainly lived up to that lofty expectation.
The Raiders enter Friday's tilt with Shadow Creek a perfect 15-0. Guyer, meanwhile, enters Saturday's matchup against Westlake sporting a 14-1 record.
Nine years ago, Guyer and Ryan made history, but came up short in the final game. The Wildcats and Raiders now have a chance to write the perfect storybook ending.
"It is going to be very enjoyable, but obviously, it will be even more enjoyable if we can bring two state championships home," Florence said. "I'm extremely proud. If you've been in this business long enough, you don't get a lot of opportunities like this. I know how rare they are and what it takes to get there. I'm proud for the city of Denton and for this school district."