Fifteen individual Denton-area athletes plus six relay teams punched their tickets to the state track meet in Austin this past weekend.
Athletes from Guyer, Braswell, Ryan, Argyle, Aubrey, Sanger, Ponder and Pilot Point all showed out at their respective regional meets. 
Denton ISD had five individuals in Braswell's Austin Kiser (110 hurdles), Guyer's Emma Alvord (400), Brynn Brown (1,600 and 3,200) and Grace Candeloro (high jump) and Ryan's Jackson Parrish (800) qualify for state. 
The Raiders' 4x200 relay team of Jordyn Bailey, James Lundy, Kalib Hicks and Austin Jordan and the Lady Wildcats' 4x100 relay team advanced, as well. 
Other local state qualifiers included Argyle's Sarah Runyon (100 hurdles), Courtney Schleder (300 hurdles), Ja'Liyah Patterson (200) and Sheridan Wilson (discus). Mitchell Thompson finished third in the pole vault and is currently awaiting to see if he will advance via the wild card.
The Eagles' 4x100 and 4x200 relays and the Lady Eagles 4x100 and 4x400 also moved on.
Aubrey's Braylon Colgrove (100), Sanger's Rylan Smart (discus) and Korbin Shumate (1,600), Ponder's Tate Wells (800) and Hayden Moussa (1,600 and 3,200) and Pilot Point's Caleb Holloway (Pilot Point) earned their spots in Austin, as well. 
Argyle overcomes adversity as Eagles take first, Lady Eagles second
Argyle had just wrapped up the first day at the Class 4A Region I meet in Lubbock and was back at its hotel last Friday night when an unforeseen medical emergency struck.
Jett Copeland, who runs on the Eagles' 4x100 and 4x200 relay teams, was riding in the elevator when Argyle's charter bus driver went into diabetic shock.
Copeland helped the bus driver to the ground and immediately got Argyle's trainer who, along with Argyle girls coach Greg Martin, called 911. 
"Fortunately, the [bus driver] is OK, but they had to fly another charter bus driver out to Lubbock to come take care of all the kids we had out there," Argyle boys coach Scott Styron said. "Not only did [the team] perform fantastic on both the boys and girls side, but they had to overcome adversity seeing what happened that night."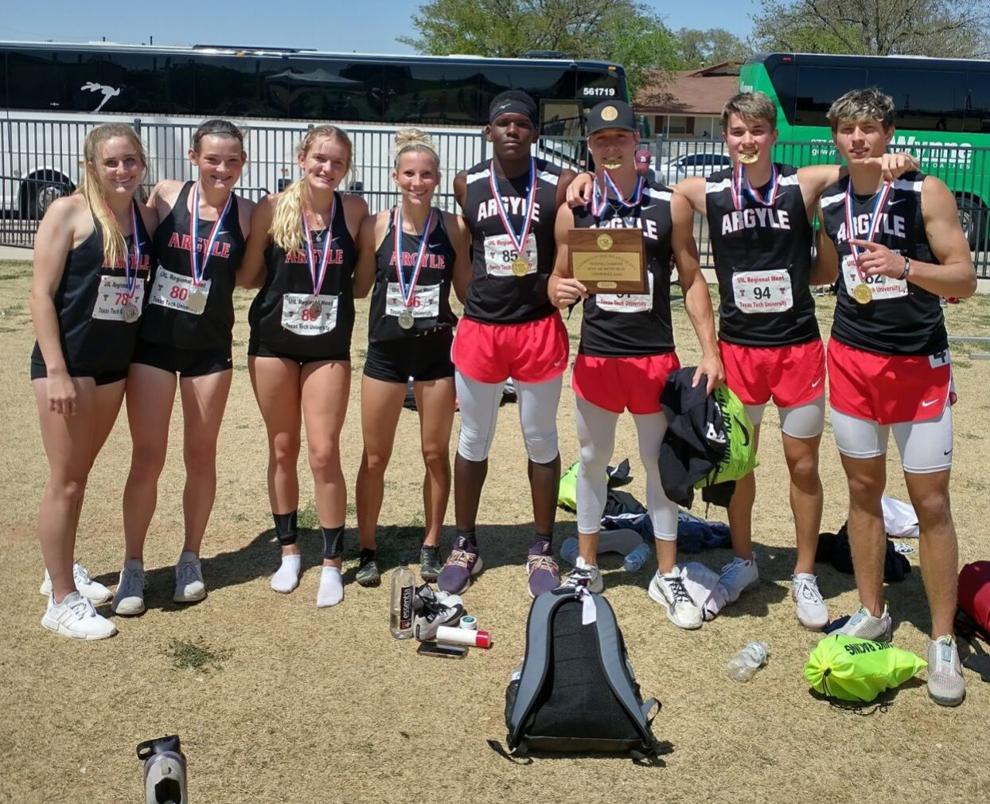 Argyle quickly put the unfortunate events from the previous night behind them and went to work on Saturday, as the Eagles captured the 4A Region I title while the Lady Eagles finished second.
Argyle edged district foe Decatur to claim the crown, finishing with 78 points to Decatur's 63. The Lady Eagles scored 82 points on the weekend. 
"I'm walking on cloud nine right now," Styron said. "I could not be more proud of a group of kids at all. Saturday, to be as focused as they were, we didn't have to say anything to them. It's unbelievable."
Guyer's Brown shatters another record en route to state bid
Guyer had to adjust on the fly over the weekend when heavy rain and storms on Friday forced most of the Class 6A Region I meet to be pushed back to Saturday.
The result was the Lady Wildcats battling fatigue on Saturday with prelims and finals in one day. But despite these challenges, Guyer still managed to send three individuals and its 4x100 relay team to Austin.
And, if that weren't enough, Brynn Brown shattered another record, posting a 9:59.18 in the 3,200. The time broke the 6A Region I record, and according to TexasTrack.com, is the new high-water mark for the state. The previous record of 10:01.34 was held by Chelsey Sveinsson of Addison Greenhill Academy, set back in 2009.
"After a chaotic, rain-delayed Friday that left us with running prelims and finals all in the same day, we got to witness our girls step up and handle the last-minute changes with ease and confidence," Guyer girls coach Megan Sprabeary said. "Nothing about Saturday came easy for the girls, but in the end we get to take lots of girls to Austin. 
"It was a rewarding day for us coaches. These girls love one another, and it makes their accomplishments that much sweeter."
Here are the full results from the regional track championships this past weekend.
Class 6A Region I
Boys 110 hurdles
2. Austin Kiser, Braswell, 14.33
Girls 400
1. Emma Alvord, Guyer, 56.87
Girls 1,600
1. Brynn Brown, Guyer, 4:46.85
Girls 3,200
1. Brynn Brown, Guyer, 9:59.17
Girls 4x100
High jump
2. Grace Candeloro, Guyer, 5-4
Class 5A Region I
Boys 4x200
2. Ryan, 1:27.08 (Jordyn Bailey, James Lundy, Kalib Hicks, Austin Jordan)
Boys 800
2. Jackson Parrish, Ryan, 1:52.53
Class 4A Region I
Girls 4x100
2. Argyle (Sarah Runyon, Savannah Underwood, Kiera Inman, Trinity Carter), 49.07
Boys 4x100
1. Argyle (Jaemael Felton, Riley Page, Hayden Stewart, Jett Copeland), 42.19
Girls 100 hurdles
1. Sarah Runyon, Argyle, 15.41
Boys 4x200
1. Argyle (Jaemael Felton, Jett Copeland, Hayden Stewart, Riley Page), 1:28.38
300 hurdles
2. Courtney Schleder, Argyle, 46.06
Girls 200
2. Ja'Liyah Patterson, Argyle, 25.70
Girls 4x400
2. Argyle (Courtney Schleder, Kiera Inman, Savannah Underwood, Ja'Liyah Patterson), 4:00.09
Boys discus
2. Sheridan Wilson, Argyle, 155-06
Class 4A Region II meet
Boys 100
1. Braylon Colgrove, Aubrey, 10.61
Boys 1,600
2. Korbin Shumate, Sanger, 4:25.76
Boys discus
2. Rylan Smart, Sanger, 167-01
Class 3A Region II
Boys 3,200
1. Hayden Moussa, Ponder, 9:52.86
Girls 800
1. Tate Wells, Ponder, 2:20.84
Boys 1,600
1. Hayden Moussa, Ponder, 4:33.47
Boys shot put
2. Caleb Holloway, Pilot Point 47-1.50