Late in the fourth quarter on Thursday night, Guyer found itself locked in an unexpected battle with Hebron.
Trailing by one with under five seconds left, the Lady Wildcats forced a Hebron turnover to get the ball back underneath its own basket. Guyer had been completely out of sync all night, but suddenly had a chance to escape with a victory.
The Lady Wildcats inbounded the ball, but the pass went off the fingertips of Evie Goetz, who was forced to heave an off-balance, contested shot which did not even graze the rim.
Hebron, the No. 4 seed from District 6-6A, had completed the improbable, upsetting Guyer 54-53 at Denton High School to claim the Class 6A Region I bi-district title.
"It's terribly disappointing," Guyer coach Aimee Kilgore said. "We're so fortunate to have such a great senior class. Obviously, Bella [Earle] and Evie have been major contributors for us. It makes me sad for them, because I know this is not the way they wanted this to end. It's just disappointing that it was cut way shorter than we expected."
Guyer trailed 51-45 with 31.1 seconds left, but two quick baskets from Bella Earle and a layup by Mariah Watson gave the Lady Wildcats a chance at the end.
After Hebron split a pair of free throws to make it 54-51, Watson scored to pull Guyer to within one. The Lady Hawks then turned the ball over on the inbound pass, setting the stage for the Lady Wildcats' last-second shot.
"I'm super proud of their effort at the end of the game," Kilgore said. "They did a phenomenal job of getting stops and scoring.
"We were just out of sync. We couldn't get anything going."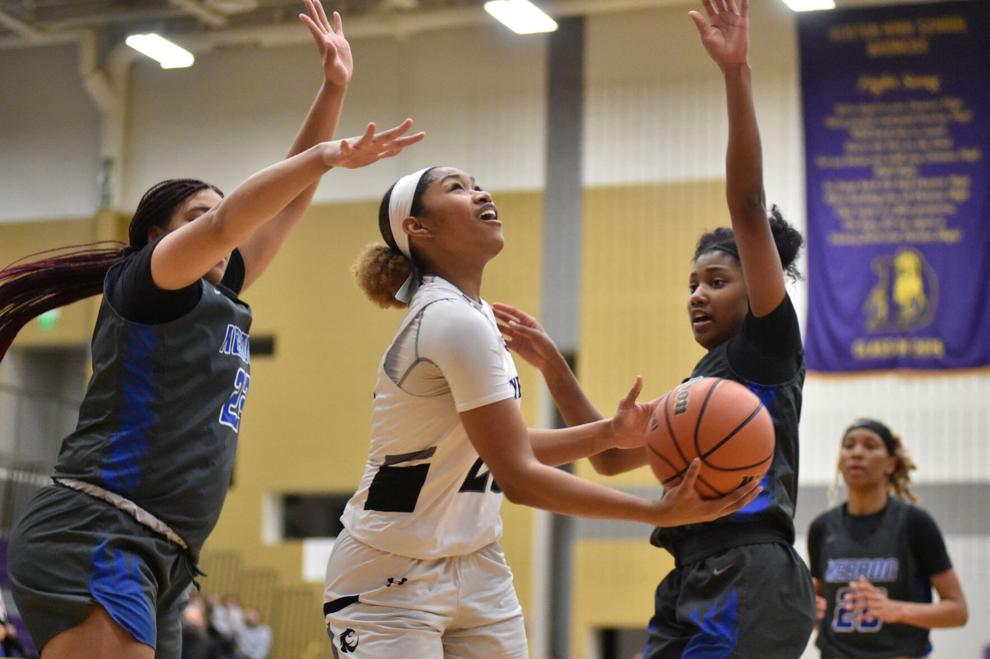 Guyer tied the game at 27-27 going into halftime on a Chelsea Pierce 3-pointer to beat the buzzer, but Hebron see-sawed back in front in the third quarter, using a 7-0 run to take a 38-31 lead.
The Lady Hawks applied full-court pressure for most of the game, preventing the Lady Wildcats from settling into a rhythm offensively.
"[Hebron] did a great job and played super hard," Kilgore said. "We just didn't do the things we do. We've seen pressure before, and we just didn't do what we normally do and stick to our DNA."
Goetz cut Hebron's lead to 40-35 entering the fourth quarter, and she hit several big shots down the stretch to keep Guyer within striking distance. The TCU signee tallied 15 points, while Earle led the Lady Wildcats with 16.
But ultimately, it wasn't enough, as the Lady Hawks avenged their loss to Guyer in last year's bi-district round.
The Lady Wildcats end their season at 19-6 overall. Guyer won a share of the district title for the third straight year and entered the playoffs as the No. 1 seed from District 5-6A.
Guyer will graduate several seniors, including Goetz, Earle, Pierce and Eryka Patton. The Lady Wildcats will return Watson, Hailey Mason and KK Jones, among others.
"I am by far one of the most fortunate coaches," Kilgore said. "I have an amazing coaching staff, and I'm fortunate to coach an amazing group of young ladies. It saddens me for the girls for it to be over. I'm so glad that we got to have a season. This year was unlike anything else, and the last year has been hard for people, so I'm grateful that we got to play."