The result was Guyer not getting to hold spring football practice, forcing the Wildcats to wait over four months until they were able to get on the field with their new coach.
Guyer still managed to make a return trip to the Class 6A Division II semifinal last season, but Webb acknowledged several times the lack of a traditional spring practice was challenging.
Those days are long gone now.
The Wildcats have been able to get back to their usual spring practices over the past several weeks, and Guyer will cap its productive spring with an intrasquad game at 7 p.m. Thursday at Guyer.
"It's been really refreshing to be able to get out and have a complete spring," Webb said. "A lot of the things you can slow down and focus on fundamentally are going to pay big dividends for us in the fall. A lot of the things we felt like we didn't have the opportunity to get good at, we've gotten good at those things this spring. Just being able to slow down and focus on core concepts in the spring, and you're not spending every minute of the spring game planning. You're focused on you rather than the opponent."
Guyer lost several key players to graduation, including All-American cornerback Deuce Harmon, 6A Defensive Player of the Year Cooper Lanz and quarterback Eli Stowers, among others.
But the Wildcats have plenty of talent waiting in the wings, and Stowers' successor is a well-known name around Guyer.
Soon-to-be junior Jackson Arnold will take over the starting quarterback job in the fall. Arnold already holds offers from Ole Miss, Arkansas, Michigan State and North Texas, and he is perhaps best known for being inserted in the 2019 6A Division II state title game as just a freshman when Stowers went down with a knee injury.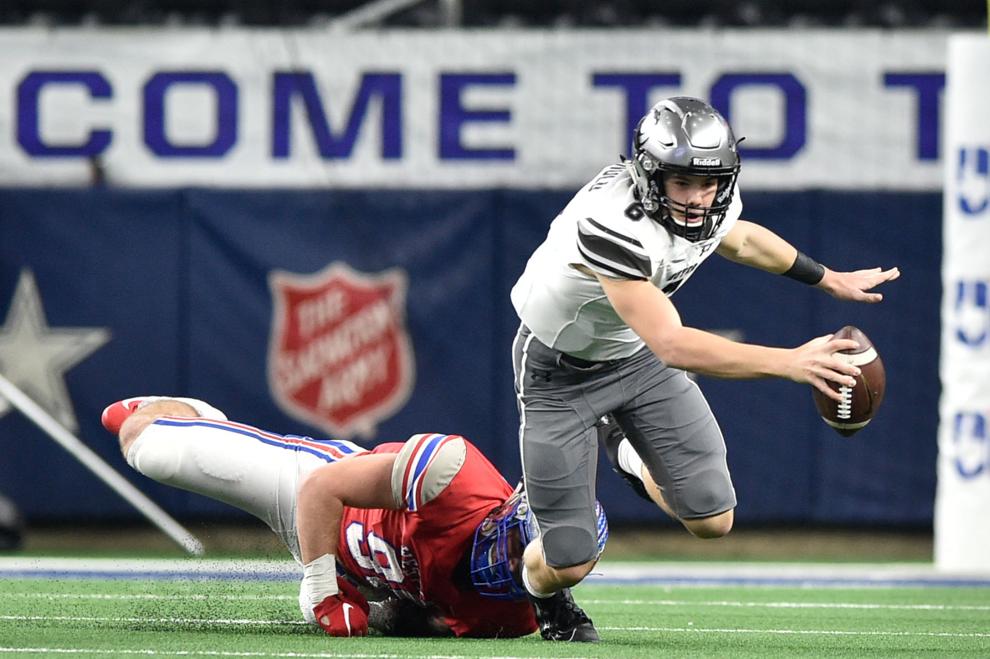 Arnold has matured quite a bit since that game two years ago, and Webb said he has looked sharp this spring.
"Jackson has been everything that we were expecting him to be in the spring," Webb said. "He's a tremendously talented kid. He has great leadership qualities. We aren't really spending any time on quarterback run game in the spring, so there's an entire element of the offense he brings that we haven't unwrapped yet.
"For him in the spring, it's all about throwing the ball and getting it distributed to people. But there have been a couple of spots in the spring where he's had to tuck and run it, and you get a glimpse of a whole different branch of his game."
Defensively, Guyer should have no trouble filling the void left by Harmon, Lanz and others.
The Wildcats have several explosive players on that side of the ball, including four-star defensive backs Peyton Bowen and Ryan Yaites, safety Marquan Pope and defensive lineman Rowan Briggs, to name a few.
Each of those four players hold multiple collegiate offers and have valuable varsity playing experience. Webb noted the defense has dealt with some injuries this spring, but when they are at full strength, expectations are high.
"The thing that has impressed me about us defensively is our speed," Webb said. "We've got kids that can really run. We've held some kids out on both sides of the ball — guys that were injured coming into the spring and guys that have gotten dinged up in the spring — so we haven't had a single day of the spring where we've had all of our guys out there on either side of the ball. But we do feel like when that unit is healthy and on the field at the same time, they have a ton of potential."