Between Kentucky commit Jordyn Williams, Alabama commit Brooke Slusser and sophomore phenom Kyndal Stowers, Guyer coach Heather Van Noy has plenty of offensive weapons at her disposal.
But on Tuesday night, it was the Lady Wildcats' defense — particularly Stowers' — that Van Noy needed the most.
Trailing Allen by nine in the third set of a tied game, Van Noy watched as her defense, spearheaded by Stowers, ignited a 12-3 Guyer rally.
And, moments later, Slusser put down one of her 11 kills to complete the comeback, as the Lady Wildcats rallied to take down Allen 25-23, 22-25, 28-26, 25-23 for their eighth consecutive victory.
"I think tonight our defensive effort was there," Van Noy said. "We were out of system a lot. They were swinging at us. We were able to calm our offense down a bit, but I think our defensive fight is what kept us in that [third] set.
"They just fight. They don't give up."
Stowers ended the match with a team-high 16 kills and 26 digs. During Guyer's run in the third set, she sprawled out to keep several shots in play while also burying multiple timely kills.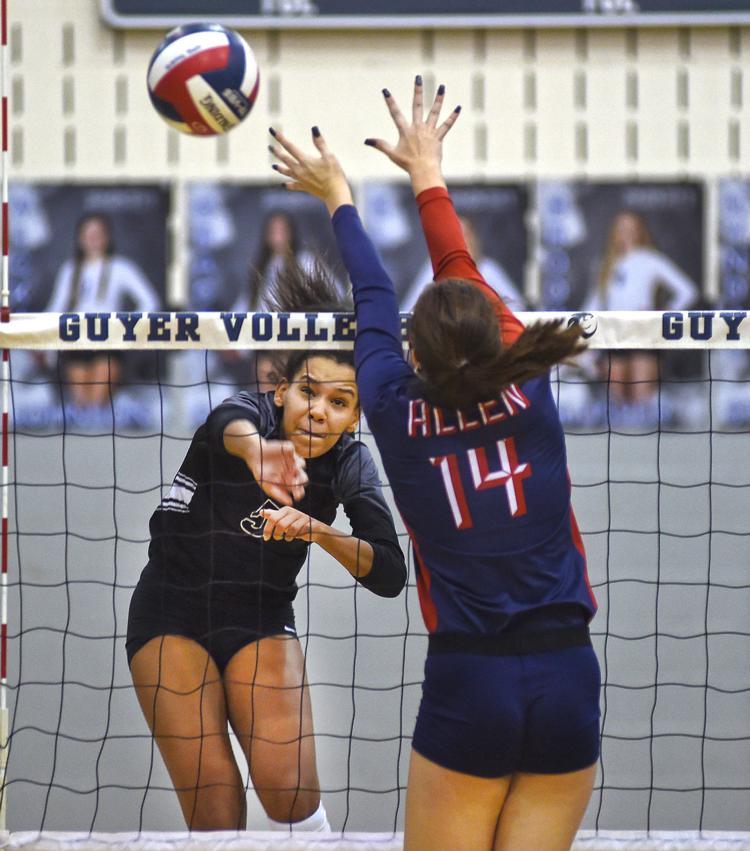 "Kyndal is obviously one our biggest offensive threats, and I always expect high numbers from her," Stowers said. "For me, tonight, she impressed me with how she was defensively. She had 26 digs. She played out of her mind. In one rally, she went back and forth to the right side and left side four times. And then she was set back row and got the kill.
"I just think she's such a dynamic player. I'm really lucky she's a sophomore."
Guyer controlled most of the first set and held off a late push from Allen to take a 1-0 lead. Slusser set Williams for the clinching point, but from there, the Lady Eagles started to gain momentum.
The Lady Wildcats fell into an early hole in the second frame they were never able to climb out of despite making another late run, as Allen evened the game at 1-1.
But the trio of Stowers, Slusser and Williams led the charge for Guyer in the third set and again in the fourth, as the Lady Wildcats held on to pick up a key district win.
Slusser finished with a triple-double, adding 18 digs and 33 assists to her 11 kills. Williams tallied 14 kills.
Guyer improved to 10-4 overall and 9-2 in District 5-6A with the victory. The Lady Wildcats will close out the regular season on Friday against McKinney on the road.
"It's huge," Van Noy said. "We need Friday's win to solidify second place. We just need a win in general for momentum going into the playoffs."