PROSPER — Keith Medford took his time as he walked to the circle to retrieve the ball from senior Ranci Willis on Thursday night.
Guyer's coach put his arm around his starting pitcher before Willis left the field to a chorus of applause from the Guyer faithful.
Willis had battled Prosper's lethal lineup for the past two days and did her best to hold them in check — but she was running on empty.
"This never gets any easier with seniors, and especially for pitchers," Medford said. "She was out of gas. She's a warrior — always has been. She's going to go down as one of the best pitchers to ever come through here, and we've had some good ones.
"I just had a little moment with her, said I was proud of her and that she had nothing to be ashamed about, and I loved her."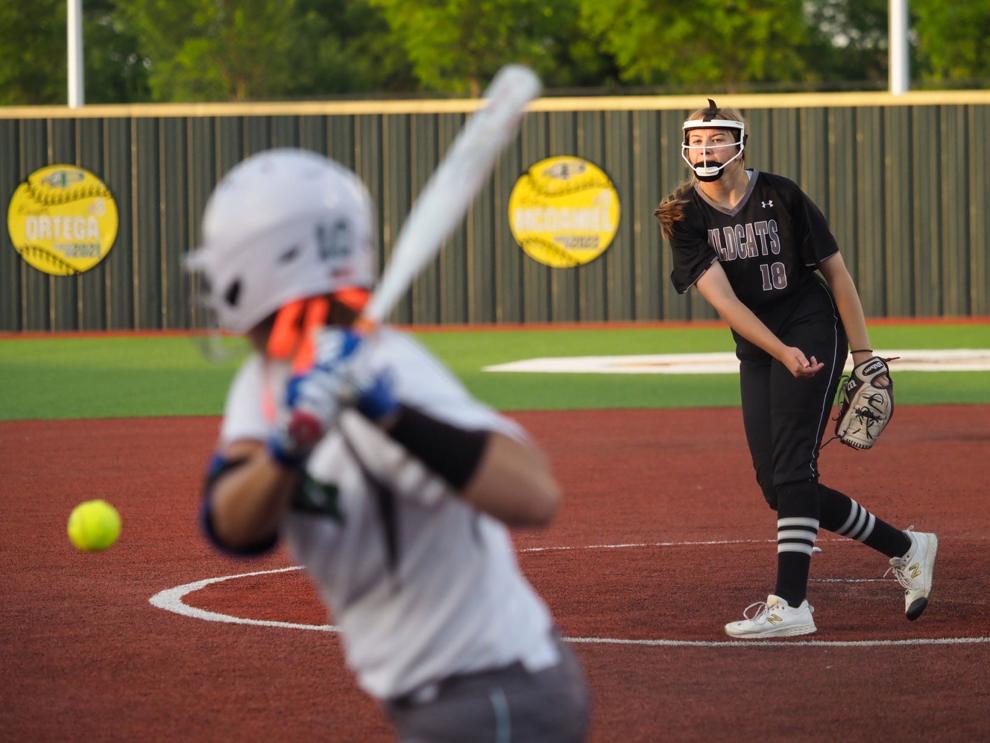 After walking the bases loaded, Willis' first pitch to Mississippi State commit Gabby Coffey ran inside and hit her.
The RBI hit-by-pitch prompted Medford to make a pitching change, and the Lady Eagles' lineup — which had been on the verge of exploding the last two days — finally had ignition.
Prosper added two more runs in the frame on a two-RBI single by Elizabeth Moffitt, as the Lady Eagles ended Guyer's playoff run with a 6-2 victory in Game 2 of the Class 6A Region I quarterfinal.
"Hats off to Prosper," Medford said. "They're a great team. I wish them nothing but the best. I hope they go win it all, honestly. [They have] a great group of kids and coaches. They're a class act over there — and they're the real deal."
Prior to her fourth-inning exit, Willis nearly wiggled out of a bases loaded jam in the third inning. But the Texas Tech signee issued a walk to Ayden Allen, forcing home a run to give Prosper a 1-0 lead.
Alli Stidham entered in relief of Willis in the fourth, and after surrendering the two-run single to Moffitt, minimized the damage by getting Maryland commit Sydney Lewis and Josey Dodgson to ground out.
B4: Alli Stidham is thrown into one of the toughest situations imaginable with the bases loaded against this Prosper lineup.

Elizabeth Moffitt promptly greets her with a 2-RBI single. Prosper extends its lead to 4-0, and they are on the verge of blowing this open. #txhssoftball pic.twitter.com/T7MtvV9qt1

— Reece Waddell (@ReeceWaddell15) May 14, 2021
Prosper tacked on two more runs in the bottom half of the fifth courtesy of Guyer fielding errors. The Lady Eagles scratched across a run on a bunt and dropped ball at first base, and they later scored on an errant throw during a run down between second and third.
Guyer loaded the bases in the fifth, sixth and seventh innings, but the Lady Wildcats were only able to turn those opportunities into one run. Erin Peterson plated a run in the seventh on a two-out RBI single into center, but a baserunning blunder at second base extinguished any hope for a Guyer rally.
FINAL: Prosper 6, @GuyerSoftball 2.

Prosper wins Game 2 and sweeps the 6A Region I quarterfinal series.

Guyer loaded the bases in the seventh and Erin Peterson laced an RBI-single into center, but a base running blunder costs them.

Guyer's season ends at 24-5-1. #txhssoftball pic.twitter.com/frcM3YH2ws

— Reece Waddell (@ReeceWaddell15) May 14, 2021
"I think what's going to get lost is everyone talks about their lineup, but I've got a newsflash, their pitching is pretty good, too," Medford said. "It may not be as flashy as other people's, but it gets the job done. You've got to give them a lot of credit for that."
The Lady Wildcats' season ends at 24-5-1 overall.
After not getting to finish the 2019-20 season due to the COVID-19 pandemic, Guyer responded with a trip to the third round a year later. And for that, Medford said he couldn't be prouder.
"I'm disappointed in the result, but I'm not disappointed in our kids," Medford said. "I thought they fought their tails off last night and tonight. They left their legacy like they would want to. I'm super proud of them."