History will be made at C.H. Collins Athletic Complex on Friday night, as Guyer and Braswell square off for the first time.
Both teams go fast. Both teams have explosive players. And both teams can score a lot of points in a hurry.
"Offensively, [Braswell] is as good as anybody around," Guyer coach Rodney Webb said. "They really are. They've got all the parts. They have a couple of elite receivers, a massive offensive line and a quarterback that can beat you with his arm or his legs."
The Bengals have scored 58 or more points in three of their six games this season, including a 68 point outing in their win over Little Elm last week.
Braswell is led on offense by senior quarterback Tristan McClary, who threw for 285 yards and four touchdowns against the Lobos. He also added 104 yards and a touchdown on the ground.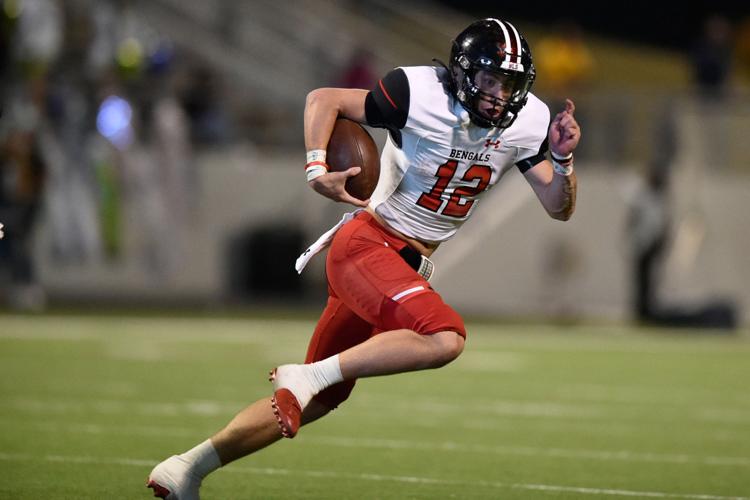 But Guyer is just as powerful on offense led by quarterback Eli Stowers. The Texas A&M commit accounted for all three of the Wildcats' touchdowns last week, including the game-winner as time expired to send Guyer home with a 24-23 win over Prosper.
"They're extremely talented on both sides," Braswell coach Cody Moore said of Guyer. "I think the things that we have to do are really no different than the things we tried to do [against Little Elm]. At this point in the season, you really are who you are. We're just going to try to get better at the stuff we do. There's not much that [Guyer] doesn't do well."
The Wildcats are averaging 42.8 points per game and have scored 55 or more points in three of their five games.
But in the two games in which Guyer managed just 20 and 24 points, including last week's narrow win over Prosper, opponents were able to generate pressure on Stowers.
Moore said while making Stowers uncomfortable in the pocket is important, he knows the danger of bringing pressure and not getting home.
"That's a double-edged sword," Moore said. "You get pressure on [Stowers], and then he breaks. He's hard to tackle. He's fast in the open field. When you do decide to bring pressure, you better land it. Otherwise, he's going to go score."
For Guyer's defense, the challenge will be containing Braswell's two elite receivers in Cam Smith and JK Carter.
Carter has caught 33 passes for 544 yards and six touchdowns, while Smith has reeled in 30 catches for 475 yards and seven scores.
"They're just a matchup problem," Webb said. "The passing game in this offense isn't conceptually based. It's matchup based. They present matchup problems, and the problem is you can't really double both of those guys without playing a light box. And then they're good enough in the run game with that massive offensive line to beat you up running the ball.
"That's the matchup issue. You have to try and find a way to scratch where it itches a little bit."
Adding to the drama of Guyer and Braswell's first meeting is the playoff implications for both sides.
A win for the Wildcats would likely set up a de-facto District 5-6A title game next week against Allen.
Braswell, meanwhile, needs a win to keep pace in the highly competitive district after the Bengals stumbled in their league opener against McKinney Boyd.
"I think [this game] is good for the kids, community and fans," Moore said. "The one thing I think Rodney and I are willing to embrace is a healthy rivalry within a school district is a good thing. That's not a bad thing. Hopefully there's a good crowd there. Hopefully we can give them a game and stay on the field with them. We're going to have to play really well to do it."