Olivia Ramirez has never been one to shy away from clutch moments.
In Guyer's bi-district playoff match against Hebron last year, Ramirez found the back of the net with seconds to spare, breaking a scoreless deadlock to send the Lady Wildcats into the area round.
And she did it as just a sophomore.
"I just like playing in big games," Ramirez said. "It's exciting to me with all the fans there. It makes me want to win."
Ramirez ended last season with 24 goals and eight assists, setting the stage for what Guyer coach Mandy Hall knew could be a special 2020 campaign. Ramirez came into this season with 72 points, well within striking distance of becoming just the third player in school history to eclipse the 100-point plateau.
By early February, Ramirez was up to 87 points. Hall knew it wasn't a matter of if Ramirez got to 100 points — it was when.
Hall grappled with whether or not to tell Ramirez she was closing in on the milestone, but eventually decided to.
"I was hesitant to tell her. I didn't want to put any pressure on her because there's already so much," Hall said. "She's man-marked in almost every game we play. But I was really excited and I have a hard time keeping that stuff quiet."
Over the next few weeks, Ramirez started keeping tabs on her point total, along with her coach.
"[Coach Hall] told me a few weeks ago how many points I had, but she told me, 'No pressure, you have a year-and-a-half to break it,'" Ramirez said. "So I started keeping track of how many points I had."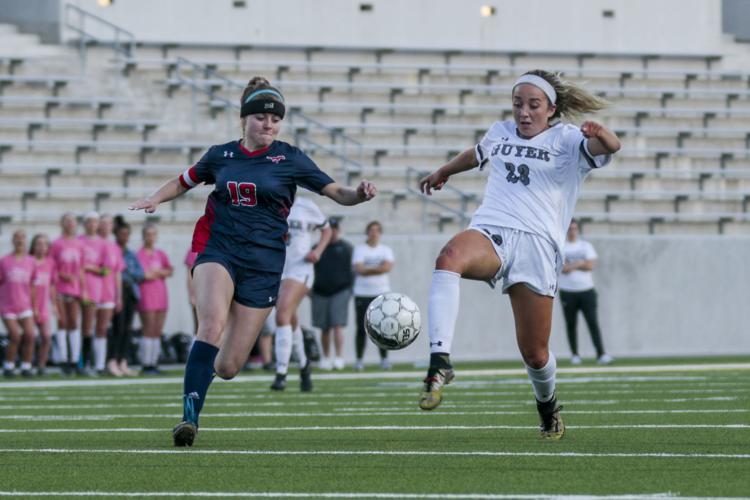 Going into last Friday's match against Keller Central, Ramirez was still five points away from reaching 100. But in typical Ramirez form, the Iowa State commit had yet another huge game, scoring twice while assisting on two goals for a six-point outing.
Ramirez was sitting on 99 career points before scoring her second goal of the night late in the second half, lifting her to 101 points.
"I didn't think like I was going to score again because there wasn't that much time left," Ramirez said. "Our center back played me the ball, and I did a give-and-go."
The Lady Wildcats went on to beat Central 5-0, all while celebrating Ramirez's accomplishment. Guyer's leading goal scorer became the only player in school history to reach 100 career points at the Class 6A level.
After Tuesday's win over Southlake Carroll, Ramirez is now at 102 points.
For Ramirez, while the achievement is special, she is focused on helping her team win any way she can. The Lady Wildcats are currently 11-2-3 overall and 6-1-2 in District 5-6A, five points behind first-place Trophy Club Nelson with five regular season games left.
And for Hall, she knows Ramirez will play a pivotal role in Guyer's playoff push now, and next year, too.
"She's such an important piece of our program," Hall said. "I think it's significant that she [reached 100 career points] as a junior. I'm excited that she's made this milestone but still has another year. She's a humble kid. But watching her hit these milestones — she's such a deserving kid that works. These things don't just fall on her. She earns them and she celebrates them with her teammates."