Jimmy Avery has seen a lot of basketball in his 35 years of coaching, but Ponder's girls basketball coach struggled to find the words to describe the group he was in charge of leading this season.
Unique would be too easy. Impressive would sell this group short. Eventually, he found an adjective, but it was more effective to follow it up with an anecdote.
"It's hard to describe them," Avery said with a pause. "They're so tenacious. Like in the game we got beat by Pottsboro, we had eight shots in the last thirty seconds. That's a testament to their energy, their defense, rebounding. They try so hard to win games and that's just them.
"They know that energy can turn a game around."
A lot of this frenetic energy is calculated. Avery's team plays his patent full-court press in every game until the score gets out of hand in the Lady Lions' favor.
Countless steals, jump balls and points off turnovers helped fuel Ponder once again this season. Opponents see it as chaos, but Avery's players see the game differently. And as a result, the Lady Lions won their second straight district title on Feb. 11 with a 50-30 win over Pilot Point.
Ponder ended the regular season 22-10 overall and 11-1 in District 9-3A.
"[Our style] kind of settles the nerves because we get going right from the start," sophomore guard Tate Wells said. "Usually if we get a lead we get even more energy and we start clicking and working together. We've done this since eighth grade, so we know how to press."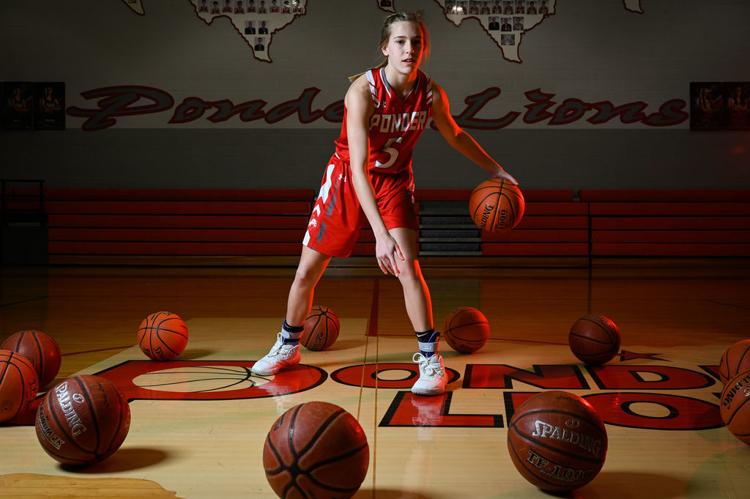 Wells is only two years removed from those middle school days and is in her first full season on varsity, yet she leads the Lady Lions into the postseason as their leader in numerous statistical categories.
Wells isn't alone in her youth, though, because the entire starting lineup is now her age or younger.
The lone senior in Avery's rotation this season was Kelley Akins, but a knee injury against Whitesboro on Feb. 7 ended her season and left the Lady Lions with only one upperclassmen in their seven-player rotation.
Avery started four sophomores and one freshman against Pilot Point and will do the same for the duration of the upcoming playoff run. It's another reason why Avery struggles to define this team.
"These kids love basketball and come to work every day," Avery said. "It's hard for me to remember when I was 16, but I do remember loving the game and not getting enough of it, and they're kind of like that. They've grown up a lot in the past two years and they're getting more comfortable and playing with confidence.
"They just have no fear."
Wells leads the team in scoring at 12 points per game, but sophomore Karley Ivy is right behind at 10.5. Akins was averaging 9.2 points before her injury, but has continued to provide inspiration for the team on the sidelines.
Featuring five sophomores, one freshman and one junior, the playoff pressure could be a question, but that's the least of their concerns. After a challenging non-district schedule including larger schools like Decatur, Byron Nelson, Euless Trinity, Azle and Bridgeport, the group feels seasoned and ready to play anyone.
"Our schedule was our main confidence booster," Ivy said. "Then just having everyone on our team going through the same thing together and being so close off the court, I think that's really helped us gain confidence. And our parents and coaches always have our backs."
At 5:30 p.m. every day, the gym at Ponder is still buzzing. Avery's practices end at 5, yet most of the girls are still there. Several of their mothers work at Ponder and don't mind staying later as they get more shots up.
The district champs need more reps. The Lady Lions won their 11 district games by an average of 36.3 points with their lone loss coming by one, yet they crave those extra 30-45 minutes after practice.
The work ethic amazes Avery, but the results surprise no one.
"I'm not really [surprised at our success]," Wells said. "We worked so hard this summer and this year. We did crossfit and a bunch of other stuff, so I feel like we've earned it as a team."
Last year, there were multiple seniors leading Ponder into the postseason, including star talent Kaia Williams. This time around, it's the new generation, and they're hungry to prove that the present is just as bright as the future.
The Lady Lions face Whitewright at 6 p.m. on Tuesday at Prosper High School, in hopes of claiming their fourth straight bi-district title.
Regardless of how long this year's playoff run lasts, Avery understands why this year is special. Any superlative could describe their ability, but it's the heart of his young team that constantly reminds him why he loves the game.
"It gives me peace of mind knowing they're going to give it all they got," Avery said. "That's just what they do. They know what it takes to win and they love to compete, so if we lose it won't be because we didn't give the effort."