The 2019-20 season was a historic one for Guyer, Braswell and Lake Dallas.
For the Lady Wildcats, that meant finishing with their best single-season record in school history. For the Lady Bengals, it meant winning a share of their first district title and first playoff game. And for the Lady Falcons, it meant making an exhilarating run to their first region semifinal appearance in more than a decade.
As a result, all three schools had several players and coaches take home all-district awards for their efforts.
In District 5-6A, Guyer junior Bella Earle was named MVP. Earle led the Lady Wildcats in scoring, averaging 15.6 points per game. She was also selected to the Texas Girls Coaches Association 6A all-state team.
Guyer's Evie Goetz was one of 5-6A's Offensive Players of the Year. The TCU commit poured in 15.1 points per night while shooting 50% from beyond the arc.
Aimee Kilgore and her staff were named 5-6A's Coaching Staff of the Year, guiding the Lady Wildcats to a 31-6 record.
Guyer also had Texas A&M Corpus Christi signee Jade Thompson tabbed to the first team, while UT-Permian Basin signee Morgan Helgesen earned a spot on the second team.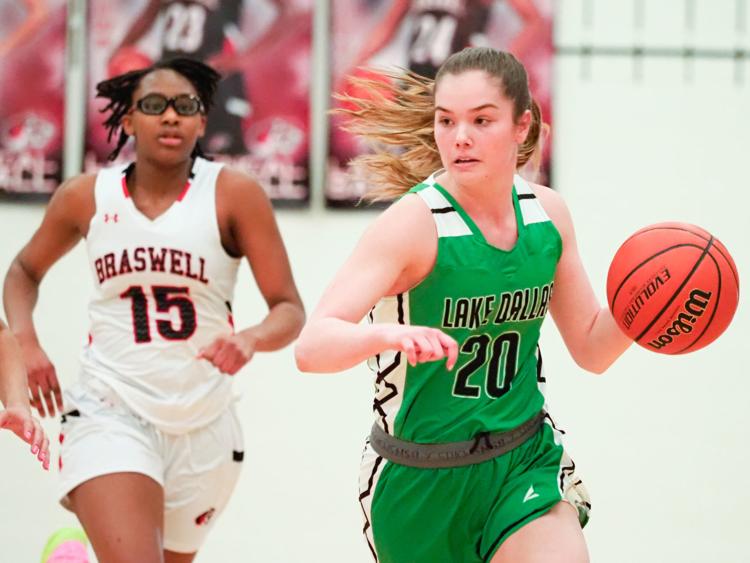 In District 8-5A, Lake Dallas' Josephine Elliott averaged 11.3 points per game to earn MVP honors. Elliott shot 34.6% from 3-point range and dished out 5.2 assists per game.
The Lady Falcons finished as co-champions of 8-5A with Braswell and ended the year with a 21-7 record.
Braswell first-year coach Lisa Williams and her staff were named 8-5A Coaching Staff of the Year, leading the Lady Bengals to a 26-7 record.
Braswell had three players — Alisa Williams, Tiarah Starks and Aminah Hall — named to the first team. Williams led the Lady Bengals in scoring with 10.8 points per game. Starks averaged 7.2 points per game, while Hall tallied 7.6 points per night.
The Lady Bengals also had Achlie Brown and Kamryn Gibson tabbed to the second team.
Lake Dallas' first team selections included Dorian Norris and Jorja Elliott. Norris led the Lady Falcons in scoring, averaging 13.7 points per game while Jorja Elliott averaged 12.9. Bailey Broughton was a second team selection for Lake Dallas.
Ryan's Larissa Moser earned a spot on the first team. Her versatility was critical for the Lady Raiders all season. Janiah Allen was a second team selection for Ryan.
Jateija Brown was named to the first team for Denton, while her teammate, Katory Roger, earned a place on the second team.