Four years have passed since Braswell High School opened its doors in August 2016. In that span, the girls basketball program has been built from scratch, just like every other athletic program on campus.
But it has not been without its own unique challenges.
There have been three head coaches to lead the Lady Bengals since 2016, but none has found success quite like Lisa Williams. In her first season at the helm, Williams has catapulted Braswell to as high as No. 8 in the Texas Association of Basketball Coaches Class 5A poll.
Braswell currently sits at No. 15 in the TABC rankings with a 25-5 record. The Lady Bengals are 10-1 in district play and undefeated at home at 11-0. And as a result, people are taking notice with what is happening in Little Elm.
But for Williams, the rankings don't mean much.
"To be honest, I don't keep up," Williams said. "I don't even check them. Someone will text me, email me, or bring it up in conversations, and that's when I'll know where we're ranked. I tell the girls what matters is what you do on the wood."
Williams knew when she arrived that she could find success with the group she had. There was a mutual respect between the players and new head coach, who was taking her first head coaching job.
Williams immediately got to work instilling what she thought was important to the culture she wanted her program to be based on.
And when it came to basketball, Williams knew she wanted a defense-first approach. In her mind, defense determines whether you win or lose.
Braswell has only allowed more than 50 points in four games this season, while the Lady Bengals' offense has eclipsed 60 points nine times.
But Williams' favorite thing about this group is something she gets to experience every day.
"They just love the game of basketball," Williams said. "There's not a day that they don't come in here with the intention to work hard. Some days, they work harder than others. But every day they come into the gym and work very hard."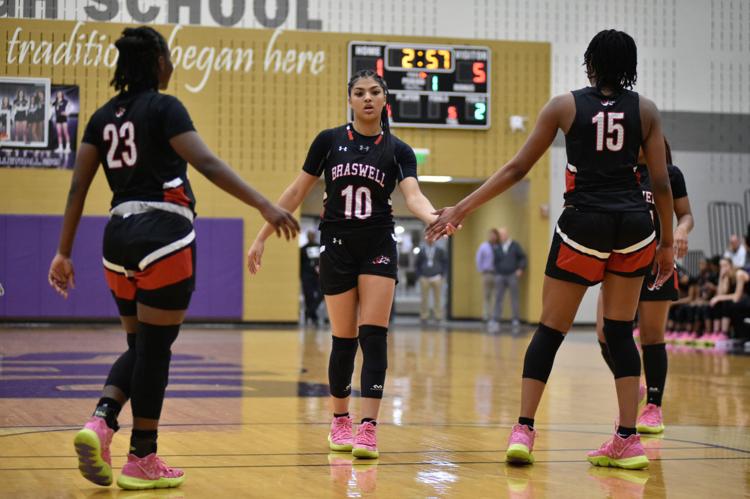 The 2020 class is the first class that has spent all four years of high school on Braswell's campus. For senior captain and Incarnate Word commit Kamryn Gibson, the chance to do something special is not lost upon her or her teammates.
Most of the girls have been teammates and friends since middle school.
That relationship means a lot to Gibson, who is determined to finish what her and her teammates started back in 2016. The opportunity to etch their names into Braswell history with the Lady Bengals' first deep playoff run is just icing on the cake.
"It's not hard to tell each other when we are messing up, or when we are playing well," Gibson said. "We've definitely set a foundation for our program. It's been hard, with all the dynamic switches, coach switches, but I feel like we've been able to make a home for everybody. As seniors, we've wanted to make everybody feel equal and valued. We are getting all this attention, but we're still able to come back and realize we have more work to do."
With just one game remaining in the regular season, Braswell is in prime position to take home its first district title. The Lady Bengals can clinch their first district championship with a win on Tuesday against The Colony.
And by doing so, set the standard for years to come.
"These seniors and this team have a chance to do something that has never been done," Williams said. "With the record we have now, that's pretty evident. They show that every day when they come to practice. They work incredibly hard. The work they do is representative of what this program needs to be."