Over the past three seasons — and really, in Todd Rodgers' 18 years as Argyle's head coach — the Eagles have been a model of consistency.
Year in and year out, Argyle is always in the state title conversation. The Eagles made the state title game four times between 2011-15 and overall have made five championship game appearances. And, if that weren't enough, Argyle has won 12 consecutive district championships and 55 straight regular season games.
Since 2018, Argyle is a combined 38-2, including a perfect 12-0 mark this season. The Eagles' only two losses in that span? Both to Waco La Vega, and both were season-ending losses in the region final.
For as dominant as Argyle has been, if there has been a stumbling block for the juggernaut Eagles, it has been La Vega.
Rodgers, of course, knows this.
And he also knows Argyle's struggles the past two years will be a topic of conversation for many, as the Eagles prepare for yet another do-or-die playoff matchup with the Pirates on Friday night.
The two schools will square off in the Class 4A Division I Region II quarterfinal at 7:30 p.m. at Joshua High School's Owl Stadium.
"I think it's only human nature to talk about that," Rodgers said. "That school single-handedly has knocked us out of the playoffs the last couple of years. They kept us from winning the 2015 state championship game."
As Rodgers pointed out, Argyle's history with La Vega goes well beyond the Eagles' two heartbreaking losses the past two years.
In 2015, La Vega narrowly beat Argyle 33-31 in a wild 4A Division I state title game.
Friday's meeting will be the sixth time in the past three years the two schools have met. Argyle has won each of the regular season showdowns, including a 35-7 win back in Week 4.
La Vega, however, has gotten the last laugh, knocking the Eagles out of the playoffs in 2018 and 2019. Last season, the Pirates scored 21 unanswered points in the second half to take Argyle down 44-20.
"The problem is when you do play somebody this many times, you've used all your bullets," Rodgers said. "You have to go back and reload some of your bullets and redesign yourself a little bit to make it look like something else. It's the power of manipulation and what it is perceived to be."
When Argyle and La Vega met back on Sept. 18, the Eagles were without senior running back Tito Byce. The Pirates, meanwhile, were without starting quarterback Ara Rauls III, who injured his left arm in a Week 2 win against Waco Connally.
Byce and Rauls are now healthy, and both are expected to be highly impactful players in this week's tilt.
"[Rauls] is back, and he's playing well," Rodgers said. "He's a good player. The first time might have been apples and oranges, but this time, it's going to be apples and apples.
"When you add Rauls to the mix, I mean, it's like putting flint in a musket. A musket is a powerful weapon, but when you put flint in there, it will discharge and go off. They're a very explosive football team. And he adds new dimensions to the team."
Argyle has throttled opponents all season, averaging 51.3 points per game. The Eagles' average margin of victory is 36.3 points, and Argyle has not won a game by less than 21 points since its 48-28 victory over Melissa on Oct. 2.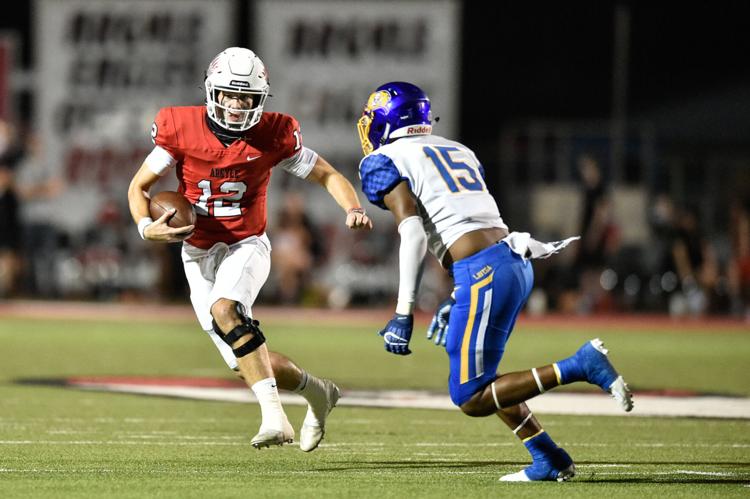 In the Eagles' bi-district win over North Dallas, Argyle set a new school record for most points in a game, cruising to a 79-0 victory.
Rodgers said one of the keys for the Eagles this week will be giving their offensive playmakers — like Byce and all-state receiver Cole Kirkpatrick — enough opportunities. The other, he said, will be defensively limiting the big play.
"We have to get our playmakers touching the ball. So, we're going to have to be creative offensively to make sure our key players touch the ball enough. It's going to take an immense amount of creativity to be able to do that.
"Defensively, I think in year's past in the playoff rounds, we've been susceptible to the big play. We haven't been susceptible to the big play this year. We just have to maintain that status quo."
The winner of Friday's game will advance to the region final and play the winner of Melissa and Paris — both teams from Argyle's district, 7-4A.
But the Eagles know that first, they must take care of business against one of the only teams that has ever consistently had their number.
"We're excited about this opportunity," Rodgers said. "We're working towards our goals, and one of our goals is to play in December. And obviously, winning this game helps us achieve one of those goals."