If you didn't know it, you would have a hard time believing Guyer's Jackson Arnold is the same quarterback who was thrust into the 2019 Class 6A Division II state title game.
Then just a freshman, Arnold was quickly called into action after starting quarterback Eli Stowers suffered a devastating knee injury on the first drive of the game.
In the blink of an eye, the then-15-year-old suddenly had the keys to Guyer's offense on the biggest stage possible at AT&T Stadium in a televised game.
"I was extremely nervous," Arnold recalled. "It was a crazy situation. I never thought it would happen."
Over the next three hours, Arnold was roughed up by a stout Austin Westlake defense, taking hit after hit — but getting up each time. The Wildcats lost 24-0 and fell short of their third state championship in school history, but the experience shaped Arnold into the player he is today.
Now a junior, Arnold is a much different quarterback than he was two years ago, brimming with confidence and composure.
And his time has finally arrived.
"There's that old saying, 'That which doesn't kill us makes us stronger,'" Guyer coach Rodney Webb said. "And that's the case with him. A lot of that experience as a freshman is what fuels his fire."
After spending his sophomore season behind Stowers, Arnold has stepped right into the role as the Wildcats' starting quarterback — a move that had essentially been a foregone conclusion over the past two years.
Just by watching Arnold in fall practice, it's easy to see why. At 6-1, 195 pounds, Arnold now looks the part of a starting quarterback.
Colleges agree, as Arnold holds offers from a slew of Division I schools including Arkansas, Ole Miss, TCU, Notre Dame and others. But what so many coaches have raved about with Arnold is his elite arm talent, something he frequently puts on display by effortlessly throwing passes upwards of 50 yards.
"He has progressed significantly physically," Webb said. "He's a much bigger, stronger, faster version of himself than he was a year ago. He has progressed immensely being 'the guy.'
"We're going to give him a lot of opportunities to be the decision-maker on the field this fall, and we just couldn't be more excited to have him."
For Arnold, his experience as a freshman in the state title game could have broken him or shattered his confidence.
Instead, Arnold has used it to his advantage.
"That definitely helped me out a lot," Arnold said. "It made me a lot less nervous for upcoming games. Before the Hebron game [last year] coach Webb came up to me and asked, 'Are you nervous?' And I said, 'No, not really compared to state.'
"It helped my confidence and helped me grind for something."
Arnold will lead a Guyer offense that features a bevy of returning starters from last season, including running back BJ Phillips and receivers Jace Wilson, Grayson O'Bara and Brody Noble. That group helped the Wildcats' offense average 40.8 points per game.
Guyer is coming off an 11-3 campaign in 2020, which included its second consecutive trip to the 6A Division II semifinal.
Defense loaded with potential
It's hard to imagine with an offense like Guyer's that the Wildcats' defense could actually be their strength this season.
But with five Division I-caliber players on that side of the ball, Guyer's defense is absolutely loaded with potential.
In the secondary, the Wildcats boast Pitt commit Marquan Pope, as well as four-star defensive backs Peyton Bowen and Ryan Yaites. Both Bowen and Yaites have multiple Power Five offers.
Up front, Guyer will be led by Southeastern Louisiana commit Rowan Briggs and North Texas commit Vincent Paige.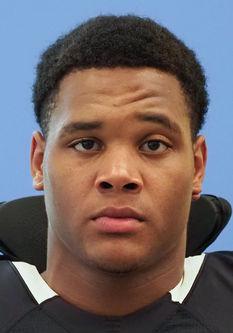 A highly versatile edge rusher, Paige also has the ability to play linebacker and make plays roaming sideline to sideline.
"Vince is the definition of a hybrid," Webb said. "We have a lot of different ways we can use him. He is really second to none as a pass rusher. But at the same time, he's a really big, physical linebacker. He'll be a second-level defender at North Texas, so we want to give him those opportunities, as well."
Guyer's defense surrendered 26.1 points per game last season, but with so many talented players and a full year to install its new 3-3-5 scheme, the Wildcats are poised to be even stingier in 2021.
"We're infinitely more comfortable in every respect," Webb said. "Not just the schemes on each side of the ball, and it's true by the way, they were both brand new last year. So, not just from that respect, but everybody knows everybody better. The relationships and bonds are tighter now. It's just a lot more comfortable for everybody. There's no doubt I feel a lot better going into Year 2 than I did Year 1."
Guyer opens the season on Thursday at home against Hebron.