Seth Littrell suspected years ago that he had something special when it came to the members of what is now North Texas' senior class.
Quarterback Mason Fine was the headliner of the group UNT's coach signed in 2016. Fine has been zipping passes across fields for years while overshadowing other players Littrell had high hopes for, particularly LaDarius Hamilton. The senior defensive end has blossomed into a standout player, not to mention an overlooked tone-setter.
"The way LaDarius has contributed has evolved over the years," Littrell said. "We had some older guys who had been a part of the team for a long time and were great leaders. He didn't want to overstep some of those guys and let them have a voice. He has grown into a leadership role and done a great job."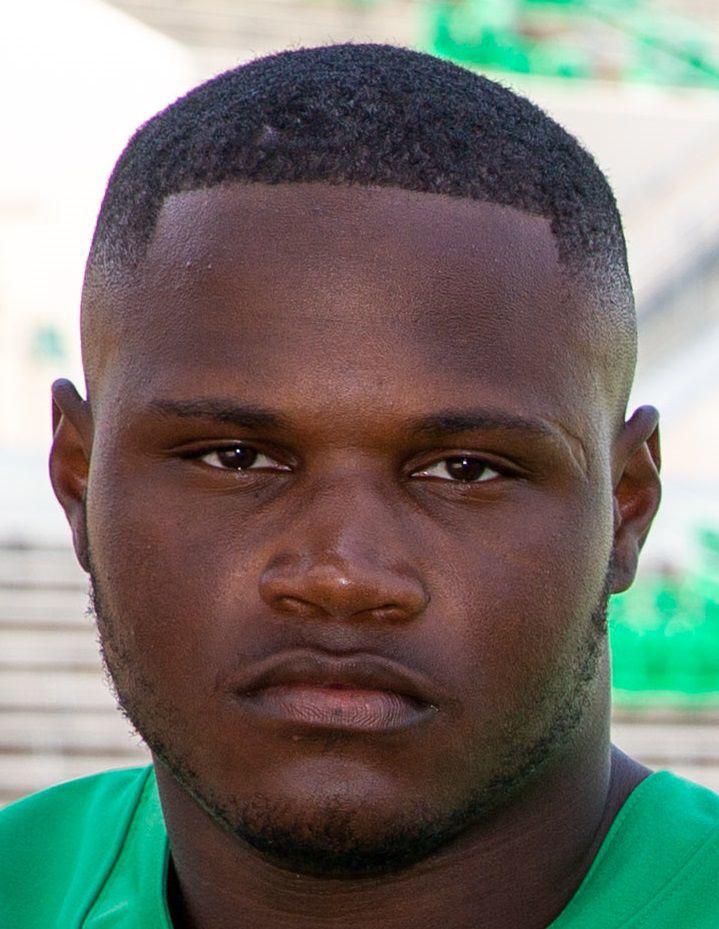 The Mean Green have leaned on Hamilton all season and will again on Saturday when they travel to Rice for the first of two must-win games to close the regular season.
UNT (4-6) must knock off Rice and then beat UAB in its regular season finale at home in two weeks to become bowl eligible with six wins.
The Mean Green haven't won back-to-back games all season and are 0-5 on the road. UNT is in a tough spot and will turn to its veteran players like Hamilton in the hope they can fight their way out.
The challenge of helping guide UNT's team is one that Hamilton has always taken seriously.
"I've tried to be vocal, hold people accountable, lead by example and show guys how things are supposed to look," Hamilton said.
The position UNT is in certainly isn't what it expected. The Mean Green came into the season as the favorite in Conference USA's West Division. UNT has struggled to live up to expectations and is all but out of the conference title chase.
Playing in a bowl game has emerged as UNT's goal late in the season.
"It's important to me and a lot of the seniors to go out the right way," Hamilton said. "The seniors have been to three bowl games and a conference championship game and haven't won any of them. We're looking for another opportunity to put a ring on our fingers."
UNT will need a few more big plays from Hamilton to get there. He leads the Mean Green with 7.0 sacks, a total that ranks fifth in Conference USA.
What has been just as important for UNT as those sacks is the tone Hamilton helps set.
"LaDarius as always will be an anchor for our defense," Fine said. "He's always been a great teammate. He's become a leader and been more vocal. He shows everyone how things are done around here and makes big-time plays."
The journey to get to that point wasn't easy for Hamilton, who came to UNT as a highly regarded defensive end prospect. He played all over the field for Corrigan-Camden and was undersized after moving to defensive end at UNT.
Hamilton intercepted a tipped pass in his debut with the Mean Green in 2016 and was a member of the C-USA All-Freshman team. He's been working to capitalize on his potential ever since and was a first-team All-C-USA selection last season.
Hamilton cracked the top 10 in UNT history in sacks, a stat the school started tracking in 1983, in a loss to Louisiana Tech two weeks ago. Hamilton, who has pushed his weight to 260 pounds, has posted two sacks in each of his last two games and is now tied with Jeremiah Chapman for ninth in program history with 15.5.
"What helped me grow were all the seniors who pushed me to get to where I am now," Hamilton said. "It also took personal drive and focus."
That drive is a key reason Hamilton UNT officials selected him to wear program legend "Mean" Joe Greene's No. 75 jersey last season when UNT temporarily unretired it for a game against Louisiana Tech. UNT unveiled a statue of Greene outside of Apogee Stadium before kickoff.
UNT recreated the iconic Coke commercial with Greene tossing his jersey to Hamilton instead of the original that featured a young fan.
That honor and the sacks he has racked up are not what Hamilton will remember most about his time at UNT, though.
"My teammates are what I will remember," Hamilton said. "We have had a lot of good guys from my freshman year up until now."
Hamilton is determined to make a few final memories at UNT, including helping lead his teammates to another bowl game.
The situation is one UNT's players and coaches feel comfortable with because of the traits Hamilton has shown while developing into one of the team's top players and leaders.
"We need guys like LaDarius now," Fine said. "Great players make big-time plays in November. You see him make those plays every Saturday. I don't expect anything different now."