Jordan Case has seen quarterbacks come and go at North Texas ever since he established himself as one of the best to play the position for the Mean Green under legendary coach Hayden Fry.
Some have been great. Others average.
What's of little doubt is that Case, who led UNT to a nine-win season in 1978, knows what he's looking at when it comes to quarterbacks.
What Case saw while peering down from his seat in Apogee Stadium years ago convinced him that he was about to watch something special unfold when it came to a gunslinger from Oklahoma named Mason Fine.
"I watched him on the sideline address the team when we were down," Case said. "You could see his leadership skills come through with the way the team responded."
Case isn't the only UNT great to have vivid memories of the moment he realized Fine was a legend in the making. Fellow UNT Hall of Famer Patrick Cobbs and Derek Thompson, the last quarterback to lead the Mean Green to a bowl win, harbor similar memories.
Those moments illustrate the respect Fine has earned from UNT greats and his place in program history heading into his final game on Saturday at Apogee, where the Mean Green will face UAB.
UNT was a hot mess as a program coming off a 1-11 campaign when Fine arrived along with coach Seth Littrell before the 2016 season.
Four magical falls later, Fine is the leading active passer in college football with 12,237 yards.
There are plenty of reasons UNT experienced one of the greatest runs in recent program history over the last three seasons before a tough campaign this year that has the Mean Green sitting at 4-7.
Fine and the impact he has made rank among the biggest.
"Mason is one of my all-time greats as a player and a person," Littrell said. "I have grown through him because of the type of person he is. He shows up to work every day and is positive."
Littrell has only been at UNT for four seasons, but he has no doubt about Fine's place in program history as well.
"Look at the records," Littrell said. "He looks like one of the all-time greats to me."
Joining those greats means a lot to Fine, but his status in UNT history isn't what matters most to him. Fine was an unheralded recruit. His only Division I scholarship offer was from UNT.
Now he's leaving the program as one of its greats.
"I have had some ups and downs, but the overall experience has been great," Fine said. "It's been more than anything I could have asked for or dreamt of as a kid. The relationships I have made with my coaches and teammates are ones I will have forever. That means more to me than football."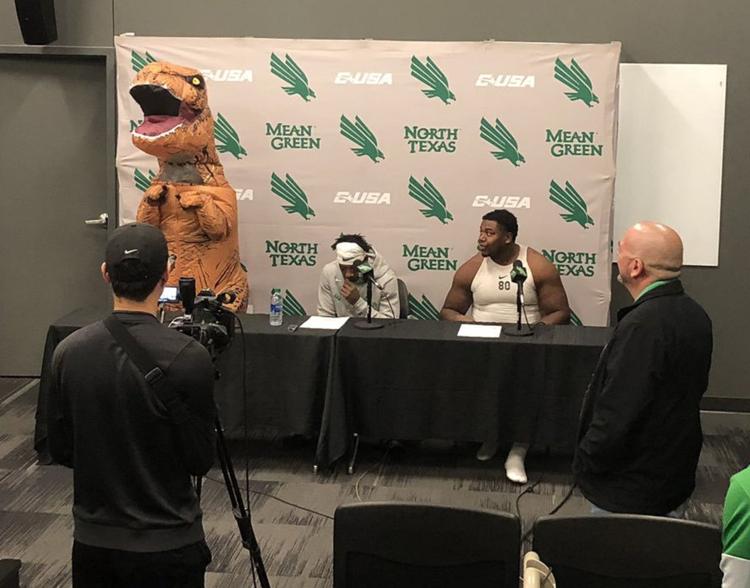 Following in their footsteps
Great eras in the history of any college football program are marked by the players who made them possible. UNT is no different.
Abner Haynes and Leon King broke the color barrier at UNT in the 1950s. Joe Greene emerged as one of the greats in program history in the 1960s before Case helped Fry build UNT into a winner in the 1970s. Cobbs played a key role in UNT winning four straight Sun Belt Conference titles beginning in 2001, while Thompson helped guide the Mean Green to one of three bowl wins in program history at the end of the 2013 season.
What Fine has accomplished in his career puts him in the same category as those legends. He led UNT to four of its five wins during his freshman season in 2016 before an injury prevented him from playing in the final three games of the year, including the Heart of Dallas Bowl.
Fine followed up by guiding the Mean Green to the New Orleans Bowl and New Mexico Bowl the last two seasons. He's helped lead UNT to three of the 11 bowl appearances in program history and has also made his mark on a national level.
Fine enters the final game of his career tied for 44th in college football history with 91 passing touchdowns in addition to ranking 33rd in passing yards.
"Those lists don't mean anything to me," Fine said. "They show how successful we are as a team and the hard work we have put in."
That selfless approach is one of the reasons Fine's teammates have grown to respect him. They describe him as a low-key and fun-loving person away from football.
Fine attracted national attention this season when he wore a T. rex Halloween costume to UNT's postgame press conference following a win over UTEP.
He's also known for being a great pingpong player and outdoorsman. Wide receiver Michael Lawrence grew up in Sweetwater and has spent time in rural West Texas with Fine, who is one of his closest friends. Lawrence says Fine can get a campfire going no matter how wet it is outside.
"He's one of those guys who will let you know when you're wrong but will love you up when you do something good," Lawrence said. "He always has my back no matter what, even when I do something wrong.
"He will be a friend until the day I die."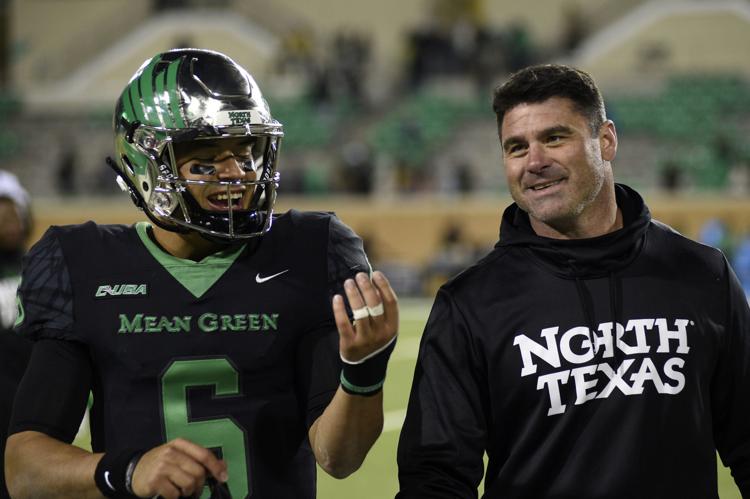 UNT legends see the best in Fine
Case, Cobbs and Thompson are all still close to UNT's program and see a little of the best of themselves and their teams in Fine.
Case helped lead UNT to wins over Oklahoma State and Memphis during his time at UNT. He went on to become a successful businessman. Case has come to admire the impact Fine has made for UNT's program in addition to his leadership ability.
"Mason has added so much spark to the athletic program, particularly football," Case said. "He's been great. Winning cures a lot."
Cobbs has a unique perspective on Fine and his talents. He won a national rushing title at UNT in 2003 and played in the NFL before becoming a high school coach at Ryan.
Cobbs watched Fine from across town before joining Littrell's coaching staff this season. UNT's new running backs coach was a human battering ram for Darrell Dickey's run-first teams of the early 2000s and was known for his toughness.
Cobbs saw the same grit in Fine before he joined UNT's staff and has a greater appreciation of him now.
"Mason's brought a toughness to this team," Cobbs said. "He's quiet, but when he speaks it means something. He has command of the huddle."
That command has helped Fine elevate the program, just like the greats in program history before him.
Thompson persevered during some tough times early in his career and saw his efforts pay off when he led UNT to a 36-14 win over UNLV in the Heart of Dallas Bowl on New Year's Day in 2014. Thompson was named the game's MVP after throwing for 256 yards and two touchdowns.
Thompson is now a high school coach and admires the way Fine has sparked interest in UNT's program just like he did on his way to throwing for 7,447 yards, a total that ranks third for a career in program history.
"Mason has that 'it' factor and moxie you look for in that position," Thompson said. "I love watching him play. If you are looking for something to do on a Saturday, you go check out No. 6 because you know he is going to do something special every game with the way he leads, motivates and builds up his teammates."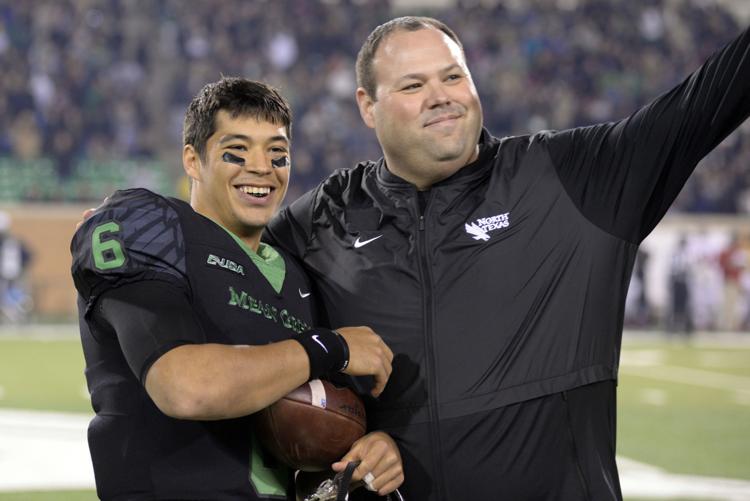 Leaving a legacy
Case, Cobbs and Thompson all left indelible marks on UNT's program.
So has Fine. His legacy goes beyond leading UNT to back-to-back nine-win seasons the last two years and posting remarkable statistics.
Fine has also elevated the UNT's entire athletic program.
UNT opened the $16 million Lovelace & McNatt Families Practice Facility this fall and has seen home attendance soar.
The Mean Green set home attendance records in each of the last two seasons. UNT averaged 23,355 fans for six home games last season and is still averaging 22,349 this season despite struggling.
Fine helped boost interest in UNT's program throughout his career.
"Mason has had a tremendous impact on our football program and university," UNT athletic director Wren Baker said. "He's represented this program with grace and class. UNT is an institution focused on quality and access, and Mason embodies that for many of our students.
"He was an unheralded recruit who didn't have a bunch of offers, but all he needed was a chance. Through his hard work, determination and grit, he became a leader on and off the field and one of the greatest athletes in UNT history. He has been a billboard for the opportunities our university provides."
Case could see what was coming years ago when he saw Fine on the sideline at Apogee, rallying his team.
Fine will look to lead his teammates and thrill UNT's fans one final time on Saturday.
"I gave it my all," Fine said. "That's the biggest thing. It would be hard if I didn't and had some regrets. I don't have any. I had a goal to come in here and be great."
UNT's legendary players agree Fine more than met that goal in a career that won't soon be forgotten.