HATTIESBURG, Miss. — North Texas arrived at Southern Mississippi on Saturday hoping to turn its season around and establish itself atop the pecking order in the race for the Conference USA West Division title.
The Mean Green didn't come close to reaching that goal in a 45-27 loss to the Golden Eagles at M.M. Roberts Stadium.
And that wasn't even the bad news.
Mason Fine, UNT's star quarterback, was knocked out of the game in the second half with an injury to his left shoulder and headed to the sideline, where he joined Tre Siggers, the Mean Green's leading rusher who left with an ankle injury.
Fine is right-handed, a small consolation for UNT. The Mean Green's season began with high hopes but is suddenly spiraling the wrong direction.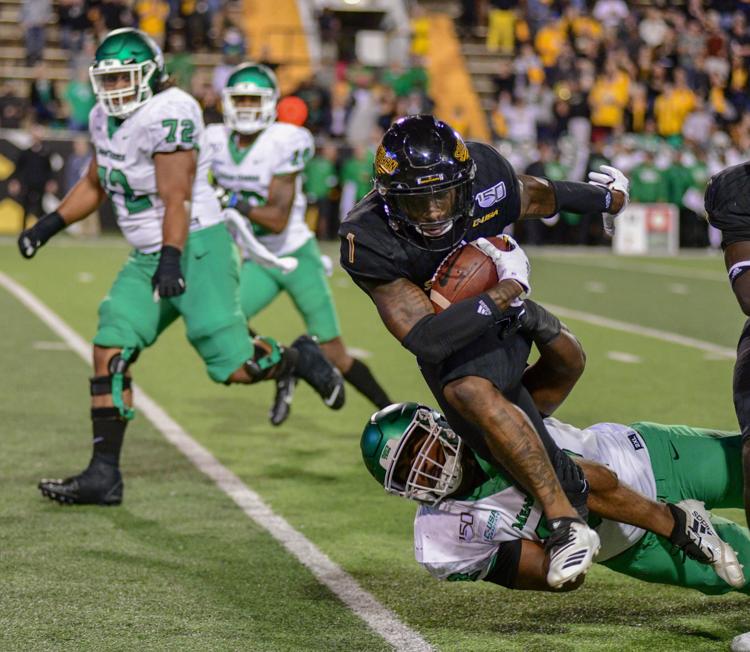 UNT (2-4) has now lost four of its last five. The Mean Green are still 1-1 in C-USA play and are far from out of the mix for the West Division title but have a long way to go to live up to expectations as the preseason favorite, especially after falling to Southern Miss (4-2, 2-0).
"You have two options, lay down and get beaten up or step up, look yourself in the mirror and find a way to get a day better," UNT coach Seth Littrell said. "These kids are fighters. I feel like if we do the things necessary, we can get on a roll. It has to happen. We can't just keep talking about it."
The Mean Green might be forced to face that challenge without two of their top players, or at least with them playing at less than 100 percent.
"Mason was injured enough that he couldn't come back," Littrell said. "We will further examine him and Tre when we get back and see where they are at. We don't know now."
HATTIESBURG, Miss. — North Texas entered its game against Southern Miss on Saturday knowing …
What UNT does know is that it is looking at a challenging road to reach its goals of earning a spot in the C-USA title game and even earning a bowl berth for a fourth straight season. The Mean Green will have to win four of their last six games just to become bowl eligible at 6-6.
"I always feel confident in my team," UNT safety Taylor Robinson said. "It's a little adversity. That's all it is."
UNT came into the game hoping to snap out of its funk in a game that was expected to be a battle between two of the top quarterbacks in C-USA.
Fine came into the game as the leading active passer in college football with 10,708 yards, while Abraham was leading the league with an average of 303 passing yards per game. Abraham came out of their showdown as the clear winner.
The sophomore threw for 421 yards and three touchdowns on 29-of-36 passing. UNT didn't record a sack all night and allowed Abraham to get comfortable in the pocket.
"We had too many errors and didn't execute," Robinson said.
Fine threw for 217 yards and three touchdowns and kept UNT in the game into the second half. He was injured when he pulled the ball down and ran up the middle after being forced from the pocket.
Southern Miss defensive end Jacques Turner met Fine in the middle of the field and leveled him.
Fine stayed down on the field for several minutes before being helped off.
UNT was already down 38-20 at that point and had little chance of rallying against Southern Miss and Abraham, who helped turn the tide of the game late in the first half.
The Golden Eagles were up 21-20 and faced a third-and-goal situation from inside of UNT's 1-yard line with 44 seconds left in the first half.
North Texas fell to Southern Miss 45-27 on Saturday at M.M. Roberts Stadium in Hattiesburg, …
The Mean Green had already stuffed the Golden Eagles on consecutive runs from the 1. Abraham lined up under center and pushed his way into the end zone to extend Southern Miss' lead.
"That was a huge play," Littrell said. "It gave them momentum heading into the half."
UNT never responded and watched as Southern Miss scored 17 straight points in the third quarter to pull away.
"They are very good on defense," UNT wide receiver Jaelon Darden said. "They disguise things and blitz. That gave us problems."
Those problems continued to mount on Saturday with another loss — and potentially, the loss of two key players.