On a breezy April afternoon before the first day of spring practice, Braswell junior Tristan McClary jogged onto the grass with one goal in mind — win the starting quarterback job.
McClary was coming off a season in which he led the Bengals' junior varsity team to a perfect 10-0 record as the quarterback, but he understood the difficult task that awaited him.
His competition was Greyson Thompson, who had been under center for Braswell the past two years. As the spring unfolded, Thompson pulled away as the starter, leaving McClary longing for a role.
"I was a little upset at first," McClary admitted. "But I didn't do my best during the spring. I had my ups and downs, and I knew Greyson deserved the spot coming back as a two-year varsity starter. Once I learned that I wouldn't be the quarterback, I was just trying to find a way to get on the field."
As the summer rolled around, McClary made a decision to devote his time to becoming the best football player and teammate he could be. The junior went to work in the weight room and on the track to enhance his athleticism.
His work ethic didn't go unnoticed.
Braswell coach Cody Moore recognized McClary's love for the sport and his appreciation for the process it takes to be a great football player.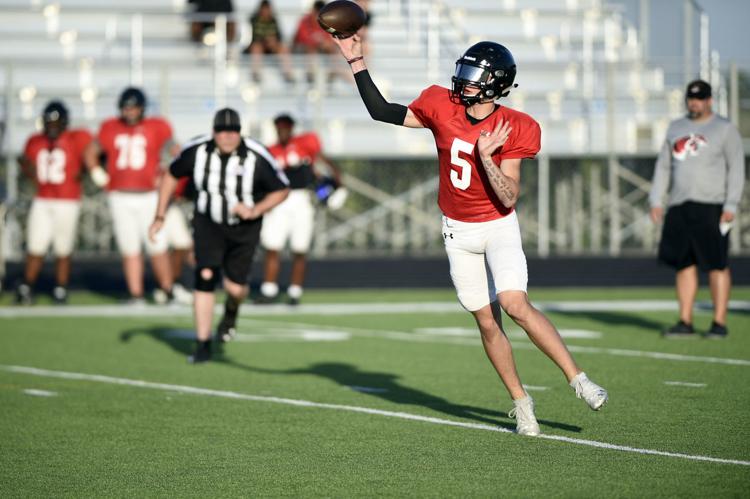 "I've been really proud of his attitude, his work ethic and his willingness to do whatever it takes to help us win," Moore said. "He's [one of the best] competitors that I've ever coached."
Although he didn't win the starting quarterback job, the Braswell coaching staff knew they had to find a way for McClary to get onto the field.
By the Bengals' pivotal Week 1 matchup with then-state ranked Red Oak, McClary had secured himself a starting position on the team. Instead of anchoring the offense at quarterback, McClary lined up at safety and helped the Bengals capture a signature 48-27 win to open the season.
After that game, it was evident that McClary wasn't like a lot of normal quarterbacks.
While still serving as Thompson's backup, he wasn't afraid to come downhill and lay crushing hits on opponents as if he was a middle linebacker.
"I've always liked defense," McClary said. "I played a little bit in junior high, and I enjoyed it. Even though people don't think quarterbacks can hit like a safety, they can. I've always been the type of kid that likes to prove people wrong, and I felt like I've been able to do that with my versatility this season."
After Week 1, Moore and the Braswell coaching staff decided McClary would also fit in as a slot receiver as part of a deadly Braswell offense that averages 546.6 yards a game. In the two weeks McClary played receiver, he finished with nine catches for 160 yards and two touchdowns.
He also lines up as Braswell's wildcat quarterback and has rushed for four touchdowns in the season. One of McClary's scores came during triple overtime of last week's 59-51 win over Lucas Lovejoy.
Everywhere you look on the field, McClary seems to be there.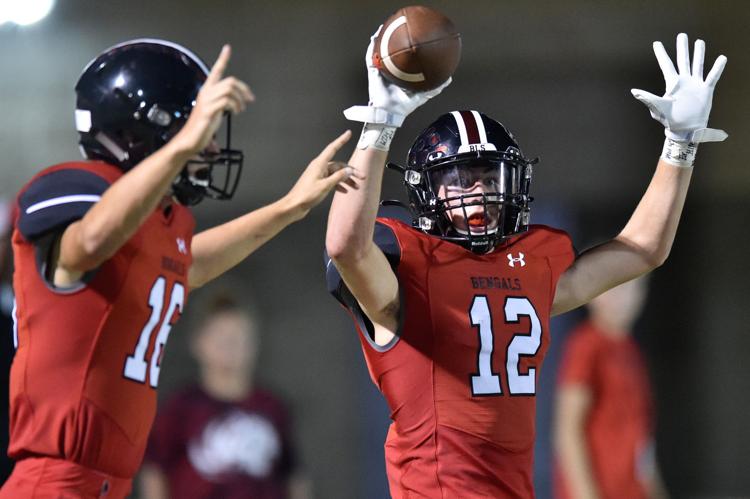 "The awesome thing about Tristan is that he hasn't given us coaches a reason to get him off the field," Moore said. "He's found roles to contribute in, even if it's not the role he initially wanted.
"I just think it's a testament to all high school kids and guys in our locker room. You may not get exactly what you want, but there's always a way you can contribute and provide value to the team."
Thompson, who has thrown for 1,686 yards and 16 touchdowns through five games, said McClary's competitive drive has allowed him to become a better quarterback every day in practice.
"We both went at it during the spring, and that battle made both of us better," Thompson said. "He works really hard. He's a good football player, and his football IQ is really high. Tristan is a great team player and he does a lot for our team."
Playing both sides of the ball comes with a lot of work and film study. But McClary said he never gets tired of the grind because in the end, he just wants to be in a Bengal uniform.
"My coaches are always there to help me when I have questions," McClary said. "I'm always studying plays on Hudl and watching film with my dad, who is like my biggest supporter. It's just an honor to be a part of the great culture we have here."
McClary has been a vital part of Braswell's success in 2019.
The Bengals are off to a 3-2 start, the best in program history. Braswell also sits at 2-1 in District 7-5A Divison II play and has a legitimate chance at making the playoffs for the first time in school history.
"Being a part of this team is like a brotherhood," McClary said. "All of my coaches are like father figures to me, and I love it here. We're starting to find our identity, and we're excited to have a chance to make history."