North Texas had plenty of options when it came time to find someone to make up for the production it lost after Rico Bussey Jr. suffered a season-ending knee injury just a few weeks ago.
UNT has highly regarded wide receiver recruits stacked up and down its roster.
Those players have helped. They just haven't helped as much as a 5-foot-10, rattlesnake-killing, hard-working former walk-on with the catchy nickname.
Michael Lawrence is better known as "The Standard" at UNT and has more than lived up to the name after Bussey went down with a torn anterior cruciate ligament during a loss to Cal on Sept. 14.
Lawrence didn't directly replace Bussey in UNT's last two games. The senior is a slot receiver, while Bussey plays on the outside. Lawrence has replaced Bussey, though, as the go-to guy.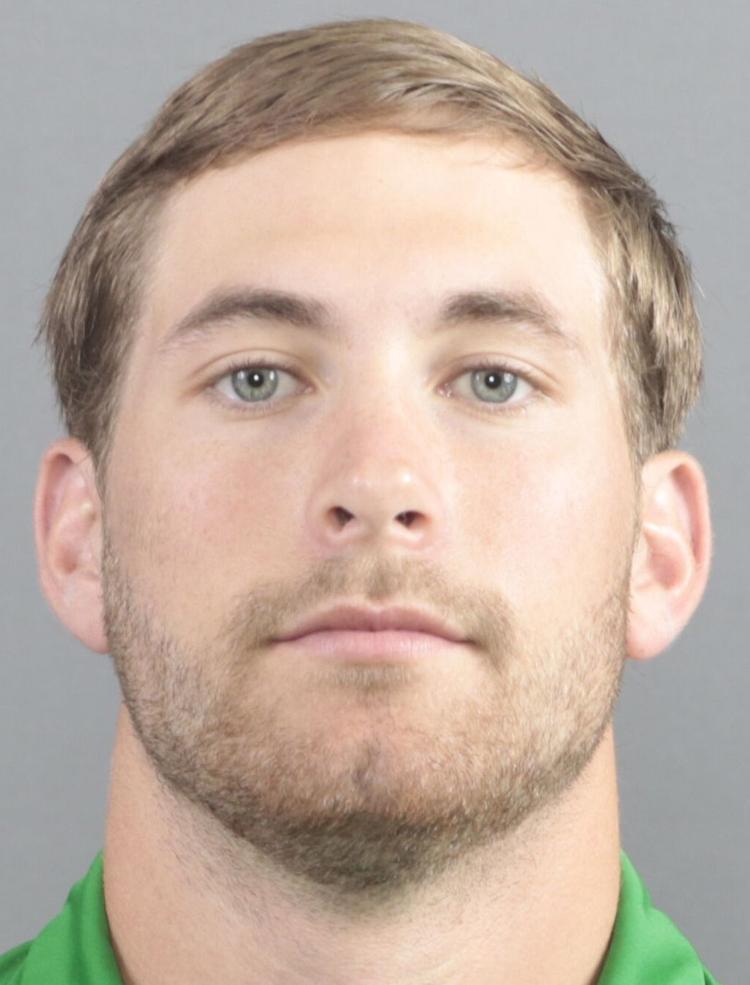 Lawrence is coming off a career game in the Mean Green's loss to Houston two weeks ago and is a big reason the Mean Green feel good about their chances in the Conference USA race when they resume their league slate on Saturday at Southern Miss.
"Mike has always been my safety net," UNT quarterback Mason Fine said. "No matter what, I can always count on him. That's how it's always been.
"He realizes this team is trying to overcome losing one of our most talented guys. He's going to step up and do what's best for the team."
Lately, that has meant stepping in as UNT's biggest weapon in the passing game in place of Bussey, a preseason All-C-USA selection whose 21 career touchdown catches put him in a tie for fourth in program history with UNT Hall of Famer Johnny Quinn.
Lawrence caught nine passes for a career-high 120 yards against Houston. He has led UNT in receptions in each of its last two games.
UNT (2-3) will continue to lean on Lawrence as it heads into the heart of conference play and its key game against Southern Miss (3-2). Both teams are 1-0 in conference play and are expected to be among the contenders for the C-USA West Division title.
"It was tough to see Rico go out," Lawrence said. "He's one of the big targets on the team.
"When one guy goes down, you have to put in that extra effort. I will do everything in my power to help this team."
That has always been Lawrence's approach, one that has made him one of UNT's most productive players, not to mention one of its most respected.
Lawrence admits he isn't one of UNT's biggest, fastest or strongest players. What he lacks in physical talent, Lawrence makes up for with smarts and a drive that have helped him become a great tactician on the field. Those traits also played a role in Lawrence landing a spot on UNT's leadership council and are why his teammates began calling him "The Standard" years ago.
Lawrence sets the standard for effort and drive among UNT's players.
"The way Mike works is unbelievable," UNT coach Seth Littrell said. "It's awesome to see a guy like that have success because it shows other guys the value of hard work. Mike is very talented, but it's not all about talent, speed and how big you are. If you work hard and understand the game, you can get yourself in position to be successful."
Lawrence has done just that throughout his career and moved to the verge of cracking the top 10 of UNT's all-time leaders list in catches. He's racked up 119 catches for 1,529 yards.
Marvin Walker ranks 10th in program history with 137 catches. That total is within reach for Lawrence, who ranks second among UNT players in both catches (24) and receiving yards (261) this season.
"It's pretty cool to be on the verge of the top 10," Lawrence said. "I don't pay a lot of attention to it, but it's a great honor. There have been a lot of great wide receivers to play here."
Lawrence might not have been among them if his high school team in Sweetwater didn't have a connection with UNT's staff. Former Mean Green offensive coordinator Graham Harrell's brothers Zac and Clark were both assistants at the school and coached Lawrence.
Lawrence could have played for Hardin-Simmons just down the road in Abilene or Mary Hardin-Baylor, both Division III schools. His other option was to walk on at UNT.
There just weren't a whole lot of coaches interested in an undersized slot receiver from Sweetwater, a small West Texas town 63 miles west of Abilene best known for its annual rattlesnake roundup.
Lawrence took teammate Hayden Harrison to the event one summer and has been plenty of times himself.
"It's a unique deal to have a live rattlesnake put around your neck," Lawrence said.
He killed a couple of snakes that got too close to the family home when he went to Sweetwater to visit family last week.
The journey from that small town to UNT hasn't been easy.
"Most people don't believe they can play at the Division I level," Lawrence said. "I decided that I would rather try and know if I could make it. I took my chance and ran with it."
Lawrence walked on before the 2016 season. He caught just one pass that fall but continued to work.
Lawrence led UNT both receptions (62) and receiving yards (819) a year later, a rise he credits largely to his family.
"I couldn't have done it without them," Lawrence said. "Most people I grew up with stayed close to home. I was going to go to Hardin-Simmons and talked to my parents about it."
Lawrence's family told him to chase his dreams.
"They were behind me every step of the way," Lawrence said.
Lawrence has developed into a cornerstone of UNT's offense with his family cheering him every step of the way.
"Mike is as steady as a rock," UNT offensive coordinator Bodie Reeder said. "He is where you need him to be when you need him to be there in the fashion you want him to be there."
Lawrence has also been valuable to UNT in a leadership capacity while helping set the tone during one of the great eras in program history.
The Mean Green have played in bowl games in each of the last three seasons and are hoping to extend that streak this fall while making a run at the C-USA title.
"Mike is the most positive wide receiver I have ever been around," UNT cornerback Cam Johnson said. "There are never any negative vibes with Mike."
Lawrence stopped to think about just how far he's come last week while he was back in Sweetwater, visiting family and killing a few snakes.
Lawrence nearly ended up playing at the Division III level before betting on himself. That decision put Lawrence in position to fill a key role at UNT this season and establish himself as a significant player in program history.
"I went home during the bye week and was looking at old pictures," Lawrence said. "I grew up in a small town and had 25 people on the sideline on Friday nights. Not many people from towns like that get to play at this level and have the opportunities I have had. It's cool to look back and be humbled by the whole situation."