For Guyer and Braswell, Monday was supposed to mark the beginning of spring practice — a valuable asset for players and coaches to help prepare them for the upcoming season.
Per UIL regulations, Class 5A and 6A teams are able to conduct 18 spring training practices in no more than 34 days.
But that all changed when the COVID-19 pandemic struck.
Last week, the UIL announced it was officially canceling all remaining spring activities and state championships, which meant Guyer and Braswell would not be able to get on the field.
"I hate it, I really do," Braswell coach Cody Moore said. "I don't really work well at home. I don't like working at home. But, you know, we're all going through it. It's an extremely tough time. This is extremely valuable time for guys we were expecting to step in and be starters next year. It's tough."
Moore and new Guyer coach Rodney Webb have adapted to not having traditional spring practice by taking instruction online.
Webb, who was hired less than a month ago, had several items he was hoping to accomplish in spring practice, like getting a baseline for his depth chart, freshman and junior varsity teams.
While those decisions will have to wait a while longer, Webb has been able to start installing his new, up-tempo offense via Zoom and other video conferencing tools.
"We're calling it virtual spring football at Guyer," Webb said. "We're trying to get basic concepts installed via a virtual setting. It's gone great so far. The kids are excited to learn a new way of operating. But at the same time, we've done everything we can to tie it into what they know. Especially in the run game, there's really nothing we've taught so far that is completely foreign to the kids schematically.
"But there's going to be no substitute for getting together and doing it in person, that's for sure."
Like Webb, Moore has also gone digital to reach his team, meeting with his staff once per week. In addition, Braswell also hosts virtual position meetings three times per week.
"We talk about what we would be installing during this time," Moore said. "We show them playbook slides and video clips based on the formations and plays we're talking about. We give them individual drills they can do in addition to their weight workout.
"Our attendance has been really good."
Braswell and Guyer are both coming off wildly successful 2019 campaigns.
The Bengals finished their best season in program history 9-3 overall, winning a share of their first district title, as well as their first playoff game.
The Wildcats, meanwhile, went 14-2 and advanced to the Class 6A Division II title game — their fourth championship game appearance in the last 10 years. Guyer lost that game to Austin Westlake 24-0 after starting quarterback and Texas A&M commit Eli Stowers injured his knee in the first quarter.
Stowers had surgery to repair his posterior cruciate ligament (PCL) on Jan. 7.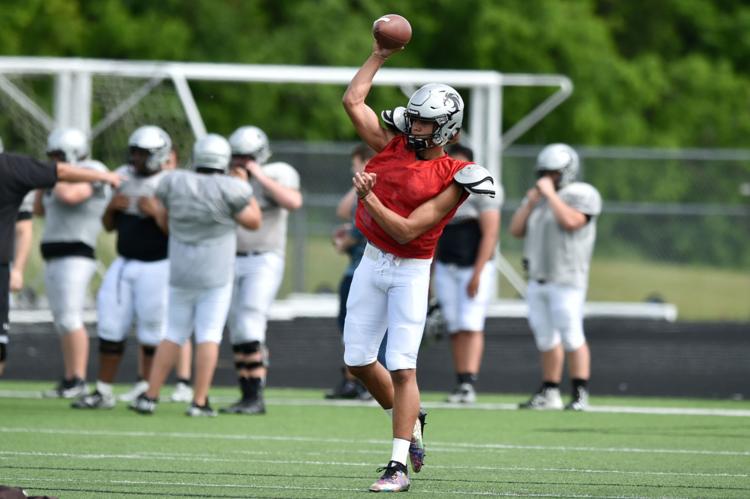 "He's doing great," Webb said of Stowers. "I actually saw a video of him [Wednesday] rehabbing. I think he's ahead of schedule. Eli and his family are being very mindful, as they should be. They're being very diligent about the process and the rehab. Everyone is really excited about the process he's made."
Webb said it is still too early to tell if Stowers will be available at the start of the season, and added if he isn't ready, Jackson Arnold would be. Arnold took over for Stowers in the state title game as a freshman and impressed many around the Guyer program with his toughness.
"Jackson Arnold is very talented," Webb said. "We're going have both of those guys ready to go. I think it remains to be seen what the timetable is going to be for Eli, whether he's going to be back at the start of the season or not. But we certainly got another guy ready to go. [Arnold] has got big things in store for him in his own right."
As spring turns into summer, Moore and Webb aren't sure when they will get to see their teams in person again.
They are both optimistic it will be sooner rather than later, and are prepared to start fall practice a week earlier than normal in August. But they also know with the uncertainty of the coronavirus pandemic, anything could happen.
"We'll be talking about this for the rest of our lives, I think," Moore said. "This time right now, I don't think that we'll ever see anything like this again."