Conventional wisdom says the Ryan Raiders will be just fine next season, as a solid core of playmakers return for another crack at a Class 5A Division I state championship. But trying to replace the likes of a Drew Sanders will be close to impossible.
In a season where Sanders was asked to play everywhere and have the ball in his hands in the most crucial of situations, the Alabama-bound phenom shouldered that load unlike anyone else while leading Ryan to its first title game appearance since 2010. When the dust settled, it was hard to argue his place as the Denton Record-Chronicle's All-Area Co-MVP.
Sanders shares this year's award with Kaedric Cobbs, who led Guyer to its own state title game appearance. Sanders, who moved to Ryan for his junior and senior seasons, was the DRC's outright MVP in 2018.
"Any award is a big thing," said Sanders, who also repeated as the District 4-5A Division I Co-MVP with teammate Billy Bowman Jr. "It's crazy to think this is my award. I wanted to end things with a state title, but that didn't quite work out this time. It was still great being a part of this team."
Sanders' stats might not jump off the page at you, but that's a byproduct of being spread out at so many positions. As a quarterback in Ryan's Wildcat set, he rushed for 380 yards and 12 touchdowns while also completing nine of 10 passes for 108 yards and six more scores. As a receiver, he caught 44 passes for 774 yards and 12 touchdowns while averaging 17.6 yards per catch. His versatility made him a threat in short yardage situations as well as with the deep ball.
Defensively, he made the move from linebacker to defensive end and tallied 46 tackles, 21 for loss, and nine sacks. He had a staggering 25 quarterback hits and added one defensive touchdown for good measure.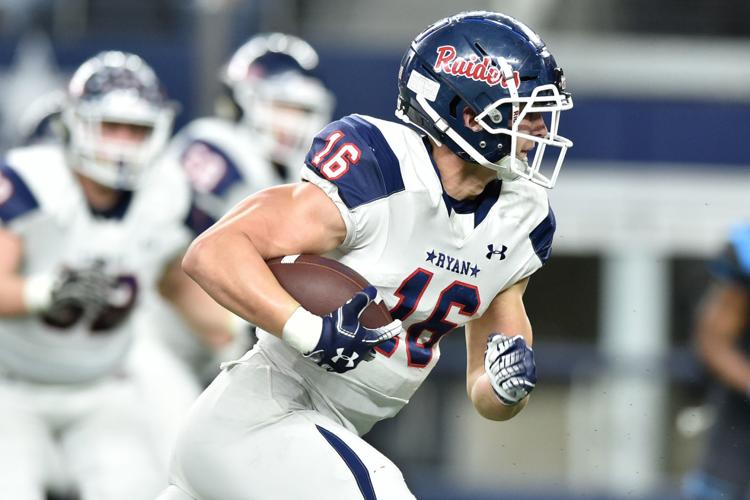 "I love defense, but who doesn't want the ball in their hands?" Sanders said. "I did what I needed to do for the team."
What most people might not know is that Sanders' high school career is officially over. He signed early with Alabama on December 18 and opted to graduate early so that he could head to Tuscaloosa to get a head start on his college career. He left Denton on January 4 and was expected to begin practicing a few days later.
"I guess you get a little nervous about it, but I'm excited to go play at the next level," Sanders said. "It's go-time; you can't think about it too much because you have to get right in there and play.
"[Eventually playing on Sundays] is obviously the goal. I'm excited."