Kaedric Cobbs breaks the huddle and lines up in a single-back set with quarterback Eli Stowers out of the shotgun. It's third-and-goal from the 2-yard line.
Guyer is clinging to a one-point lead against Cedar Hill with less than two minutes remaining in the Class 6A Division II Region I area round. A touchdown here would in all likelihood seal the victory.
Cobbs had been stopped short of the goal line on first and second down, but Guyer coach John Walsh didn't hesitate calling his number again. The senior quickly positioned himself behind a kick-out block, bounced off a would-be tackler like a bowling ball and plunged into the end zone.
It was Cobbs' 35th touchdown of the season — and none were more important. The score gave the Wildcats a seven-point lead, but they weren't done.
Cobbs added the 2-point conversion just for good measure to put the game out of reach.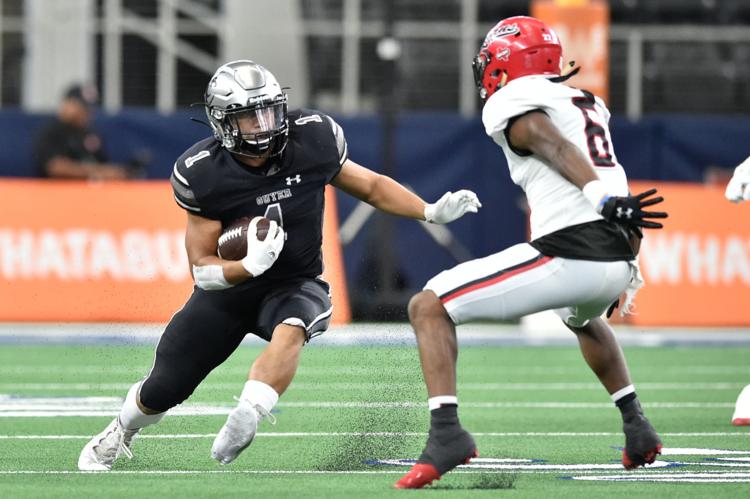 "He was getting the ball all four times," Walsh said. "Fake it to Kaedric and do something else? Well, that's not what John Walsh is going to do. We're going to give it to him and everyone in the stadium knows it."
Through 12 games, Cobbs has rushed for 2,010 yards, averaging 167.5 yards and 2.9 touchdowns per game. He averages 9.4 yards per carry and has rushed for at least 100 yards in every game this season.
As a result, Guyer (11-1) is back in the region semifinal for the first time since 2015. From the outset on Aug. 30, Cobbs has been the catalyst behind the Wildcats' prolific offense, which puts up a staggering 47.2 points and 533.1 yards per game.
"The word is special," Walsh said describing Cobbs. "He's not just special at running the football, he's special at everything he does. Everybody knows about his academic prowess. Socially, he's very gifted. He knows how to communicate. He's genuine in everything that he does. He's a great decision maker. It's hard to find a chink in his armor. I challenge someone to tell me what the chink is because he's almost too good to be true."
By now, you're probably wondering where Cobbs will be playing collegiately once his high school career is over.
For a running back who leads all Dallas-Fort Worth Class 6A rushers in yards and touchdowns, Cobbs has surely been offered by a host of Power Five and nationally prominent football programs, right?
Wrong. At least, not yet.
Cobbs has scholarship offers from 12 colleges to play football: Abilene Christian, Furman, William & Mary, Cornell, Dartmouth, Tulane, Georgetown, Colgate, Columbia, Army, Navy and Air Force.
Of those 12, only four are from teams that compete in the Football Bowl Subdivision. The other eight compete in the Football Championship Subdivision, or Division I-AA.
Cobbs is thankful for the offers he has, but he knows he has the numbers to play at more acclaimed schools like several of his peers. The only thing he is missing is a trait he can't control.
At 5-10, Cobbs is two inches off being considered average height for a collegiate running back at 6-0.
"You can't account for the size of the fight in the dog," Cobbs said. "That's a cliche, but you really can't account for that. There's no number that accounts for how hard someone is willing to play. Not a lot of people are going to be willing to fight with their life on the line for four quarters. Not everyone wants to keep getting hit, get up and get hit again. I think that's something I do that not a lot of other people can say."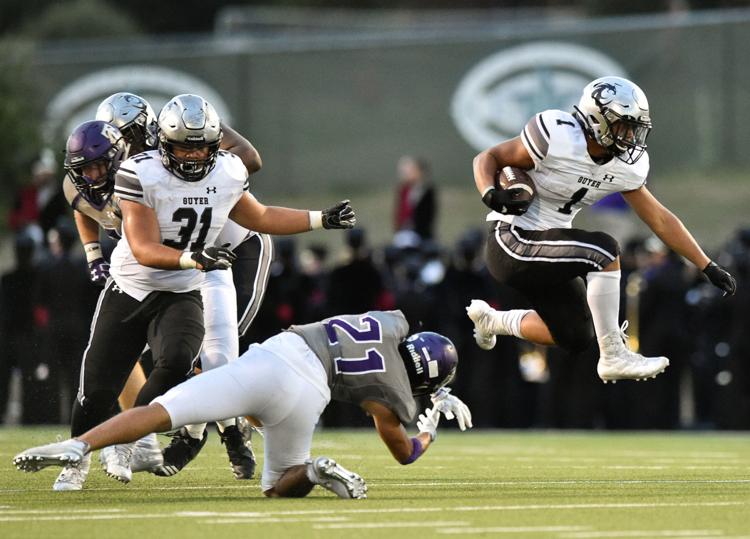 Aside from his height, most of Cobbs' other measurables are on par.
Cobbs is 209 pounds, runs a 4.68-second 40-yard dash and has a 36.3-inch vertical, according to 247 Sports. Yet time and time again, he knows some people automatically discount him because he is shorter.
"It gets really frustrating knowing sometimes people only look at combine numbers," Cobbs said. "It's a big motivator for my work ethic. I have a self confidence I know a lot of people might not have. Just because I don't run a 4.3 [40-yard dash] or I'm not six-feet tall, I bet on myself. It motivates me to play hard and prove people wrong."
For his coach, Walsh said Cobbs' situation illustrates a larger problem in college recruiting today.
"Recruiting has gotten so flawed since the internet has become so prominent," Walsh said, "There's too many college coaches worrying about what everybody else is doing and going by the meat market standards, versus putting the tape on like you used to. Put the VCR tape in, play it and find good football players. Because in the state of Texas right now, you're going to have a hard time finding an overall better football player than Kaedric Cobbs."
If coaches or recruiters do choose to watch Cobbs' film, they will find a running back who has rushed for 4,859 yards and 79 touchdowns in three seasons at Guyer. In Cobbs' freshman campaign at Melissa, he ran for 1,272 yards and 16 scores.
But the number Cobbs is most proud of are his wins. He's 33-15 in his high school career, a record he believes directly correlates with a tireless work ethic and desire to show everyone he is able to perform.
"A lot of those intangible things are what make you a winner," Cobbs said. "And that's what I believe I am. I've won on every level I've played on and every sport I've played in. I don't mean to brag, but that's the truth.
"[Colleges] are getting a winner, someone who is going to attack every day with a relentless attitude and a leader — someone who is going to be fearless no matter who we line up against. They're going to get my best every play."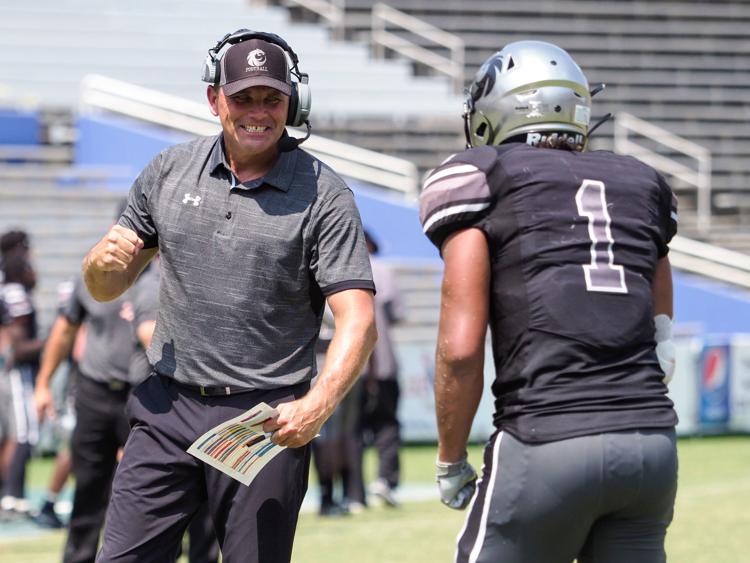 There will be a time for Cobbs to hash out what college he is going to attend.
For now, though, Cobbs is only focused on one thing — bringing a championship back to Guyer.
But as far as Walsh is concerned, win or lose, college football or no college football, Cobbs has already cemented himself as one of the best players to ever slip on a Wildcat jersey.
"Kaedric Cobbs is on the list of all-time Guyer greats," Walsh said. "He's the complete package. He's a program guy, an unselfish football player, a relentless worker and has an extreme amount of talent inside the white lines."