Days before Guyer was set to open the 2018 season at home against Aledo, Grant Mahon received some of the toughest news of his life.
The Wildcats' defensive tackle aggravated his back in practice, but did not think much of the injury. Mahon spent the weekend resting and expected to be fine by Monday.
He wasn't.
"That Monday I tried to practice and it was tough getting out of a stance," Mahon recalled. "I couldn't run."
Mahon went to the doctor the following day for an X-ray and was quickly given the unfortunate diagnosis. The 6-4, 260-pound leader of Guyer's defense had two fractures in his L5 vertebra and another in his L4 vertebra.
His junior season was over before it even started.
"It was very hard for me because I'm obviously a vocal leader, but I'm also a leader by example," Mahon said. "It was hard for me to be a leader when I'm not [playing] with them. But it was good. It was a great time for me to grow both my leadership abilities and as a person. It was kind of the first time in my life that I had to deal with something major that happened to me."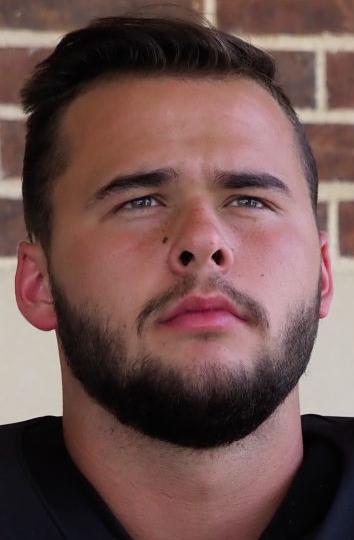 Doctors explained Mahon's L5 vertebra had been fractured since he was young. The injury to his L4 vertebra occurred in practice after jumping to block a screen pass.
"I was very surprised because I had never gotten hurt seriously from football or lifting before," Mahon said. "I'm not going to say I was down, but I was disappointed. I kind of internalized that and didn't let my teammates see or anything because I still needed to be there for those guys."
Mahon did not require surgery to fix the injury. What he needed was time.
For the next two months, Mahon was unable to participate in any physical activity. He admits taking time off was tough, but Mahon knew there were still ways he could help the team.
As Guyer's season wore on, Mahon never wavered from his teammates.
"I couldn't give up on them, because they still needed someone to sit there and coach them, and lead them through things," Mahon said. "I just tried to make the best out of it, honestly. Because in my eyes there wasn't any good in being non-vocal or distant from everyone."
Mahon's leadership even in the face of adversity surprised few, especially Guyer coach John Walsh.
"He's been a great example since he moved here," Walsh said. "He's always [set] a good example of working hard in the program. He was a leader instantly."
Last November, Mahon slowly eased his way into rehab, a process he admits was a difficult one.
For the next several months and into the spring, Mahon meticulously worked on strengthening the muscles in and around his lower back. Guyer's strength and conditioning coach Kyle Keese teamed up with Mahon's therapist to develop workouts that not only helped him get back on the field, but challenged him.
"It was basically learning how to walk again, in a metaphorical sense," Mahon said. "It was a lot of stretching and core work — training all those little muscles no one ever really thinks about."
The work paid off.
When Guyer opened fall practice on Aug. 12, Mahon was back in pads for the first time in almost a year.
"I felt like I didn't skip a beat," Mahon said. "I loved it. There's a feeling you get being down on the field, but when you're playing the game with your friends beside you, there's nothing like it."
Mahon's return will provide a jolt to the Wildcats' already talented defense. Guyer returns eight starters from a team that surrendered 27.1 points per game last year.
The Wildcats already have two Division I starters in Mahon, who has committed to Oklahoma State, and safety Trace Jewell, who is committed to Navy. Cornerback Deuce Harmon has offers from TCU and SMU.
"There aren't that many high school programs that have the sizable, physical presence that [Mahon] brings," Walsh said. "He brings that big 3-technique that you want to have anchor your defense."
As Mahon gears up for his final season, he knows expectations surrounding Guyer are high.
The Wildcats are the No. 8-ranked team in Dave Campbell's Texas Football's preseason Class 6A poll. With 17 returning starters and explosiveness on both sides of the ball, Guyer is poised to make a run at its first state title since 2013.
Mahon is ready to help the Wildcats get there.
"It would be unreal," Mahon said of winning a championship. "I've really only played one true year of 6A football. I think with the team we have now, the dedication and relationships we've built, I definitely think people will be seeing us play in December."