After putting together stellar careers at both Lake Dallas and UTSA, Josiah Tauaefa will get his chance to suit up for an NFL team this weekend.
The New York Giants signed Tauaefa off their practice squad and onto the active 53-man roster on Tuesday afternoon.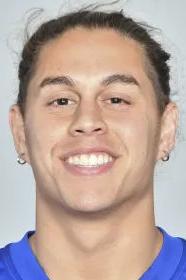 "It's incredibly special," Tauaefa said via text message Wednesday night. "I couldn't have asked for anything more than this opportunity. This is a testament to much more than just me and the work I've put in, but to everyone who has helped me get here."
Undrafted out of UTSA, Tauaefa spent the first month of the season on New York's practice squad. He was the Giants' leading tackler in the preseason, making 16 total stops. Tauaefa also notched a sack and recovered a fumble.
In three seasons with the Roadrunners, Tauaefa recorded 257 total tackles and 11.5 sacks. His 257 tackles rank second all-time in UTSA history.
Tauaefa was the Conference USA Freshman of the Year in 2016.
"Especially after his second year [at UTSA], I thought he would have a chance [to play in the NFL]," Lake Dallas coach Michael Young said. "He's versatile and can do different stuff. Watching him play a lot in the preseason, he can play a lot of different positions on special teams. It doesn't surprise me."
In Tauaefa's final season at Lake Dallas in 2014, he led the Falcons to a 9-2 record while making 82 total tackles, 19 tackles for loss and two sacks — all of which led the team.
"He was just a great player," Young said of Tauaefa during his time at Lake Dallas. "He was a dominant defensive player, and just all around, one of the best players we've had. He could have played any position and been the best at it. He represented Lake Dallas well while he was here, in the classroom, out in public and everywhere else.
"He's as good as they come."
Tauaefa will now get to live out his dream of playing on Sunday when the Giants host the Minnesota Vikings later this week. Kickoff is set for noon on Sunday.
New York is 2-2 overall and has won two straight. The Giants are tied with Philadelphia for second place in the NFC East, one game behind Dallas.
"It's been crazy," Tauaefa said. "I always had this goal and never knew how it would play out.
"A lot of people will see me on Sunday and might just think that it just happened or that I just got there on my own, but a lot of people have had a hand in getting me here."