Darryl Minor Jr. started playing football at 9 years old, and his dream always has been to play in the NFL.
On Saturday, Minor took the latest step in the right direction after announcing on Twitter he will continue his football career as an outside linebacker at Abilene Christian.
"I've always had a dream to play Division I football, and I'm happy. I'm very excited to arrive at ACU," Minor said.
Minor's father, Darryl Minor Sr., played running back in the NFL for the Washington Redskins in the early 1980s.
Although his dad was a talented running back who attended Oregon State before playing in the NFL, Minor Jr. said there was no stress in trying to live up to his dad's name.
"No pressure," Minor said. "I just went out there and played my game. I knew if I played my game that I would have a chance to play at the next level."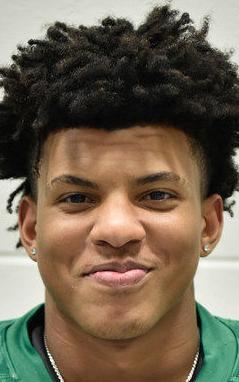 Abilene Christian coach Adam Dorrel is heading into his third year leading the program, which made tremendous strides in its fifth year of Division I FCS football. After going 2-9 in 2017, ACU went 6-5 this past season — its first winning season since 2013.
Minor said former Guyer and Oklahoma State quarterback J.W. Walsh, who is the running backs coach at ACU, was his primary recruiter throughout the process.
After visiting the campus, Minor said he knew ACU was a place where he could excel athletically and academically.
"I went on campus and really liked it," Minor said. "The classrooms were smaller, which allows me to learn more."
In his senior season at Lake Dallas, Minor Jr. finished with 97 tackles, 13 tackles for loss and two interceptions. He was a first-team all-district selection in District 7-5A Division II and also was a second-team selection on the Denton Record-Chronicle's All-Area Team.
"Darryl has great size and great speed," Lake Dallas coach Michael Young said. "He is a person who I think can play both outside and inside linebacker at the next level. ACU is getting good athlete who can play in multiple spots defensively."
Young also emphasized Minor Jr. is a great kid who is academically driven and understands school is a top priority.
"He's a really good kid who's never in any trouble," Young said. "ACU is going to be able to count on him to do the right thing on and off the field."