When Brandon Engel took his visit to the Air Force Academy in Colorado this past weekend, Lake Dallas' leading receiver immediately fell in love with the scenic campus.
"The mountains — you can't beat the view and you can't beat the opportunity," Engel said. "You can play big-time ball. I just fell in love with it once I stepped on campus."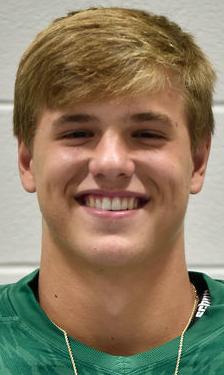 It took less than two days from the time of his visit for Engel to make his college decision. The Falcons' explosive receiver announced his commitment to Air Force on Twitter Tuesday afternoon, becoming the second Denton-area player to join the academy.
Guyer wide receiver Seth Meador committed last month.
Attending Air Force requires a nomination. According to the Air Force website, a majority of cadets seek nominations from the congressional or vice presidential categories, which include U.S. senators, representatives and the vice president.
"It's been a dream of mine ever since I was little [to play Division I football]," Engel said. "I really just put it into effect when I was a freshman. I've been working ever since."
Engel finished second in the Denton area in receiving last year. The 6-2 wideout hauled in 1,093 yards and 11 touchdowns on 62 receptions in 2018.
"He's got a great combination of size and speed," said Lake Dallas coach Michael Young. "He's also got really good hands, and what kind of sets him apart in my opinion is he has great ball skills and instincts for the game."
With Lake Dallas quarterback Ryan Depperschmidt gone after graduating, Young said the Falcons will likely experiment some with Engel under center this year.
He added whether Engel plays primarily quarterback or receiver this fall will depend on what gives Lake Dallas the best chance to win.
"I think definitely at the beginning of the year we're going to do some of both and see how that goes those first two games," Young said. "Whatever gives us the best combination to be successful. "
The Falcons return six starters on offense, including Engel, from a team that went 7-4 and lost to Corsicana in the bi-district round of the playoffs last season. Lake Dallas was picked to finish sixth in District 7-5A (Division II) this year by Dave Campbell's Texas Football.
"I'm really excited for my senior year. I want to go out big," Engel said. "I'm going to try and lead the team, do as much as I can, get to the playoffs and go farther than that."