It was the finale of the 2019 high school football season on the grandest stage at AT&T Stadium.
The lights were bright and the crowd was raucous as Guyer and Austin Westlake battled for Class 6A Division II supremacy. After the Chaparrals took a 7-0 lead early in the first quarter, it was the Wildcats' turn to respond.
Guyer's potent offense — which had not been slowed all year — took the field, and immediately drove to near midfield.
Then, on the Wildcats' seventh play from scrimmage, disaster struck.
Quarterback Eli Stowers took off on a designed run and was tackled awkwardly in the open field. The Texas A&M commit was unable to get up, crumpling to the turf.
A collective hush immediately fell over the packed crowd inside the $1.2 billion stadium.
"We called a lead draw," Stowers recalled. "I read Kaedric [Cobbs'] block and went outside. The safety got off his block. I tried to bounce outside of him, but he got ahold of my right leg. I stepped with my left and it hyperextended. At the time, I didn't think it was going to be that bad. I tried to get up and walk on it, but I stepped and felt my leg shift.
"I sat back down, and I knew it was bad after that."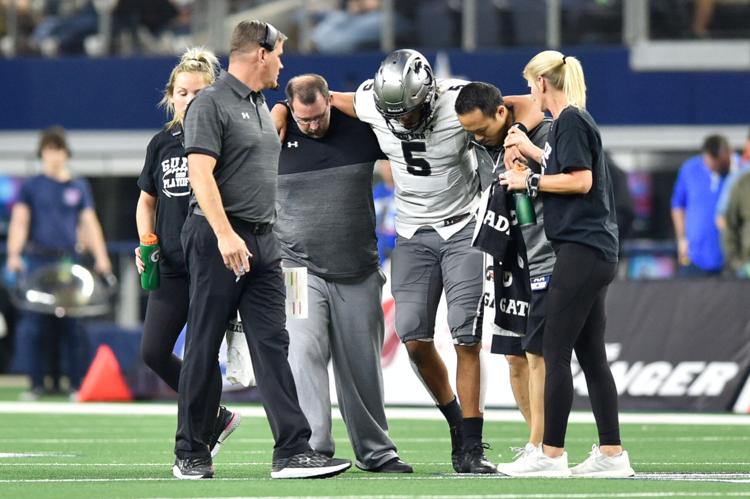 Stowers was eventually helped off the field by Guyer's training staff, unable to put any weight on his left leg. He was later diagnosed with a torn posterior cruciate ligament (PCL) and a torn meniscus in his left knee.
His night was over. And in an instant, the Wildcats' state championship aspirations evaporated.
"Obviously, it was disappointing," Stowers said. "Right after I stepped on it and felt it shift, I was like 'Yeah, there's no way I'm coming back.' At that point, all I could do was try to support my team from the sidelines, try to get their spirits up and lead them through the game as best as I could."
Then-freshman Jackson Arnold entered the game in relief of Stowers. Despite Guyer's coaching staff raving about Arnold's potential, asking a 15-year-old to take over in the state title game with virtually no varsity experience was an impossible task.
"That's a horrible position to be in," Stowers said. "At the time, he had played three varsity snaps against Eaton or Byron Nelson. And that's all he had. He just turned 15 years old at the time. I couldn't even imagine going into the 6A [Division II] Texas state championship as a freshman with not many practice reps, because we didn't expect that to happen to me."
Every Guyer fan knows how the rest of the game unfolded.
The Wildcats were unable to establish any rhythm offensively and were held to just 187 total yards, as Westlake rolled to a 24-0 victory. Arnold completed just two passes for 11 yards and took a beating from Westlake's defense in the process.
"I was thinking he was invincible," Arnold said of Stowers. "Every time he got hit during the season, he'd get right back up. As soon as he got up and went right back down, I knew it was going to be pretty serious."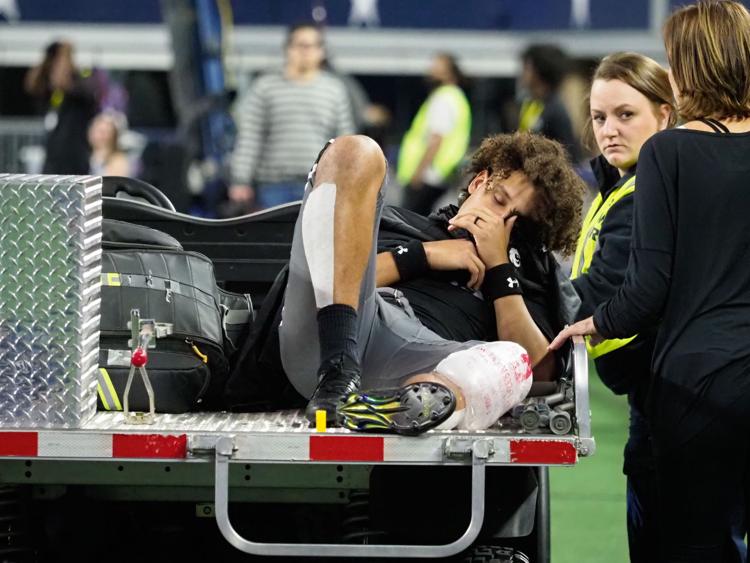 Stowers had surgery on Jan. 7 — 17 days after his injury in the title game. Doctors reattached both ligaments, and for the next four weeks, Stowers had to keep his left leg completely straight.
It took him two months to get off crutches.
"That was by far the worst part," Stowers said. "After that, it was just getting my strength back in my legs to protect it. Getting my range of motion back was tough, too. When you keep it straight for four weeks it tightens up on you, and you can only bend it so far. You have to get that range back"
But Stowers relentlessly attacked his rehab and used his faith to guide him through the recovery process. By the time summer conditioning began in June, Stowers was able to participate in virtually everything.
"Everybody knows my faith is the most important thing to me," Stowers said. "I knew that God had made that happen for a reason. I knew he was going to get me through that rehab process.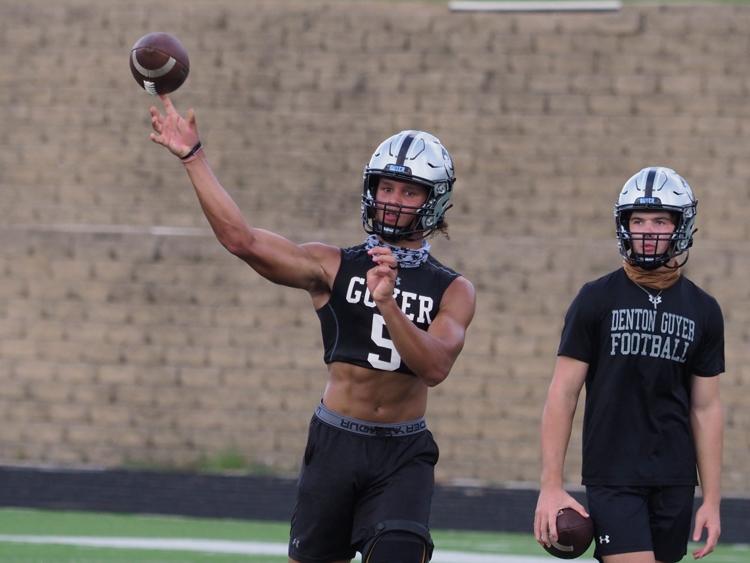 "I feel like everybody has that when they get a big injury, you get that 'Why me?' thought in your mind. Especially after you put all that work in throughout the season — to get all the way to the state championship and get hurt on the first drive, it's really disappointing. But that's where I feel like God tests your faith sometimes. That was a big test for me, but in the end, it helped me grow in my faith a lot."
Stowers' tireless work ethic made an immediate impression on Guyer's new coaching staff, particularly head coach Rodney Webb and offensive coordinator Jordan Johnson.
From the moment the pair started working with Stowers, they knew he was special. In Johnson's words, the senior has an almost indescribable quality that makes him such an elite player.
"A lot of guys have everything you talk about, but you can still lack the 'it' factor," Johnson said. "And for him, it's the 'it' factor. It is something you can't really put your finger on, but when he addresses the huddle, I think guys recognize it, too. That confidence he has just seeps throughout the rest of the unit."
Stowers was fully cleared to return to football activities on Sept. 1, more than nine months after getting hurt in last year's championship game. When Guyer began fall practice on Sept. 8, Stowers looked exactly like the quarterback that threw for 2,969 yards and 36 touchdowns, coolly hitting receivers in stride.
"I think he's hungry for an opportunity to finish the deal," Webb said. "He got right to the precipice of a state championship, and to have it end that way has got to be a really good motivating factor for him."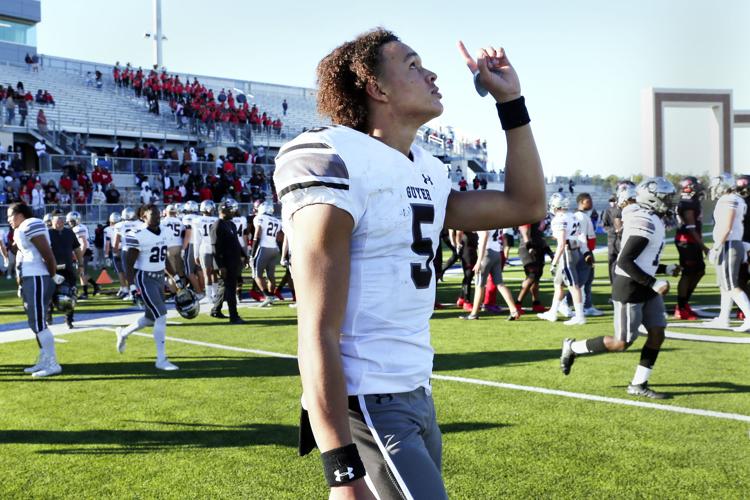 Guyer returns several key players on both sides of the ball from a team that went 14-2 last season. Texas A&M commit Deuce Harmon, Baylor commit Cooper Lanz and Florida State commit Jordan Eubanks are all back. The Wildcats also have one of the top offensive line prospects in the state in Gabe Blair.
The pieces are there for Guyer to make another run at a state championship.
And now healthy again, Stowers is ready to lead the Wildcats on that quest.
"I feel almost the best I've ever felt in my life," Stowers said. "I'm in great shape right now and feel stronger than I've ever felt. This knee injury was tough at the time, but it was kind of a blessing in disguise. I ended up feeling really good after all that physical therapy."