From the moment John Walsh saw Seth Meador in his first varsity game, Guyer's coach knew the Wildcats had a special player on their hands.
"We brought him up as a freshman at the end of the year for a playoff run, and he performed as a freshman," Walsh said. "I remember the first game him diving across the middle for a ball. He's one of those fearless guys. You can see it."
But for Meador, confidence was not always easy to come by.
Before he burst onto the scene as Guyer's leading receiver last year, Meador said, occasional doubt crept into his mind. It wasn't until Nevada offered him a scholarship that he started to believe in his abilities.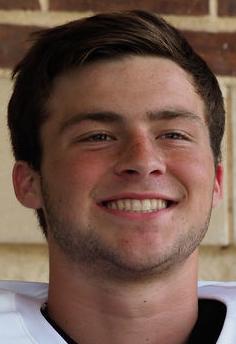 "Before my recruitment started, I really doubted myself and the things I could do," Meador said. "There have been a couple times over the years where I've succeeded in pressure situations, and I've also failed, which, if you let it, failure can be the best teacher you have. I've just really matured since freshman year and become a leader people can look up to."
After hauling in 56 catches for 834 yards and nine touchdowns as a junior, Meador enters his final season at Guyer with his college commitment out of the way. The 6-0 wide receiver announced his commitment to Air Force on Twitter on Monday night.
Attending Air Force requires a nomination. According to the Air Force website, a majority of cadets seek nominations from the congressional or vice presidential categories, which include U.S. senators, representatives and the vice president.
Meador said he will seek his nomination from Sen. Ted Cruz of Texas. He noted that his decision was between Air Force, Nevada and North Texas.
"I love UNT's and Nevada's ability to throw the ball, but I chose the academy for the opportunity I could have [after] college," said Meador, who plans to major in aeronautical engineering and become a pilot. "Of course football has gotten me there, but I've thought about it and I don't think going into the [NFL] would be a priority."
Meador said the opportunity to play at UNT and stay home was intriguing. He added that it was an option that was on the table until last week.
"I went up there [to UNT] a couple of times. I enjoyed it so much. They have a great school," Meador said. "I asked God to give me some peace about what I should do, and that's what happened."
Meador highlights a talented group that will lead Guyer's offense in 2019. Eli Stowers, one of the top dual-threat quarterbacks in the Denton area, and running back Kaedric Cobbs will return alongside Meador.
The Wildcats averaged 29.3 points per game last year, with Meador averaging 69.5 yards and 4.7 catches.
"He checks all the boxes," Walsh said. "He's been an important part of our plan for a long time. Last year was the first time we mainly got to use him at receiver, and the numbers speak for themselves.
"I'm excited that he picked Air Force. Listening to him go through the process, he wanted to find a great fit for him football-wise but he was also thinking about after football. I think Air Force got a good football player, a great receiver and an even better person."