Guyer coach John Walsh had every reason to be a bit anxious on Monday afternoon.
If his team being three wins from its third state championship wasn't enough, Walsh and his staff were now faced with a peculiar dilemma. The Wildcats had five days to prepare for Amarillo Tascosa's flexbone offense — a scheme based on the old-school triple-option that is seldom seen at the Class 6A level.
Guyer (12-1) will get a front-row seat to this unique attack at 11 a.m. on Saturday in the 6A Division II Region I final at The Ford Center at The Star.
"It's challenging," Walsh said of the flexbone offense. "We've seen it a couple of times from other programs, but not as well-oiled as Tascosa. And not with the talent they have coming at you. They're really good at it. Anytime that the quarterback's last name on his jersey is the same as the head coach, it kind of scares me. Because that means he's been doing it since he was 4."
Tascosa's (10-3) quarterback, senior Joseph Plunk, has rushed for 2,510 yards and 33 touchdowns this year. He is the son of the Rebels' coach, Ken Plunk.
Together, this tandem has led Tascosa to five straight victories, including a 46-14 drubbing of Flower Mound Marcus last week. Joseph Plunk ran for 258 yards and six touchdowns in the Rebels' region semifinal victory.
Tascosa has not thrown a pass the last three weeks, relying solely on its bruising ground game.
"You just don't see [this offense]," Walsh said. "You never do. It kind of puts everybody on alert. You have to really watch it and dissect it. A lot of those schemes are similar to schemes we see; the delivery is just much different.
"You keep it simple and give your kids some keys. They just have to be wreckers. They have to try and wreck the play by fitting off their key."
Walsh said the main challenge of getting Guyer ready for the flexbone was not being able to simulate it in practice with players.
Instead, the Wildcats used a bevy of coaches throughout the week to try and replicate what Guyer's defense will see come Saturday.
"You can't simulate this. It's impossible," Walsh said. "You can't expect kids to be able to do this in five days. Defensive eye discipline will be [paramount]. You have to read your keys and react fast."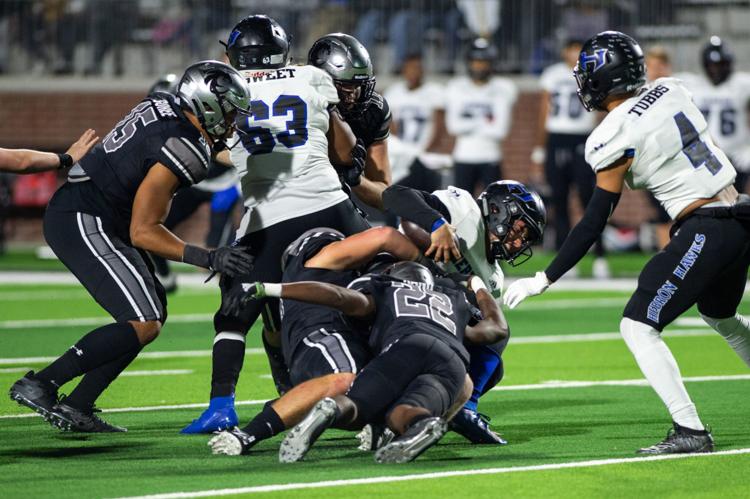 Guyer's run defense has been stout so far in the playoffs, holding Hebron and Arlington to under 100 yards rushing. The Wildcats are surrendering just 22.6 points per game this season.
A win against Tascosa would send Guyer to its first state semifinal since 2013, which is the last time the Wildcats won a championship.
"What's crazy is, it's really business as usual," Walsh said. "You can see our giddiness, but our kids have figured out that we need to go to work."