Three onside kicks. Thirty-six unanswered points. One improbable comeback.
That was the story nearly a month ago when Guyer erased a 27-point second-half deficit to stun Cedar Hill 50-41 in the area round. To many around the state, the rally was one of the greatest in Texas high school football playoff history.
In the days and weeks after the game, everyone was talking about it — except Guyer.
"We talk about playoff traps," Guyer coach John Walsh said. "The biggest trap we've got right now is to keep talking about that."
While the comeback ultimately saved the Wildcats' season, it did little else in satisfying Guyer's goal of bringing a state championship back to Denton.
"To be special, you have to overcome adversity," Walsh said. "I think we did that in [the area round] against Cedar Hill. That was a great comeback. Really, a classic Texas high school football comeback. But if you want to make it legendary, put a title on top of it. We don't want to be known for the comeback. We want to put a title on top of the comeback. And then, this season could quite possibly go down as one of the most special ever."
Saturday night, the Wildcats will get their chance to make sure everyone remembers them for much more than a comeback when they meet Austin Westlake in the Class 6A Division II championship at AT&T Stadium.
It is Guyer's fourth title game in school history and the first since the Wildcats won it all in 2013. That team was quarterbacked by standout Jerrod Heard, who went on to play at Texas and is now with the Dallas Renegades of the XFL.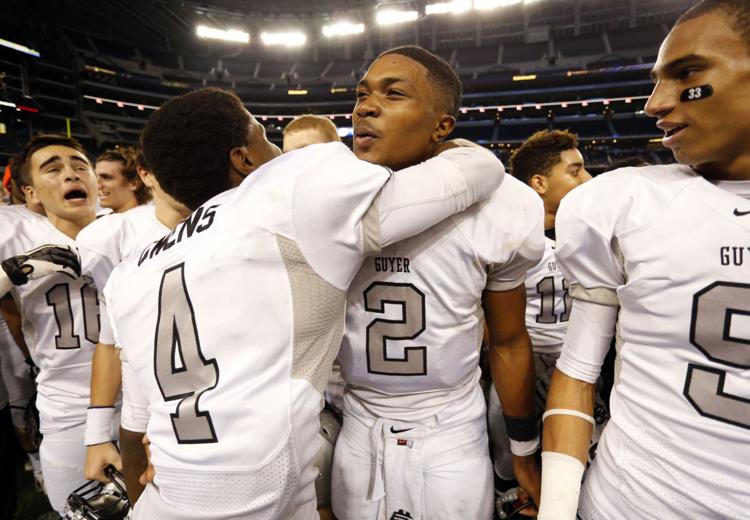 "I think they're on a mission," Heard said of this year's Guyer team. "I've been out to a few practices during this playoff run and in the regular season, and I see a group of guys that really want it. I definitely believe they're going to bring a state championship home."
Heard accounted for 254 total yards and three touchdowns in Guyer's 31-14 victory over San Antonio Brennan in the 2013 Class 4A Division I title game to help the Wildcats repeat as state champs.
Six years have passed since Heard last suited up for Guyer, but he said he sees plenty of similarities between this year's team and his squads that were crowned champions.
"It reminds me of 2012 and 2013 a lot," Heard said. "It's funny, because I walked in the locker room and it was like, 'Wow.' It's so similar to what I had when I was playing.
"Coach Walsh creates an atmosphere, and that bar has been set since [Walsh's son] J.W. was there. When kids grow up in that Denton Guyer area, the goal is to go to state. That's been the mindset since we were little kids and saw J.W. go. We're not taking anything less."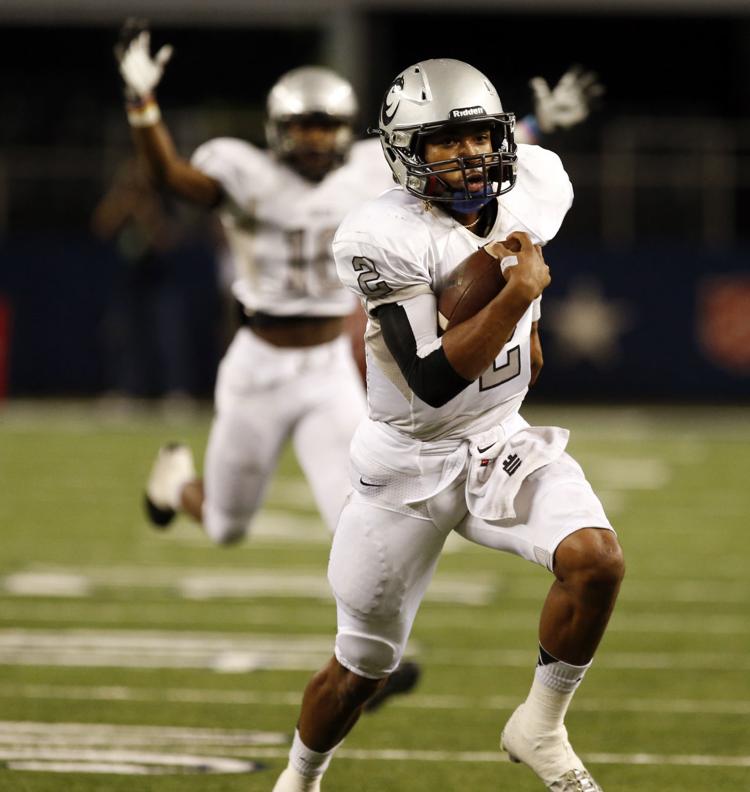 J.W. Walsh's 2010 team is often referred to as what set the standard for excellence at Guyer.
The Wildcats went 13-3 that year before falling in the title game to Cibolo Steele, marking the only time Guyer has lost in a championship game. In the nine years that have followed, the Wildcats have gone 92-28, which includes two state championships and a 14-1 mark this season.
J.W. Walsh said one common denominator across all four of Guyer's teams that have reached the title game is uncanny leadership.
"When you look at Eli [Stowers], Kaedric [Cobbs], Seth [Meador], Grant [Mahon] — there's a whole core of leaders there who are easy to follow," J.W. Walsh said. "They all know how to win. They're really tough. They play a different brand of football than most people in the state, too.
"If you watch that core group of leaders, I haven't seen them panic all year when I've been at games. My dad told me in the Cedar Hill game, when he went into the locker room, there was no panic in anyone's eyes. And that's because Eli doesn't panic. It's because Kaedric doesn't panic. And the rest of them don't. They're all very mature."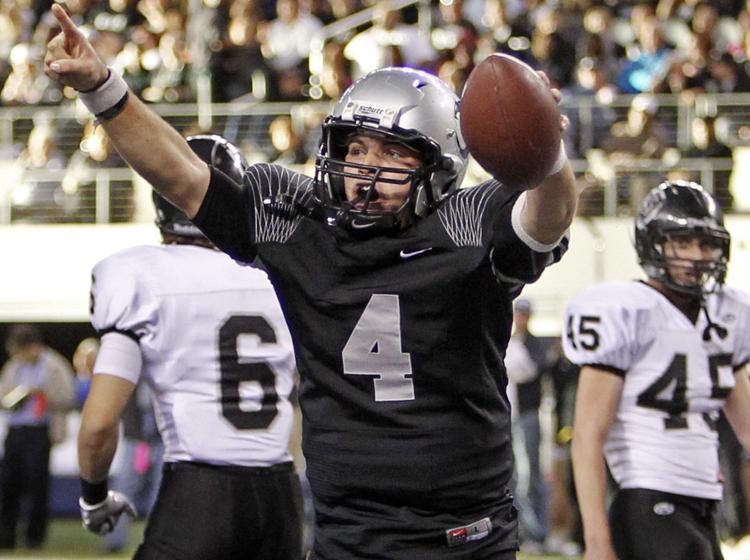 That maturity was on full display last weekend after the Wildcats knocked off Spring Westfield in the 6A Division II semifinal down in Houston.
Not even punching their ticket to the state title game for the first time in six years could break the laser focus of Stowers.
"It's such an amazing feeling, and I don't even think amazing describes it," Stowers said last week after beating Westfield. "I love this team so much. We've worked so hard for it. This is a good win, and we're going to state, but we still have one game left. We have to keep improving and hopefully go put a title on top of this."
That mindset of never being satisfied until they win a title, J.W. Walsh believes, goes back to what happened in 2010. The Wildcats lost to Cibolo Steele 24-21, with an interception in the waning moments sealing the win for the Knights.
"I think [winning a championship] is ingrained in them because of that 2010 season," J.W. Walsh said. "We fell short of it by three points. And we should have won it. We were the better team on the field but they were the better team that day. We just made a few too many mistakes. I think that's probably why everyone over there feels like it's unfinished business."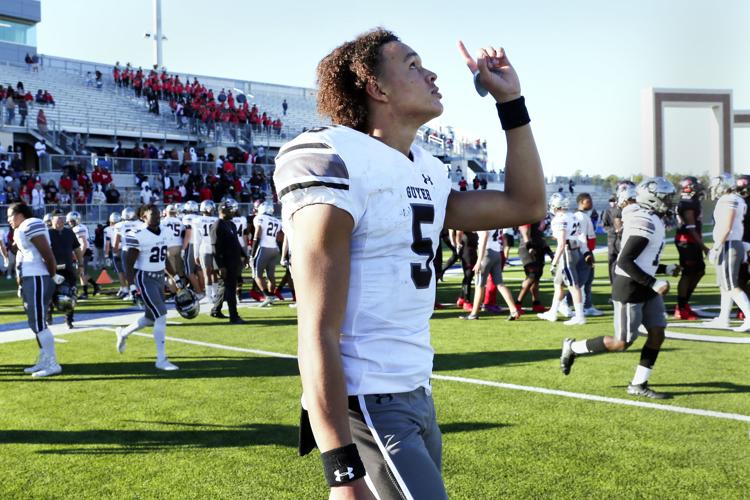 Guyer is determined to not be remembered solely for its miraculous comeback against Cedar Hill. The Wildcats are also determined to, as so many of them say, "put a title on top" of what has already been a memorable season.
Because at Guyer, the standard is championships and carving out a place in the high school football history books.
And for the fourth time this decade, they are now just one victory away from doing it again.
"Starting in January of last year, we talked about having the experience and talent to win it all," John Walsh said. "Anything in between won't discredit the success we had, but it won't fulfill our hearts. We feel like we're a state championship program this year, and we want to make sure we fulfill that."