When Guyer and Cedar Hill squared off in early September at the Cotton Bowl, the Wildcats needed a touchdown in the final three minutes to rally for the win.
Trailing 36-33, Guyer frantically marched 73 yards and took the lead on a 10-yard run by Kaedric Cobbs with 15 seconds left.
While Cobbs' score sealed the Wildcats' 40-36 victory, Guyer coach John Walsh had a feeling that would not be the last his team saw of the Longhorns this season.
For the second time this year, Guyer and Cedar Hill will meet, except this time, their seasons will be at stake. The two teams clash at noon on Saturday at AT&T Stadium in the Class 6A Division II Region I area round.
"Honestly, we knew in Week 2 that we were playing them in round two," Walsh said. "It's a challenge. You know them better now, and you know that they know you better now. You have to look at your tendencies and make sure that you fix the things you did wrong, but you also have to make sure that you aren't playing into their hand. Now, the good news is that this program has done this before."
In 2010, Guyer lost to Cedar Hill 42-41 in overtime in Week 2, but responded to knock off the Longhorns 48-35 in the area round. Guyer went on to lose to Cibolo Steele in the Class 5A Division II championship that year.
Although none of the current Wildcats were on that team, Walsh and several assistant coaches were.
"As a staff, we've been there," Walsh said. "These kids haven't yet, but we've been there. It's not completely new ground for this program, having to play somebody again deep in the playoffs."
To beat Cedar Hill for the second time this season, Guyer will have to slow down the Longhorns' high-flying offense. Cedar Hill racked up 539 yards in Week 2 and has an uncanny quick-strike ability.
The Longhorns scored on plays of 24, 13, 46, 64 and 44 yards in their September loss. Cedar Hill is led by the electric duo of quarterback Kaidon Salter and wide receiver Quin Bright, who is committed to Texas Tech.
Salter has thrown for 2,291 yards and 25 touchdowns while Bright has hauled in 58 catches for 937 yards and 10 scores.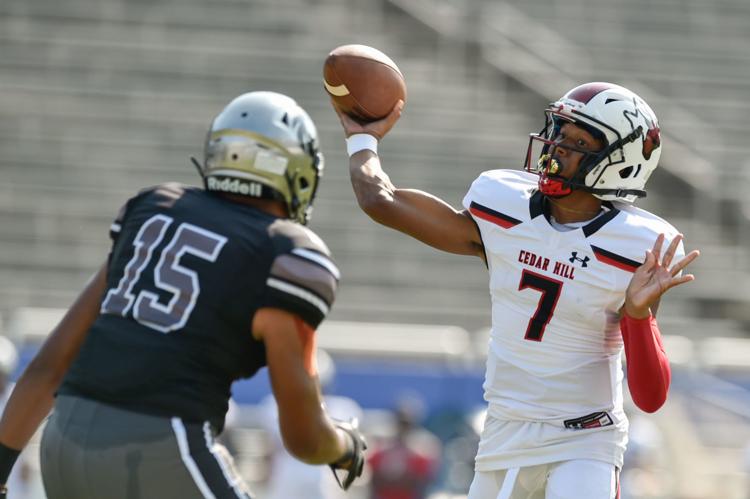 "[Salter] can spin it," Walsh said. "He can throw as far as anyone that I've seen in high school. They're going to throw it deep. So, we can't let them get behind us. But two, we have to make a play on the ball."
Guyer, meanwhile, will lean on its own explosive offense.
The Wildcats average 46.9 points and 530 yards per game, with Cobbs and quarterback Eli Stowers leading the way. In last week's bi-district win over Hebron, Cobbs and Stowers combined for 485 yards and six touchdowns.
Although Cedar Hill has already seen firsthand the damage Cobbs and Stowers can do, Walsh and the Wildcats plan to continue to utilize what has gotten them to this point.
"We're not going to change who we are, by any means," Walsh said, "Kaedric and Eli running the football is the catalyst for everything that we do. It opens up [Seth] Meador, [Travis] Romar and [Brandon] DeLeon out wide. We've got to establish [the running game]. They know we're going to try to. Everyone knows we're going to try to. But we're not just going to try. We're going to be successful at it."
The winner of Saturday's game advances to the 6A Division II Region I quarterfinal and will play the winner of Arlington and El Paso Americas next week.