After being forced to sit and watch this past week while the rest of the Denton area began fall practice, Guyer and Braswell will finally start their seasons on Monday.
Since the Wildcats and Bengals held workouts in the spring, both schools had to wait a week before they could officially start practicing. But for Guyer coach John Walsh, the benefits of spring practice vastly outweigh the delay come August.
"There is no question about that, just for the prime reason that August is the hottest month of the year," Walsh said. "I don't want to be out there and nor do I want our kids out there when the heat index is 110. The shorter I can make August, the better."
Guyer and Braswell will both start practicing at 4 p.m. Monday.
The Wildcats return 17 starters — nine on offense and eight on defense — from a team that went 6-6 last year. Guyer checked in at No. 8 in Dave Campbell's Texas Football's preseason Class 6A rankings, and the hype surrounding the program has only been building.
"We had a good spring and summer," Walsh said. "You can tell the excitement level is there because it's been highly attended and highly attacked."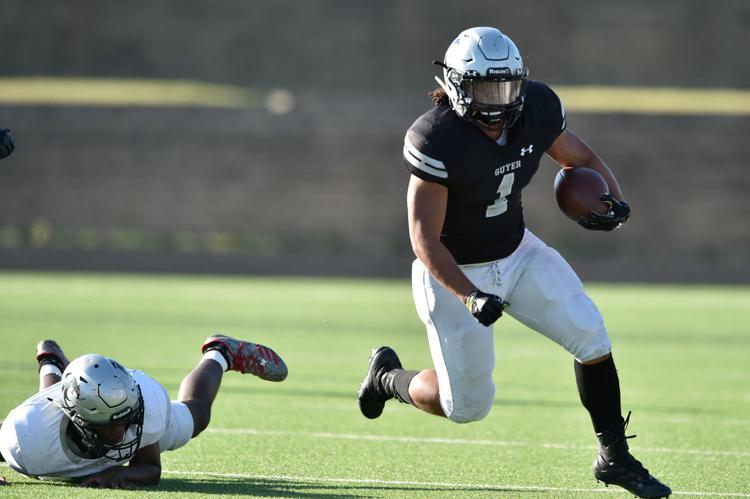 Quarterback and Texas A&M commit Eli Stowers, along with Air Force commit Seth Meador and senior running back Kaedric Cobbs will spearhead what should be a high-octane offense. Stowers combined to run and throw for 2,690 yards and 22 touchdowns last year, and is one of the top dual-threat quarterbacks in the state.
Cobbs, meanwhile, ran for 1,487 yards and 19 touchdowns. Meador led the team in receiving with 834 yards and nine touchdowns a season ago.
Defensively, the Wildcats get back senior Oklahoma State commit Grant Mahon, who missed the entire 2018 season due to injury. Guyer will also feature a talented secondary, with Navy commit Trace Jewell, as well as cornerbacks Deuce Harmon and Jaden Fugett.
The Wildcats open the season Friday, Aug. 30 on the road against defending Class 5A (Division II) champion Aledo.
"We've talked as a group since January and know what kind of leadership and talent was coming back," Walsh said. "We knew if we had a great seven months, that come August we were going to have a chance to have one of those special Guyer football seasons.
"They have done everything they're supposed to. When you get to the season, that's when you get to make everybody else believers. That's what we want to do."
Expectations high as Braswell eyes playoffs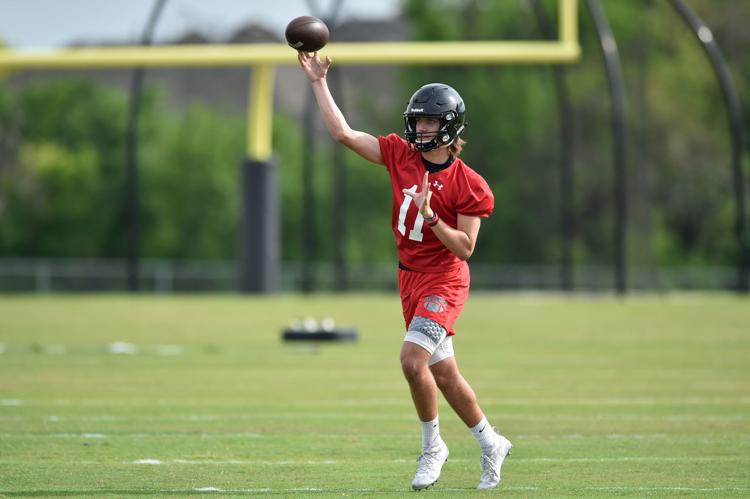 As teams around the state and area kicked off their season last Monday, Braswell spent one final week preparing for its first day of practice in the scorching Texas heat.
Now, the wait for the Bengals to suit up is finally over. Braswell will hit the field for the first time since last November on Monday afternoon, marking the start of the program's fourth season.
"I am as excited as I've ever been going into any football season," Braswell coach Cody Moore said. "I think the atmosphere around our kids and coaches is great. We're optimistic about what we've built the first three years, and we're just ready to build upon that."
Braswell went 3-7 in 2018, the school's best record in its three-year existence. The Bengals have improved their win total in each of the past three years, and with 14 returning starters this fall, expectations are higher than ever.
"I think our program is in great shape," Moore said. "We've gotten better in every way you can possibly get better in the course of three years. Everything that we emphasize within our program, from on the field performance to performance in the classroom, has gotten better every single year."
Braswell's attention now shifts to claiming its first playoff berth.
With standout wide receiver Cam Smith and third-year starting quarterback Greyson Thompson leading the offense, the Bengals seem poised to make a run in the nine-team District 7-5A (Division II). Moore knows the road to the postseason will be a challenge, but he is confident Braswell is ready to take the next step.
"It's not going to be easy to get into the playoffs," Moore said.
"We certainly have a shot to do it, and the group of kids we have right now expect to win. However, I think we need to beat someone that maybe we're not supposed to beat to reaffirm what we already believe. I think that will just catapult us to the next level."
Ryan building on successful first week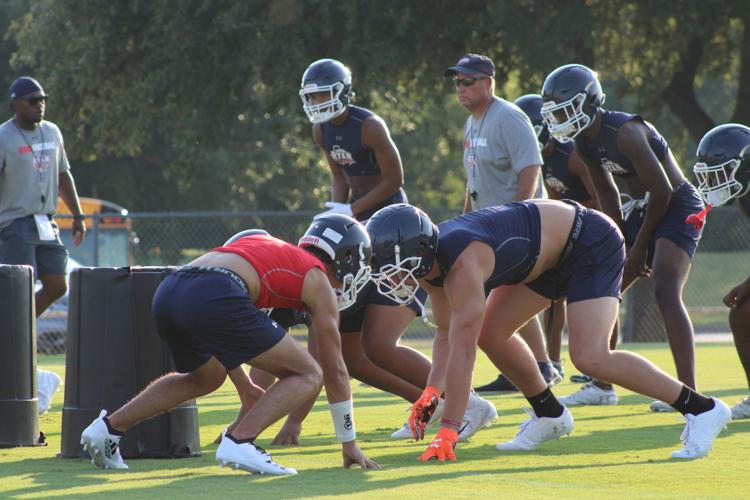 Ryan players and coaches are feeling supremely confident about the progress the team made during the first full week of practices.
The Raiders kicked off their fall schedule with an evening practice Monday followed by a quick turnaround workout at 7 a.m. Tuesday. That momentum carried over into the rest of the week, culminating with Friday's morning drills to close out the week.
While not much changes from year-to-year for the Raiders, several two-way players such as Alabama pledge Drew Sanders and Texas commit Billy Bowman Jr. are expected to be even more involved offensively than they were last year, which has precipitated a few changes in terms of drills and practice formats.
Head coach Dave Henigan said everyone is adjusting quickly.
"I think it was a good week; we're getting better every week and that's what you want," Henigan said. "We feel like we have a pretty good plan for our two-way guys, and it's already paying dividends in regards to detail and technique. We're ready to get into full pads."
As far as new faces go, Henigan pointed to sophomore Austin Jordan, a track standout last year who is quickly working himself into the mix as a big body at wide receiver and defensive back. Garyreon Robinson is also expected to add solid depth to an already solid secondary.
Denton optimistic as season approaches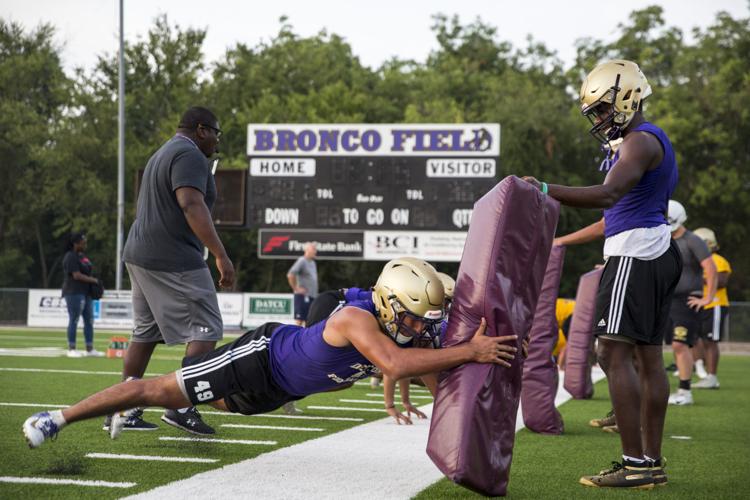 Despite last year's leading rusher Xylohn Posey moving to Melissa, Denton coach Billy Miller watched new faces begin to blossom in the team's first week of practice.
Entering his third year at the helm of the Broncos, Miller said he was pleased with Denton's effort, and is optimistic as they continue preparing for the upcoming season.
"We've had a really good first week of practice," Miller said. "We've filled our roster out in a positive way and our two-deep is looking good. Just getting squared away what our program is going to look like in the future is really exciting."
The future is beginning to unfold behind hungry newcomers at positions including the secondary, wide receiver and quarterback, among others.
Now, the Broncos are focused on maintaining a high energy level and embracing their roles heading into the remainder of the fall practices.
"They know what their role is now," Miller said. "The talent and ability has always been there from those guys, but them being able to realize what their new role is has given them confidence to be leaders in the program."
Steve Gamel, Matt Brune and Bronte Hermesmeyer contributed to this report.