Cody Moore can't recall the last time he wasn't on the field in the beginning of August for the start of fall football camp.
"It's been a long time," Moore admitted. "It's crazy."
But when the calendar flips to August in seven days, Braswell's head coach — along with every other Class 5A and 6A team in the state — will be sidelined as part of the UIL's COVID-19 fall sports plan.
The UIL unveiled the highly anticipated strategy on Tuesday morning, staggering schedules depending on classification.
Class 4A and under teams will be able to start fall practice on time on Aug. 3. Larger schools in 5A and 6A will have to wait a little longer and will not be able to practice until Sept. 7.
Denton ISD schools are tentatively scheduled to play their first games as early as Sept. 24.
While the delay is uncharted territory for everyone, Moore said he continues to reassure his team they have ample time to prepare.
"I think we're so trained to think, 'Oh man, it's fixing to be August. We're up against it here on time and have to get all this stuff done,'" Moore said. "We have a month before we start practice. We've got time. Obviously, we want to be prepared, and I'm excited we have a plan for our kids to play."
Since the UIL canceled the remainder of the spring sports season in mid-April, questions have swirled about what fall sports would look like.
The UIL allowed teams to begin strength and conditioning in early June and, throughout the summer, released updates to its COVID-19 guidelines. Prior to Tuesday's announcement, the latest modification included a mandate that required coaches and players to wear a face covering while not actively exercising.
"I think the UIL deserves a lot of credit," Ryan coach Dave Henigan said. "It's hard to be a decision-maker, and you got to jump out there with the best information that you have at this point in time. You're not going to please everyone, and it's not going to be perfect — and it's not.
"But once again, my philosophy is that all our sports and all of our seniors get to play their senior season. It may not look the same as it did in the past, but I think the UIL has done the best job they can with the information that is available right now."
One of the challenges coaches across the state are facing are scheduling conflicts.
Many schools, like Braswell, had non-district opponents already scheduled from counties with stringent COVID-19 guidelines. Braswell had two Dallas County schools and one Tarrant County school scheduled its first three weeks of the season.
Both Dallas and Tarrant County have ordered the closure of public schools through Labor Day.
As a result, Moore said he has lost at least two of those games, likely all three.
Ryan has South Oak Cliff, a Dallas County school, scheduled for Week 1. Henigan said, as of now, his schedule has not changed.
Guyer coach Rodney Webb said on Thursday the Wildcats' schedule has not been affected.
Denton has Saginaw Chisholm Trail — a Tarrant County school — on its schedule in Week 2. Denton coach Billy Miller said while that game is up in the air, nothing has changed yet.
"We have to remain objective in the way we plan for our seasons," Miller said. "You can't take a subjective view to what we're doing. You have to be objective, see each other's view and look at it [from] every different angle. Because if you get narrowed down to the one thing you find to be the most important thing, then you're going to miss out on something that's important to make a great decision for everyone involved."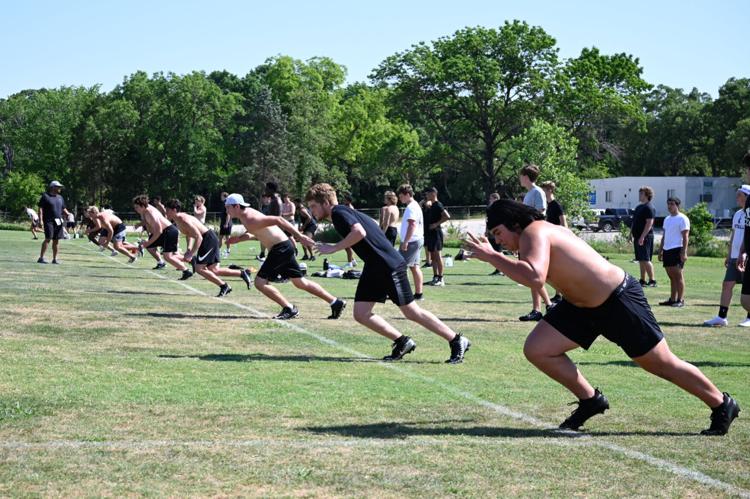 Another unresolved issue remains how schools and districts will handle a situation when a player or coach tests positive for COVID-19.
Webb, who is president of the Texas High School Coaches Association, said the UIL will not mandate how that is done. Instead, those decisions will be left up to individual school districts.
Webb said Denton ISD still needs to meet and formulate an exact plan. But in Webb's opinion, COVID-19 cases could be treated like injuries.
"I think positive cases are going to the the equivalent of pulled hamstrings," Webb said. "You have those years where you have a rash of injuries, and this might be a year where you have a rash of cases and are missing some kids.
"I think as coaches, we have to be extremely responsible about making sure our kids are making good decisions. We don't want them to get the virus because we don't want them to have the virus. It's not a matter of them not being able to play the game. We have to make sure our kids are making good decisions and exercising good hygiene. Wearing a mask is really going to be important."
Webb's thought process behind how coronavirus cases could be handled goes back to fairness.
"I know for sure there are a couple of guys in 5A and 6A that feel like if you're shorthanded, you should be able to tap out and not play," Webb said. "I don't know how you do that. How do you make it objective to where it's clear-cut? I don't think you can do it. I think you've got to play. And if your school is shut down for five days, then your school is shut down and you can't play."
Webb highly anticipates there being a hiccup in the season with some schools not being able to play due to a COVID-19 related shutdown.
To help prepare for potential missed games, Webb and Henigan are advocates for not playing part — or all — of their non-district schedules. This gives their teams scheduling flexibility at the end of the season to make up any missed games.
"You know at some point, somebody is going to have an issue," Webb said. "There will be a five-day shutdown or whatever. If we don't have a plan for making those games up, you're going to get to the end of the regular season and one team will have played five district games, and another team will have played six. How are you going to figure out with tiebreakers?"
While Guyer, Braswell, Ryan and Denton wait until they are able to officially start practice in early September, each school knows it must strike a delicate balance with workouts until then.
Webb intends to give Guyer athletes time off at some point in August, while Henigan is excited for the extra time to prepare for the season.
As for Moore, he said the Bengals must continue to operate responsibly. He anticipates giving Braswell athletes the week of Aug. 3 off, because he wants his team refreshed and ready for practice come September.
"To me, [this] is just the start of it. We have to continue to do the things we're supposed to do in order for us to get to play the whole season," Moore said. "I don't want our kids burnt out by the time we get to practices. There may be a week or two off in the course of [the next month] somewhere. I want them excited when Sept. 7 rolls around. They've worked extremely hard the past couple weeks. We've gotten a lot done."
Steve Gamel contributed to this report.