Time will tell if this year's Ryan team will be the one to win that elusive third state championship in school history after being so close last year that they could taste it.
One thing is for sure, though, they are the odds on favorite in Class 5A Division I for a reason.
The Raiders, who are an eye-popping 70-5 over the past five seasons and last year's 5A DI state runner-up, had all 11 returning starters on the field Tuesday for the first fall practice of 2020. And while the roughly two-hour workout was admittedly a bit sloppy at times, it was a chance to finally put on a helmet, run a few plays, and see how close they really are to December-football form.
According to many players and coaches in attendance, they'd line up and play someone tomorrow if they could.
"Most definitely. I think we could play anyone — right now," Texas commit and wide receiver/defensive end Ja'Tavion Sanders said. "I am confident we can get a ring this year."
For now, everyone agreed it felt good to be at practice.
Ryan is one of many Class 5A and 6A programs that officially began their 2020 campaign on Tuesday. Three of the four Denton ISD teams (Guyer, Ryan and Braswell) practiced Tuesday afternoon, while Denton practiced in the morning.
The usual suspects were out in full force for the Raiders, including five Division I commits in Sanders, quarterback Seth Henigan (Memphis), defensive back/wide receiver Billy Bowman Jr. (Texas), linebacker DJ Arkansas (Rice) and defensive back/rover Ty Marsh (Houston). But several familiar names and fresh faces are expected to round out a very deep unit.
Offensively, Ke'ori Hicks is set to be the lead running back following the graduation of Emani Bailey. Hicks has seen plenty of touches in the backfield over the last couple of seasons but has looked like a more focused runner this offseason as he prepares to take the reins.
He'll be joined by his sophomore brother, Kalib. Along with a 3,000-yard passer in Seth Henigan, Ryan appears to have more depth at wide receiver with two-way stars Sanders, Bowman and Austin Jordan leading the charge. Jordan Bailey, Emani Bailey's younger brother, Keagan Cunningham and Michael Davis are also expected to factor into the passing game.
Defensively, the Raiders lost Drew Sanders (Alabama) and Ahmad Terry to graduation, but Arkansas is coming off a breakout season. Sophomore Anthony Hill will also start at linebacker. Hill has a slew of Division I offers from the likes of Alabama, LSU, Texas, Tennessee, Baylor, North Texas and more.
Michael Gee will line up opposite of Ja'Tavion Sanders at defensive end, and both Mason Davis and Jay Sheppard will anchor the defensive tackle spots.
"There were a lot of good things that we saw today, but there were also things we need to clean up," Ryan coach Dave Henigan said. "It's like I told the team, 'it's not an excuse, but it's a fairly typical first day of school in my experience.' Generally, those practices are sloppy, and that's the way it was today. We've got to get better, but I know we will.
"You never really feel ready for the first game, but sometimes you've got to go play. And I think that's where we are right now. We've been at it for a while, and we need to go line up against someone else. Whether it's a scrimmage or a game in a couple of weeks, it's time."
Fresh faces lead Guyer into new era focused on same task — winning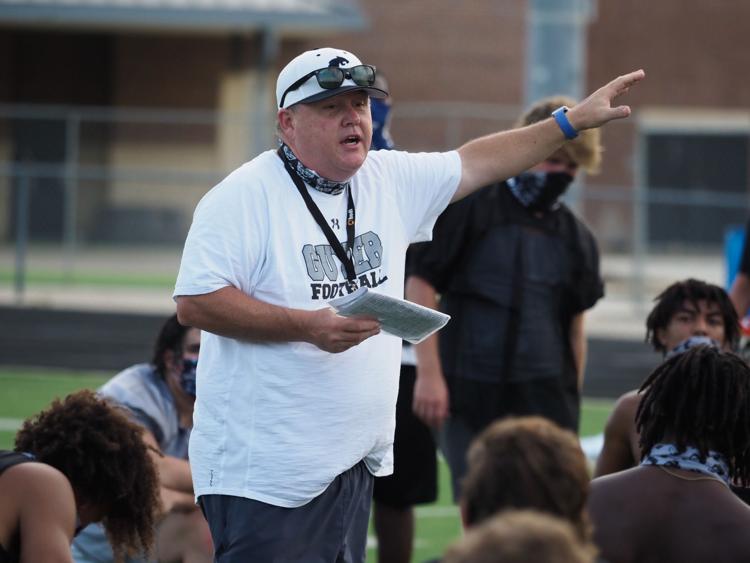 Rodney Webb knew when he was hired to replace longtime Guyer coach John Walsh on March 30 that it would take some time for him to adjust to his new team, and vice versa.
Taking over for the only coach in Guyer's history, Webb was well aware there were traditions and habits already in place when he arrived.
But as Tuesday's first day of practice showed, the Wildcats have been more than willing to adapt and welcome in their new coach.
"I'm really proud, and I'm proud of the fact that they've accepted me," Webb said. "It's like I talked to them today, there are some things that I'm doing differently coming to Guyer, and I don't want to mess with this or mess with that. But there are some things as a head coach that I need to do differently. And they've been very understanding of that.
"I sort of called us the Brady Bunch. There's Rockwall influence into the Guyer culture, and it's like this blended family that is getting along really well right now."
Webb and his staff, which includes new offensive coordinator Jordan Johnson and defensive coordinator Reed Heim, have installed new schemes on both sides of the ball.
Offensively, Guyer has gone to an attack that will feature more passing than in years past when the Wildcats were a run-first offense. After graduating leading receiver Seth Meador, Guyer will turn to three new faces in Brody Noble, Grayson O'Bara and Jace Wilson at the receiver position.
"We have depth," said Webb of Guyer's receivers. "We've got a lot of ground to cover, but there is definitely some talent there. Those guys are going to do nothing but improve as the year goes on."
One of the biggest question marks for the Wildcats coming into this season was at running back. Kaedric Cobbs, who is now at UTSA, was Guyer's workhorse last year, rushing for 2,641 yards and 42 touchdowns en route to a 6A first-team all-state nod.
Webb said the Wildcats will approach replacing Cobbs in the form of a running back by committee, with BJ Phillips and Ty Alridge being two players in the mix.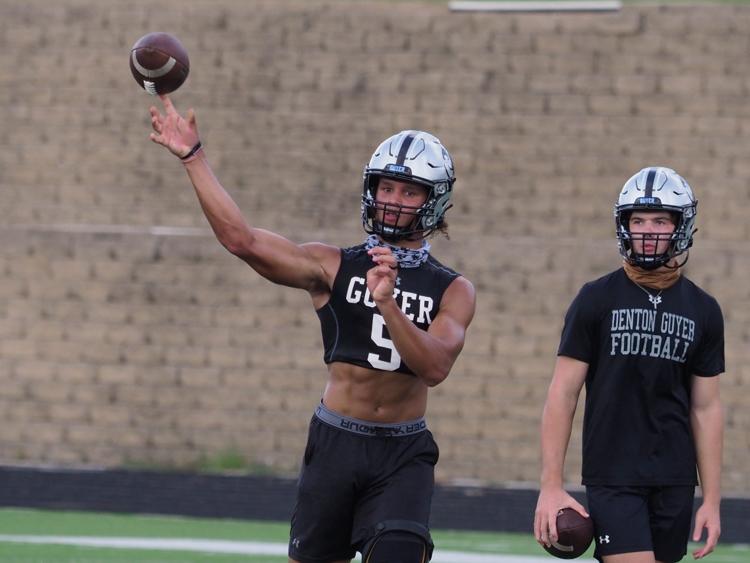 But perhaps the biggest positive for Guyer offensively is the health of quarterback Eli Stowers. The Texas A&M commit was knocked out of the 6A Division II title game and had knee surgery in January.
He has since been fully cleared, and as Webb put it, looks as sharp as ever.
"He looks great," Webb said. "And to be honest with you, ever since we started working skills on June 8, there hasn't been one thing that he hasn't been able to do. He hasn't had any issues or any kind of setbacks. Today was about what I expected from him. He's a talented kid that's got all the intangibles."
On defense, Guyer has switched from a 4-3 scheme to a three-man front. The defensive line will be anchored by Baylor commit Cooper Lanz and Dotun Olanipekun, among others.
Linebacker Jordan Eubanks, who is committed to Florida State, along with Texas A&M commit and defensive back Deuce Harmon, are other key returners for the Wildcats.
As for Webb, Tuesday marked the first time since he was hired that he got to have a full practice with his team.
He conceded there were mistakes to address and issues to clean up, but at the end of the day, Webb was just happy to finally be on the field with his new team that, really, isn't so new anymore.
"Even though we've done skills all summer, there's something different about an organized, bonafide football practice with helmets on," Webb said. "It felt really, really good being out here today."
New QB leads Braswell into 6A realignment
Last season was filled with firsts for Braswell: first playoff berth, first playoff win and winning a share of its first district title in school history.
The Bengals also posted their best record in school history, going 9-3 in coach Cody Moore's fourth year at the helm.
But after realignment in February, Braswell will now be facing more uncharted territory, playing its first season at the 6A level. The Bengals will compete in the treacherous District 5-6A, along with Guyer and perennial power Allen.
"We're excited," Moore said. "I told our group of seniors that I'm excited for for them. There's not another senior class that I would rather lead us into a different classification. It's a great opportunity for the program, for our kids, and we've got a lot of really good teams on the schedule.
"By no means is it going to be easy, but man, it's going to be fun and we're excited."
Leading Braswell into its new classification will be quarterback Tristan McClary. The senior takes over for Greyson Thompson, who graduated last year.
Thompson threw for 3,089 yards and 35 touchdowns last year, but Moore is confident McClary is ready to assume the starting role.
"Tristan is a dynamic athlete," Moore said. "He's probably the most competitive kid on our team. He provides a level of toughness for our team. He's got all the qualities that, much like Greyson last year, you want in a quarterback."
One of McClary's prime targets will be senior receiver Cam Smith, who was a human highlight reel at times last year. Smith hauled in 72 catches for 1,173 yards and 13 scores, giving opposing secondaries fits all season.
Offensive lineman Erick Cade, who has offers from a host of Power Five schools including Alabama and LSU, is also back for his senior year.
While Moore is anxious for Braswell's slate of 6A games to begin, he is also thankful to be coaching again — and for the opportunity to be around the program he has built from the ground up.
"It feels great," Moore said of starting practice. "Being able to be out here with the guys and coaches, and being able to go through our first workouts it's just a great feeling — especially [since] just a couple of weeks or a month or so ago, we weren't sure if we were going to be able to play."
Denton leaning on experience and growth in 2020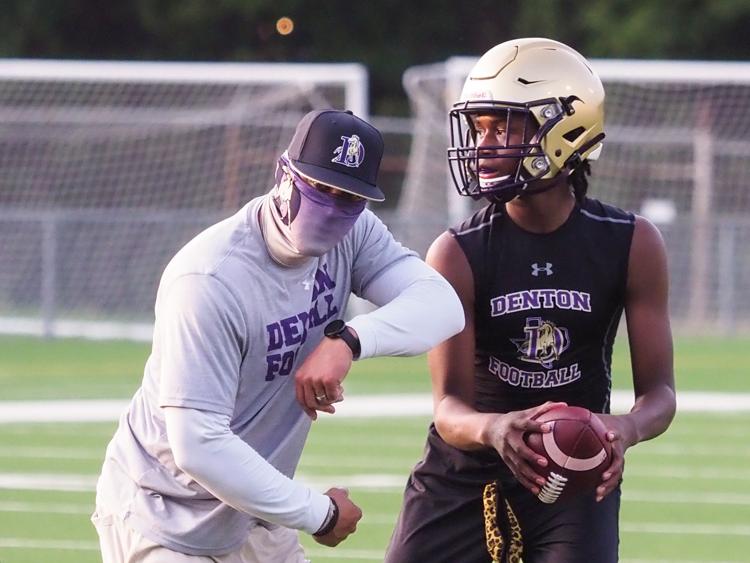 Since Billy Miller took over as Denton's head coach in 2017, one element the Broncos have consistently lacked is experience.
But with 18 returning starters this year — eight on offense and 10 on defense — experience will not be something Denton is short on this fall.
"This is really the first time we've had an experienced team since I've been here," Miller said. "We're looking to try and take advantage of that."
Outside of starting quarterback Davian Guajardo, who graduated last year, the Broncos return most of their offense, including the bulk of their offensive line.
Defensively, Denton returns 10 of its starters from a team that went 4-6 in 2019.
"We can put eight guys [on offense] that started at some point last year back on the field," Miller said. "Defensively, we've got even more than that returning. We're excited.
"A lot of people don't realize the steps we took. Sometimes it's hard when you're surrounded by the likes of Ryan and Guyer to be able to see the type of growth that we're making here at Denton High School. I think it's pretty plain for us to see in this building how much we improved last year, and how high the expectations are going forward."
Miller said currently, it is an open competition to replace Guajardo at quarterback, with one senior, two juniors and two sophomores in the mix.
The Broncos will try and secure their first playoff berth since 2016, and the first of Miller's tenure, this year, but to do so, must go through the highly-competitive District 5-5A Division I.
The nine-team district features Ryan, The Colony and multiple Frisco ISD schools.
"The old adage in high school football is anybody can beat anybody on any Friday night," Miller said. "With the more teams you add to the league, the more chances you have to go prove yourself. It makes it very challenging. That's what we're looking for as coaches. We want a situation that presents us with knowing every time we step on the field, we have a chance to prove ourselves. And we have a chance to establish ourselves as, hopefully, somebody that is rising up in this district."
Darreck Kirby contributed to this report.