In the weeks leading up to the season opener, Argyle had a daily reminder in its fieldhouse of the pain the team felt when it lost a 31-28 heartbreaker to Stephenville in the third round of the playoffs last season.
Video clips and pictures of Stephenville's celebration after that game played over and over on a TV outside the Eagles' locker room, providing motivation as the team prepared for this season.
Argyle finally has its shot at redemption. The Eagles will open the 2018 season at 7 p.m. Friday at home against the Yellow Jackets in a high-profile game that will be featured on Fox Sports Southwest's Texas Football Days programming.
"It's just about building up to the opponent," Argyle coach Todd Rodgers said. "Stephenville happens to be the name that we're using this week [on the TV]. It's about the crescendo to the game and building up to the game. It's fun. We've had a great week, and I think our team realizes you can't play the game Monday and have to wait until Friday.
"We've had an energetic and passionate week of practice."
One of the biggest focuses for Argyle will be the defensive side of the ball, as the Stephenville offense returns seven starters, including running back Krece Nowak (1,720 yards, 16 TDs). Nowak rushed for 156 yards and two scores in last year's meeting.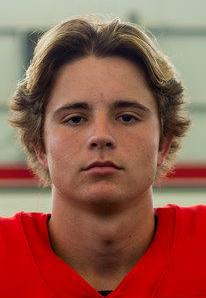 Offensively, the Eagles enter the week excited with how the new-look unit has shined in the preseason. Argyle moved the ball with ease against Denison and Grapevine, a pair of Class 5A schools, in scrimmages and has since named Bo Hogeboom its starting quarterback because of his consistency in those performances.
Hogeboom will benefit from a talented offensive line that features Oklahoma State commit Preston Wilson, Garrett Thomas, Brandon Michels, Rylan Shobe and Connor Homeye. The Eagles have running back Noah Lang (886 yards, 18 TDs) as a workhorse in the backfield.
Argyle enters the game as the No. 1 team in Class 4A Division I, according to Dave Campbell's Texas Football. Stephenville is No. 3. Each team has 15 starters returning from last year's playoff meeting.
"We just have to be careful to not be too ramped-up on adrenaline," Rodgers said. "This is just a step, and we need to stay within ourselves and do what we do. It's a game of chess. We have to have that mindset and not let our emotions take over when our brains need to."
Records: Aubrey (0-0), Van Alstyne (0-0)
What's on the line: It's a new era in Aubrey as the Chaparrals roll out a team with a lot of inexperience while looking to maintain the level of play the program has grown accustomed to under coach Keith Ivy. Jaxon Holder will start at quarterback for the first time against Van Alstyne, a team that went 8-3 and returns star QB Rhett Gallagher (2,473 total yards, 31 TDs). A strong showing against a team expected to have a big year will go a long way toward helping Aubrey settle in this season.
Krum at Plano John Paul II
Where: JPII Athletic Complex
Records: Krum (0-0), Plano John Paul II (0-0)
What's on the line: After a bit of a chaotic year last season that included a coaching change days before the opener, Krum enters Year 2 under Allen Oh much more confident in its new schemes. The Bobcats have Ben Perches back from an injury to lead the way in the trenches as an experienced offensive and defensive lineman, while Bryson Lightfoot gets the start at quarterback. Plano John Paul II went 2-9 last year but is loaded on the offensive line and returns three-year starting QB Andrew Barenberg.
Liberty Christian at Melissa
Records: Liberty Christian (0-0), Melissa (0-0)
What's on the line: Liberty Christian will have its hands full in its first game under new coach Steven Greek as the Warriors travel to take on a highly regarded Melissa team. The Cardinals are led by junior QB Brenden Lewis (4,479 total yards, 52 TDs), RB Ja'bray Young (1,454 yards, 19 TDs) and WR Kennedy Lewis (1,173 yards, 11 TDs) and return 14 starters from a 12-win team. The Warriors will roll out Greek's son, Daniel Greek, at quarterback and hope to use a fast-paced offensive attack to improve on last year's offensive struggles.
Pilot Point at Bridgeport
Where: Bull Memorial Stadium
Records: Pilot Point (0-0), Bridgeport (0-0)
What's on the line: Pilot Point made it back to the playoffs in Danny David's first season as head coach, and the Bearcats will be looking to use the opener against an up-and-coming Bridgeport team to set the tone for another playoff appearance. The Bearcats have an edge in experience, but both teams have exciting dual-threat weapons at quarterback — Jadon Maddux for Bridgeport and Jacob Pitts for Pilot Point.
Records: Ponder (0-0), Howe (0-0)
What's on the line: Ponder is one of the few Denton-area teams with a returning starter at quarterback, and the Lions are banking on Mason Durrett making a big impact as a senior under center. Carlos Zepeda is back at running back, while sophomore Chase Taylor is expected to see a bigger role in the offensive backfield after playing in the secondary last year. Howe went 1-9 and returns just 12 starters, giving Ponder a chance to jump out to a 1-0 start.
Sanger at Ardmore (Okla.) Plainview
Records: Sanger (0-0), Plainview (0-0)
What's on the line: Sanger will travel up to Ardmore, Oklahoma, to take on host Plainview for the first time since 2015. Sanger won the last matchup 26-14, but Plainview will enter this game with a week of experience under its belt after defeating Elgin (Okla.) 26-9. Sanger will lean on its talent on linebacker, a group led by Brock Howard, to help a young offense settle into a rhythm early in the year.