Editor's note: This article is available free of charge for all readers as part of the Denton Record-Chronicle's continued coverage of the coronavirus outbreak and response. Look for additional articles on the outbreak, available free for unlimited access, at DentonRC.com. To support critical journalism such as this, please consider a digital subscription.
The trip of a lifetime landed Denton resident Anna Kraft in the middle of a national story on the spread of the coronavirus this week.
The former Ryan soccer player and North Texas graduate was among 55 members of the American Football Events Team USA squad that was rescued from Honduras on Friday. Kraft took up tackle football after playing the flag variety of the game and landed a spot on the U.S. team that competed in the America's Women Bowl in Tegucigalpa, the capital of Honduras.
The team was stranded in a hotel for several days after Honduras shut down its borders in response to cases of COVID-19 spiking across the globe.
Jonathan Rath Hoffman, the assistant to the secretary of defense for public affairs, announced Friday on Twitter that the team was flown to Charleston, South Carolina. Kraft flew to Dallas from there and was back in Denton by Saturday morning.
"The uncertainty of everything was starting to get to us," Kraft said Saturday afternoon. "We got a random message in a group chat that said, 'Everyone pack your stuff now.' At that point we knew it was time."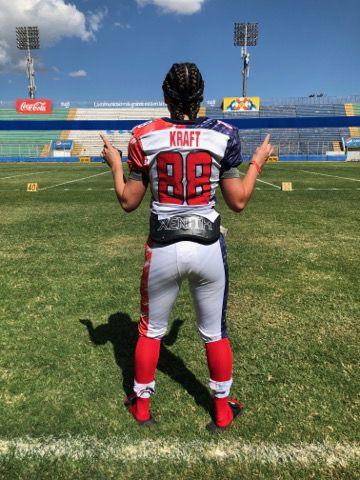 An emergency flight out of Honduras ended a tough few days for Kraft and her team.
The U.S. advanced to the championship of the tournament that was supposed to take place last Sunday before restrictions on gatherings to slow the spread of the coronavirus went into place.
Those restrictions and the border closing led to a tough few days for Kraft, a wide receiver who is a member of a prominent Denton sports family.
Kelly Kraft, Anna's brother, is a longtime PGA Tour golfer.
Anna Kraft, 27, was a goalkeeper at Ryan and helped lead the Lady Raiders to the state soccer tournament in 2011. She now plays for Dallas Mustangs Elite in the Women's Football Alliance.
"We were pretty worried when we found out we couldn't come back," Kraft said earlier in the week.
Kraft and her teammates were in lockdown at their hotel for several days and made the best of the situation.
The team threw a birthday party for two of its coaches to pass the time one night and held a scavenger hunt to make it through another day. The team also watched film and practiced in the mornings.
Kraft said the team did all it could to keep from dwelling on the circumstances it faced.
While the trip didn't turn out as expected, the Kraft cherished the opportunity to represent her country.
"This was a dream come true to play," Kraft said. "I was so excited to get a chance to go."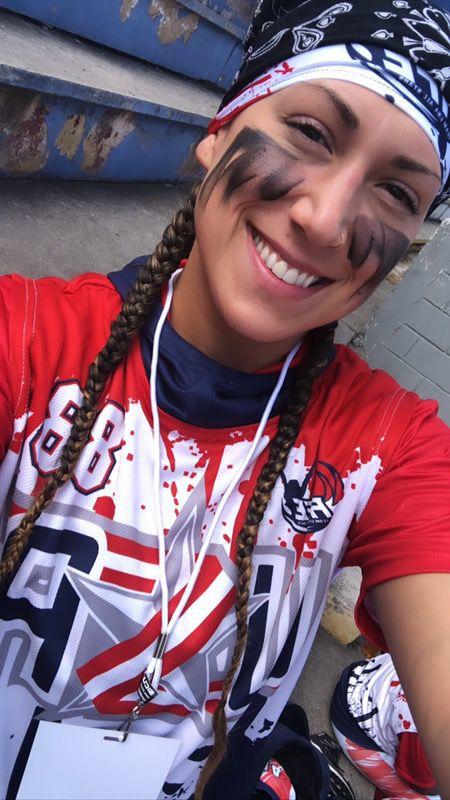 Kraft works as a weight loss and nutrition coach in Addison but still resides in her hometown, where she developed a reputation as a standout athlete.
Former Ryan coach Raiford Malone remembers Kraft as a happy person and a free spirit. He also remembers how tough Kraft was while protecting her net. He just didn't realize then how tough Kraft is.
"I never would have predicted she would end up playing football," Malone said. "She was a goalkeeper, which is different than being a field player. You can't be afraid of anything.
"A football wouldn't come in as fast as a shot in soccer. I can see how her skills would translate."
Those talents led Kraft on a journey she never anticipated this week as her family waited anxiously for her return.
"We are happy that the team got out," said Louise Kraft, Anna Kraft's grandmother. "None of the players have any symptoms of COVID-19.
"We're glad she's safe and sound."
The experience is one Kraft will never forget.
"We all got so close in our time there," Kraft said. "I'm sad to leave all of the people I met, but it was our time to go. I'm so happy to be back to my family and my dog."