Denton coach Cassie Headrick didn't need much time to collect her thoughts about this year's District 6-5A slate.
"That district didn't lose any ground — it's exactly the same," she said.
The Lady Broncos, who open practices for the 2021 season Monday after a run to last year's Class 5A Region I final, don't have to worry about district until Sept. 7 when they travel to Lake Dallas. But every match until then is in preparation for an 8-team district of doom highlighted by powerhouses Grapevine, Birdville and Colleyville Heritage.
Denton, which lost to Grapevine in the region final, actually won this district last year — its third title in a row and first since the latest realignment. But Grapevine still has a loaded roster that includes Missouri pledge Janet deMarrais.
Birdville, too, is overflowing with talent alongside Iowa State commit Maya Duckworth.
Heritage has most of its roster back for another go-round after splitting its season series with Denton last year.
Even Justin Northwest and longtime rival Ryan — both of whom missed the postseason — weren't hit hard by graduation.
"It's going to be a dogfight," Headrick said. "We'll have a different look, but I think it'd be a mistake to overlook us."
There is plenty to be excited about for the Denton ISD duo of Denton and Ryan. The Lady Broncos lost Taylor Thomas, Leah Stolfus and Campbell Sweeten, but what helped them go toe-to-toe with such a tough slate last year was that they could always turn to more than one person. Eight players return from that roster, including middle blocker Tessa Gerwig, 6-5A setter of the year Abby Folsom, Lauren Perry, Katelynn Thomas, Landry Wilkins and Kylie Williams.
Meanwhile, Ryan didn't win a single district game with easily the youngest roster in the district but has the luxury of returning all but three players. Leading the charge for the Lady Raiders are senior setter Shian Blacksher, outside hitter Halli Keese, and the sister combo of Kanisia and Katelyn Haley.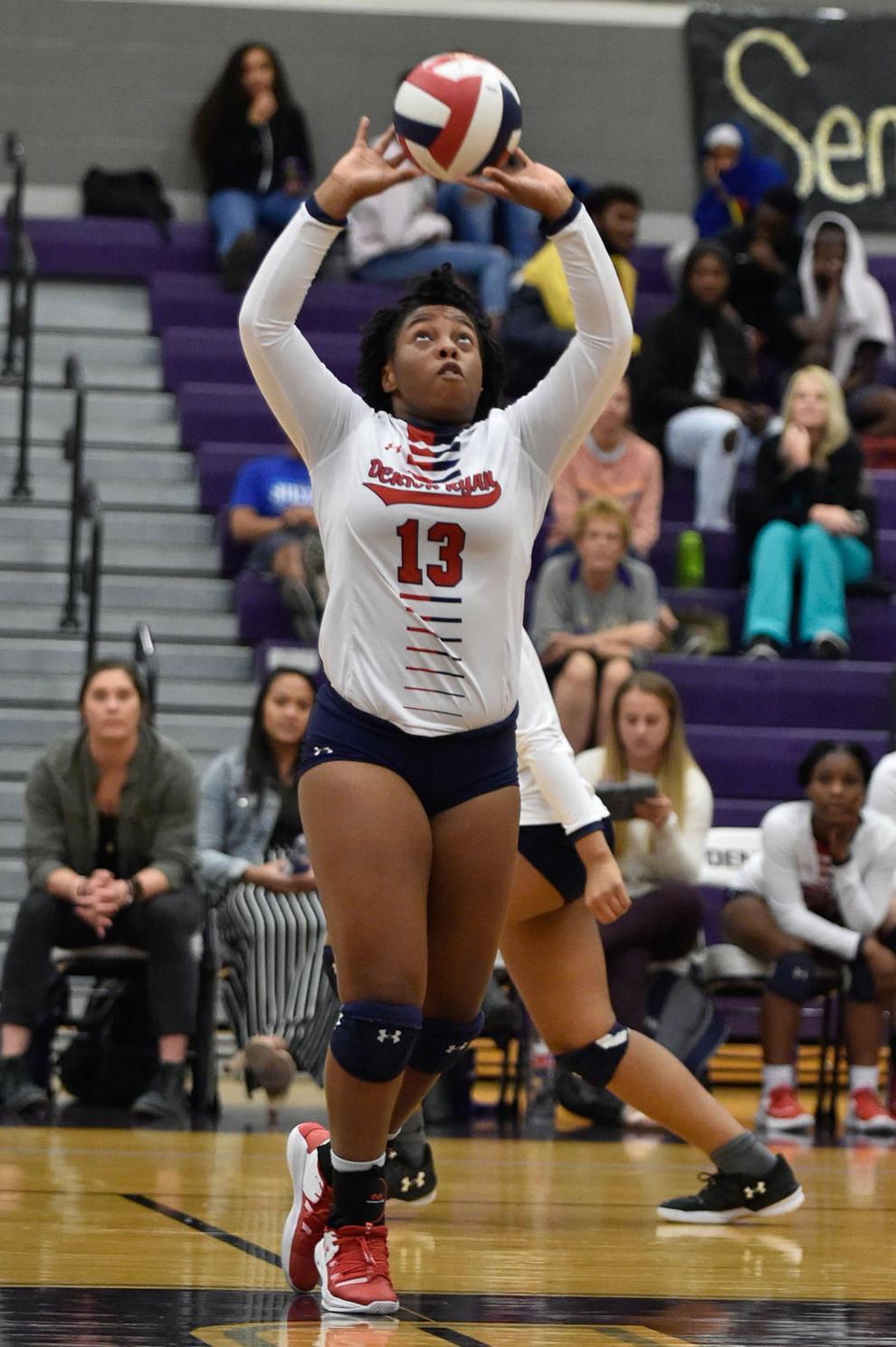 "We've got everyone back, so there's no reason we shouldn't finish higher and compete for a playoff spot," Ryan coach Nicole Black said. "We lost in three sets a lot, but there were also times when we hung with those great teams. We just need to be consistent. We need to find a way to improve, but this is still a very tough district."
"I think we'll surprise some people," she said. "We've had a nice three-year run, and now it's time for some of the other girls to step up. I still think we have a really nice team that can make a run."
New faces, same tough district await Guyer and BraswellThere may be two new head coaches at Guyer and Braswell this fall, but one thing that has not changed for either school is their incredibly tough district schedule.
District 5-6A is once again shaping up to be one of the most difficult in the state. In addition to Guyer, which has made the region tournament each of the last two years, 5-6A is also home to 2020 Class 6A Region I finalist Prosper.
For first-year Braswell coach Timmi Blackshear, she is well-aware of the challenges 5-6A presents — but she is also excited about them.
"If it isn't the toughest [district in 6A], it's definitely top two next to [District 4-6A] with Southlake and Byron Nelson," Blackshear said. "But at the same time, I think there are great lessons that can be learned. We can make excuses all day or we can find reasons to not be successful all day, but ultimately that's not going to get us where we want to go."
Ultimately, where Blackshear hopes to go is the playoffs — something the Lady Bengals have only experienced once in its five seasons since opening in 2016.
Braswell is a combined 21-42 over the past two seasons, going 8-12 in its inaugural 6A campaign in 2020.
Despite this, Blackshear believes her team has the pieces to contend for a playoff spot in arguably the toughest district in Texas.
"We may not be the tallest or most experienced as far as district wins or the postseason, but there's no reason we can't start right now," Blackshear said. "I don't mind being the underdog. Let's go surprise some people. I kind of think we're in that win-win situation. We have nothing to lose. I think that can be one of the most fun places to be. I don't expect us to be perfect, but I expect us to be brave.
"I think that can definitely result in some really good wins, and I think it can get us to a playoff spot for sure."
Meanwhile at Guyer, under first-year coach Leslie Jackson, the Lady Wildcats will look to reload after losing two key contributors in Brooke Slusser and Jordyn Williams.
Slusser, now at Alabama, was the Denton Record-Chronicle's 2019 All-Area MVP. Williams, a standout middle blocker, is now at Kentucky.
But Guyer does return one of the top offensive weapons in the Denton area in Baylor commit Kyndal Stowers. And with the departure of Slusser and Williams, Jackson said there is no doubt Stowers will be the Lady Wildcats' leader in 2021.
"She's been [the leader] for a while," said Jackson of Stowers. "She's just had upperclassmen in front of her that have just been older, so I think they got more of the attention. When your best player is your hardest worker — and she is that — you can't argue with that. She's here before everyone else."
Guyer is the No. 8-ranked team in the Texas Girls Coaches Association 6A preseason poll and is coming off a 14-6 season last year. The Lady Wildcats advanced to the region semifinal, falling to region finalist Haslet Eaton in a five-set thriller.
In addition to Stowers, Guyer will also lean on returners London Hunt, Reagan Nash and Ava Houser as the Lady Wildcats look to make it a third-straight trip to the region final.
Jackson knows the road won't be easy, but she believes players like Hunt, Nash, Houser and others are prepared for bigger roles.
"Our district is so good, everybody is going to beat up on everybody," Jackson said. "You can't pinpoint who does well, because it's about who shows up. Every program has good kids.
"I think they're ready, and they've been waiting on their time to shine for a while. I think they'll step up to the challenge."