EDITOR'S NOTE: Over the past few weeks, the Denton Record-Chronicle has, in consultation with local coaches, compiled statistics, anecdotes and information on high school football players over the past decade. The following is the fourth installment in a multiple-part series featuring the best football players in the DRC's coverage area over the last 10 seasons (2010-2019). Players were eligible for the team as long as they played in one season in the past decade. The Denton-area All-Decade team does not rank players, but instead, showcases the top 3-5 at each position. The series continues today with wide receivers. 
Gabriel Douglas
Ryan, 2015-2017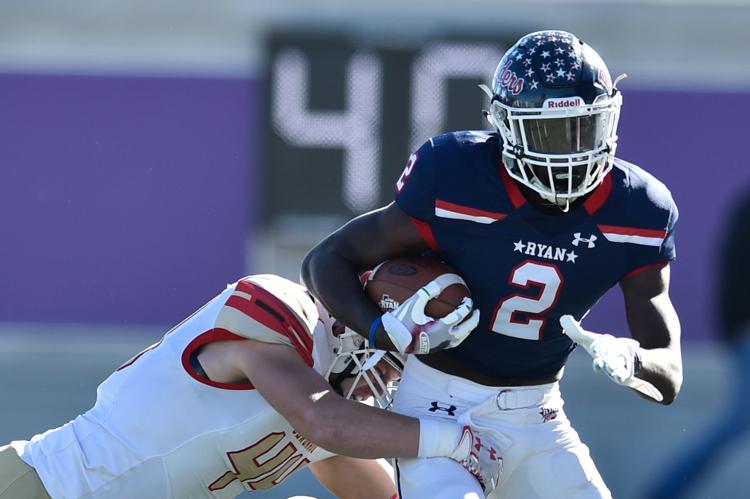 Standing over 6 feet tall and boasting a dynamic blend of speed, athleticism, and gritty competitiveness, Gabriel Douglas was a SportsCenter highlight waiting to happen. And in doing so, he quickly cemented himself as perhaps the most prolific pass-catching threat the Denton area has ever seen. Between 2015 and 2017, Douglas combined with Ryan quarterback Spencer Sanders and fellow receiver Tauskie Dove to form a nearly unstoppable triple threat as the Raiders went 41-3 and appeared in two Class 5A Division I state semifinal games. The scheme left opposing defenses in a no-win situation as Douglas and Dove automatically created mismatches. Douglas amassed 3,551 yards and 54 touchdowns in that stretch, including a senior campaign in which he piled up 1,366 yards and 26 scores. He was an Associated Press Sports Editors Class 5A all-state second-team selection that season. Douglas originally committed to Texas Tech but has been playing at Kilgore Junior College. He recently committed to Tarleton State.
Keegan Brewer
Lake Dallas, 2013-2015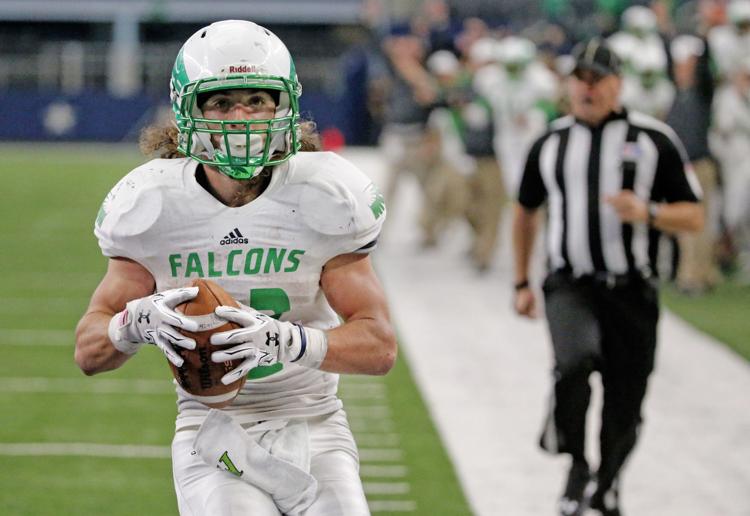 Keegan Brewer was one of those once-in-a-generation athletes that Lake Dallas used like a Swiss Army knife between 2013 and 2015, and the result was several deep playoff runs. While his contributions were felt all over the field, including in the running game, on defense, and as a dangerous return man, Brewer best fits in on the DRC's All-Decade Team for what he did as a receiver. In three seasons, Brewer totaled 3,413 receiving yards and 53 touchdowns. As a senior, his 1,627 yards through the air and 24 scores helped lift the Falcons to a state semifinal appearance, where they lost an overtime slugfest to Frisco Lone Star. Brewer was an APSE second-team all-state selection that season. After graduation, he appeared in 12 games as a true freshman at Kansas before transferring to UNT. While at North Texas in 2018, he made what many believe was the play of the year in college football when he faked out Arkansas with a 90-yard punt return. The Razorbacks assumed Brewer had called for a fair catch but he never did, igniting a massive upset for the Mean Green. 
Cole Kirkpatrick
Argyle, 2018-present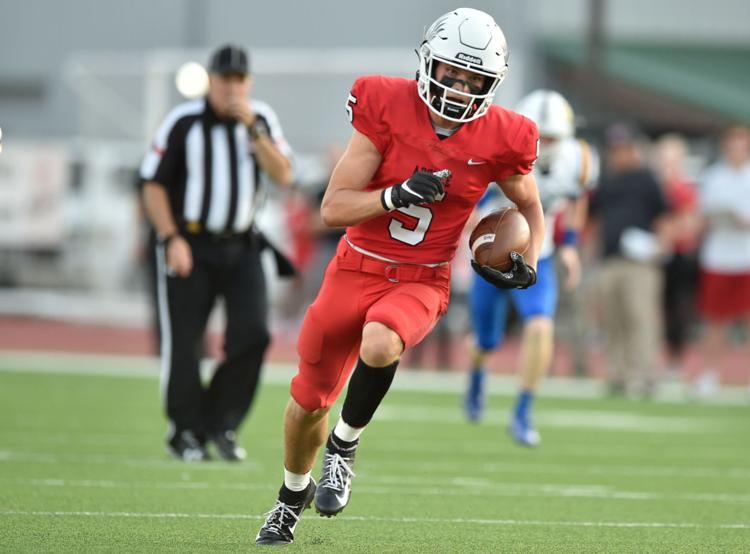 As just a junior last year, Kirkpatrick posted one of the greatest single seasons the Denton area has ever seen. The Class 4A first-team all-state selection finished fourth among all classifications in Texas in receiving yards. Kirkpatrick hauled in 68 catches for 1,695 yards, averaging a staggering 24.9 yards per reception. Two of the three players ahead of him in yardage were All-American and Ohio State signee Jaxon Smith-Njigba and Frisco Lone Star's Marvin Mims, who broke the Texas single-season record for receiving yards. In addition to his insane yardage production, Kirkpatrick was also a scoring machine, reeling in 29 touchdowns. In an area-round playoff game against Stephenville, Kirkpatrick put on perhaps his greatest performance, leading Argyle to a win with 289 yards and five touchdowns. In the process, he broke the Argyle school record for receiving yards and touchdowns receptions in a game. It is rare for a player to be named to the All-Decade team while they are still playing, but Kirkpatrick's 2019 campaign was so spectacular it could not be overlooked. He will without a doubt be one of the state's most prolific playmakers as a senior this coming fall. 
Tauskie Dove
Ryan, 2015-2017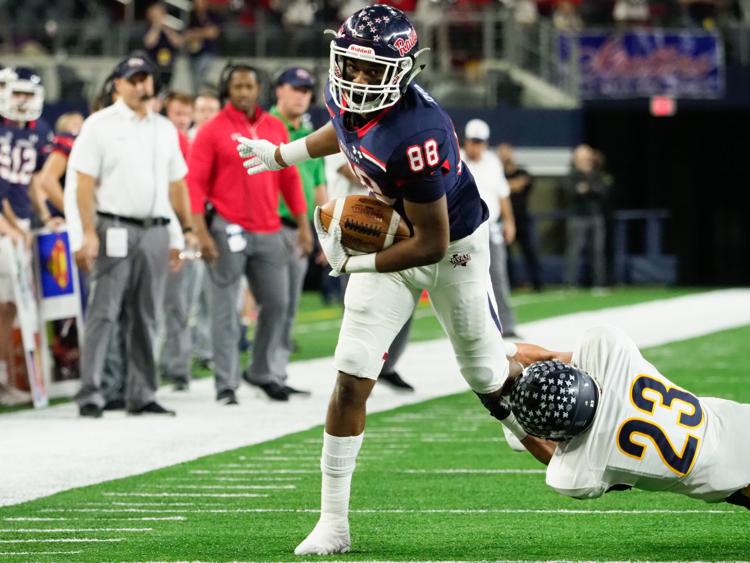 The other half of the Raiders' dangerous wide receiver duo, Tauskie Dove was the opposite of Douglas in that he was incredibly soft-spoken. But he was just as difficult to defend when the ball went his way and almost always came away with a highlight-reel catch. Also standing over 6 feet, Dove totaled 2,593 yards in his three varsity seasons to go with 35 touchdowns. As a senior, he totaled 939 yards and 14 touchdowns, which was preceded by a junior year in which he caught 74 balls for 1,161 yards and 16 scores. Both seasons resulted in Class 5A Division I state semifinal appearances for the Raiders. Dove originally signed with Tyler Junior College but ultimately inked a deal to play Division I football at Missouri. While his college career is just now taking flight, Dove will always be remembered as one of the top wide receivers to come through Denton.
On the bubble
Seth Meador
Guyer, 2016-2019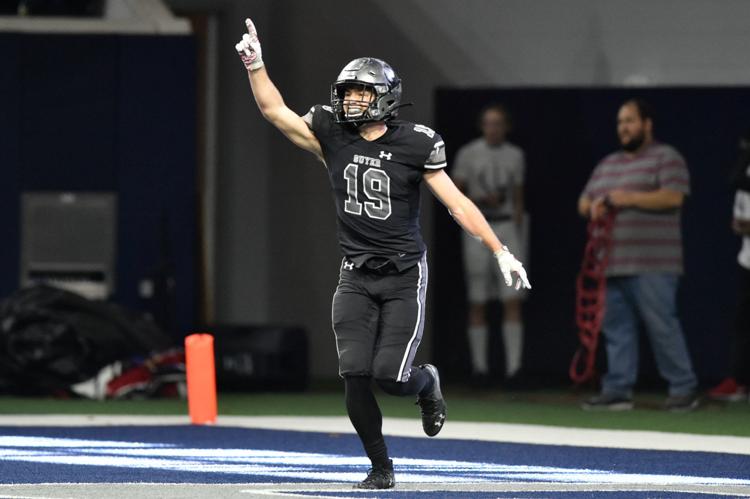 Meador developed into one of the most effective pass catchers in the state in 2019, helping Guyer's high-octane offense reach the Class 6A Division II title game. The speedy wideout hauled in 61 passes for 1,269 yards and 19 touchdowns during his senior campaign. One of few players who saw the field as a freshman for Guyer, Meador steadily increased his production each season. He nearly doubled his yardage every year and finished his career with 142 receptions for 2,536 yards and 30 scores. He will play collegiately at Air Force and will go down as one of the best wide receivers in Guyer history. 
Josh Stewart
Guyer, 2008-2010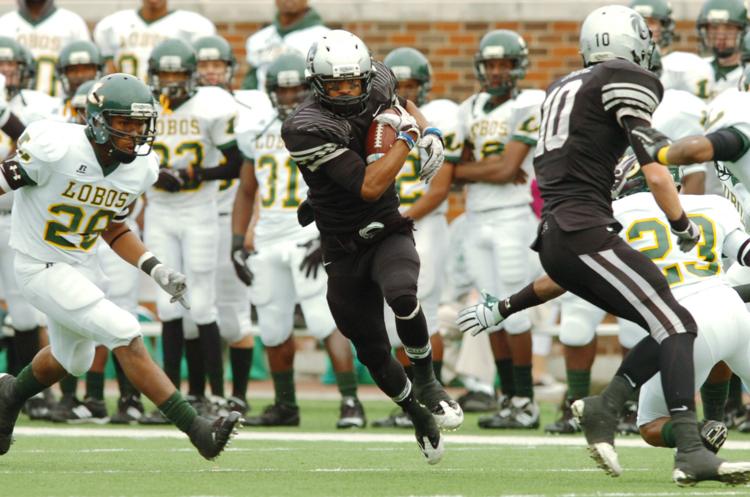 Stewart and Meador are separated by nearly 10 years, but both are two of the best wide receivers to come through the Guyer program. The two share many similarities, including their senior year production. Stewart caught 63 passes for 1,114 yards and 11 touchdowns in 2010, while Meador had 61 receptions for 1,269 yards and 19 scores. Both led their teams to state title game appearances. But what separates Stewart from so many other candidates for this team is his post-high school career. Stewart was extremely productive at Oklahoma State and had a breakout sophomore season in 2012 where he caught 101 passes for 1,210 yards and 7 touchdowns. He went undrafted in the 2014 NFL Draft, but was later signed by the Tennessee Titans. Less than a month later, he suffered an Achilles injury and was placed on waivers.