EDITOR'S NOTE: Over the past few weeks, the Denton Record-Chronicle has, in consultation with local coaches, compiled statistics, anecdotes and information on high school football players over the past decade. The following is the first installment in a multiple-part series featuring the best football players in the DRC's coverage area over the last 10 seasons (2010-2019). Players were eligible for the team as long as they played in one season in the past decade. The Denton-area All-Decade team does not rank players, but instead, showcases the top 3-5 at each position. The series begins today with quarterbacks.
Jerrod Heard
Guyer, 2011-2013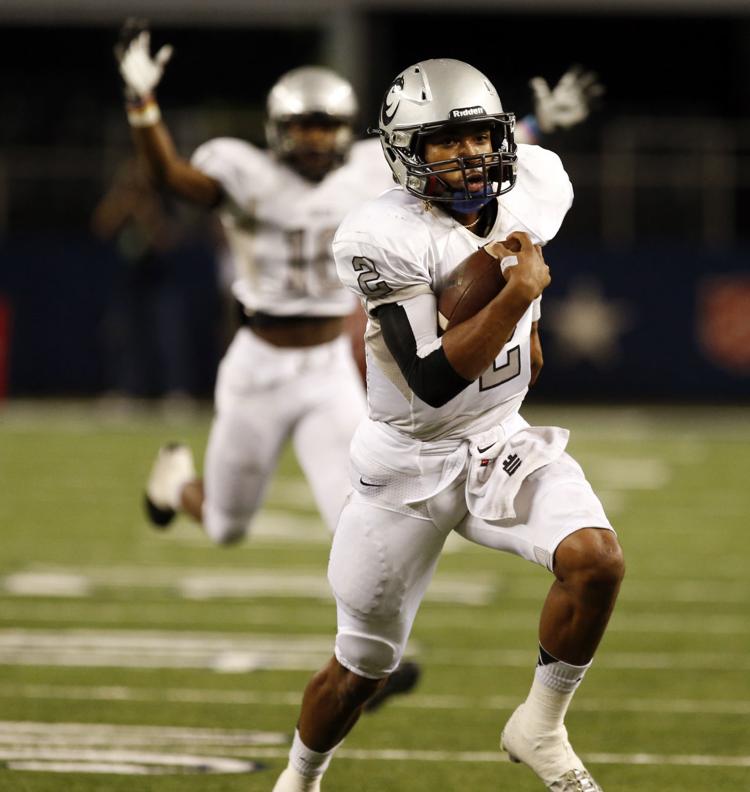 Everything you could possibly want in a dual-threat high school quarterback, Jerrod Heard possessed: speed, size, freakish athleticism, durability, leadership, and a relentless will to win that quickly elevated Guyer to a perennial state title contender. In three seasons as Guyer's starter, Heard accounted for more than 11,000 yards and 135 touchdowns. In that stretch, he won back-to-back state titles in 2012 and 2013, becoming the first Denton-area quarterback to accomplish such a feat since Ryan's James Battle in 2001 and 2002. In the 2012 Class 4A Division I title game, Heard fueled Guyer's 16-point rally to knock off Georgetown. A year later in the championship game, he accounted for three touchdowns and 254 total yards against a San Antonio Brennan defense that had given up just five offensive touchdowns to that point. As a senior, Heard completed 62.1% of his passes for 2,136 yards and 22 touchdowns. He added 2,161 yards and 27 scores on the ground and was named Dave Campbell's Texas Football's Offensive Player of the Year. Heard went on to play collegiately at Texas, where he became the second player in school history along with Colt McCoy to throw for 300 yards and run for 100 yards in a single game. Heard will forever be synonymous with Guyer's tradition-laden program and remains to this day one of the best quarterbacks the Denton area has ever seen.
Spencer Sanders
Ryan, 2014-2017
In an area that is known for being a hotbed for top-tier quarterbacks, Spencer Sanders proved time and again why he deserves to be listed not just among the best signal-callers of the decade — but possibly all-time. A dual-threat star known for regularly hurdling defenders and making highlight-reel plays when it mattered most, Sanders overcame two season-ending knee injuries to amass just more than 14,000 career yards and 172 total touchdowns in his four seasons at Ryan. As a senior in 2017, he threw for 3,845 yards and 54 touchdowns while adding 1,380 rushing yards and 16 more scores to propel the Raiders to their second straight Class 5A Division I state semifinal appearance. That performance also netted him numerous accolades, including being named that year's AP Player of the Year and Gatorade Texas Player of the Year. Sanders wrapped his illustrious high school career with a 46-6 record. Three of those losses came against Allen and Highland Park (2). The other three were during his freshman season. Sanders is now the starting QB at Oklahoma State and set a school freshman record by passing for 2,065 yards. He was voted the Big 12 Offensive Freshman of the Year and helped the Cowboys rank in the Top 25 nationally in rushing offense and total offense.
J.W. Walsh
Guyer, 2008-2010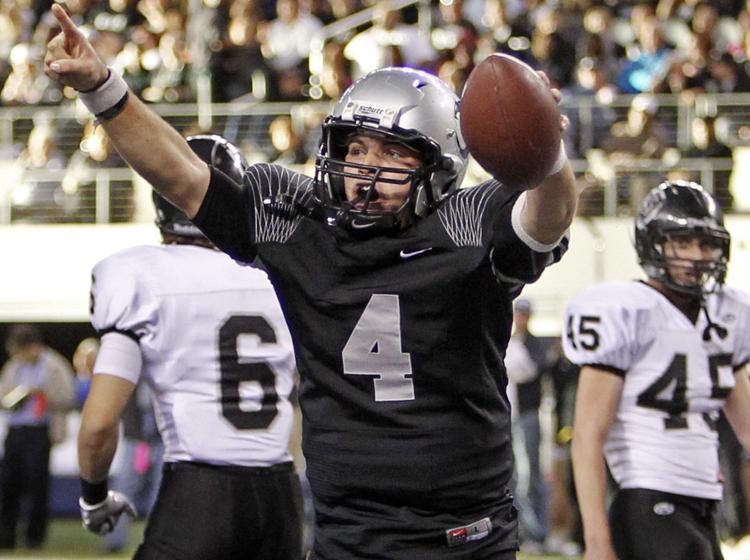 Ask anyone around the Guyer program who is responsible for setting the standard of excellence for the Wildcats, and J.W. Walsh's name will be the first one out of nearly everyone's mouth. The son of former Guyer head coach John Walsh, J.W. exuded poise, confidence and swagger. From 2008-2010, Walsh compiled a 38-8 record, leading the Wildcats to state semifinal appearances in 2008 and 2009 and a state title game appearance in 2010. In his senior campaign, Walsh accounted for 5,160 total yards and 57 total touchdowns. He completed 61.9% of his passes for 3,518 yards and 38 touchdowns and ran for 1,642 yards and 19 scores. Walsh was the district MVP in 2010 and was ranked by Rivals as the No. 4 dual-threat quarterback in the country. Walsh played collegiately at Oklahoma State, and as a redshirt freshman in 2012, led the Cowboys in total offense with 1,854 yards. He was later named Big 12 Offensive Freshman of the Year.
On the bubble
Austin Aune
Argyle, 2009-2011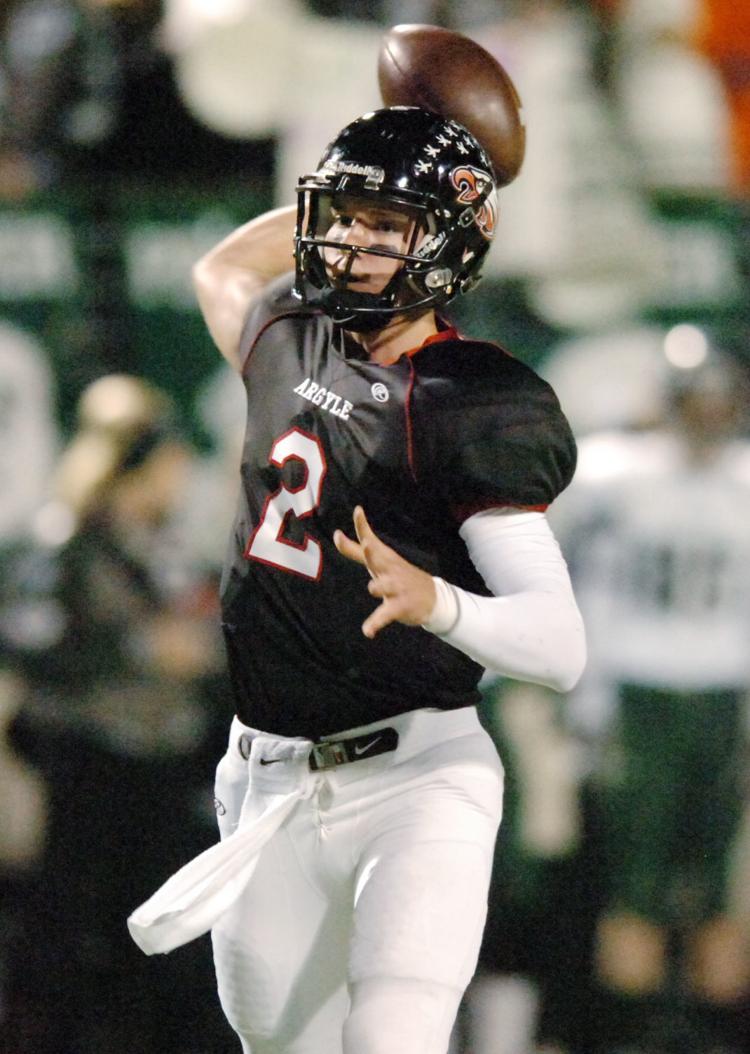 Aune led Argyle to the Class 3A Division II title game in 2011 and compiled a 39-4 record during his tenure with the Eagles. From 2009-2011, Aune threw for 7,203 yards and 73 touchdowns. He was selected in the second round of the 2012 MLB First-Year Player Draft and spent six years in the New York Yankees' organization. He is currently in the mix to take over the starting quarterback job at North Texas this fall.
Dane Evans
Sanger, 2009-2011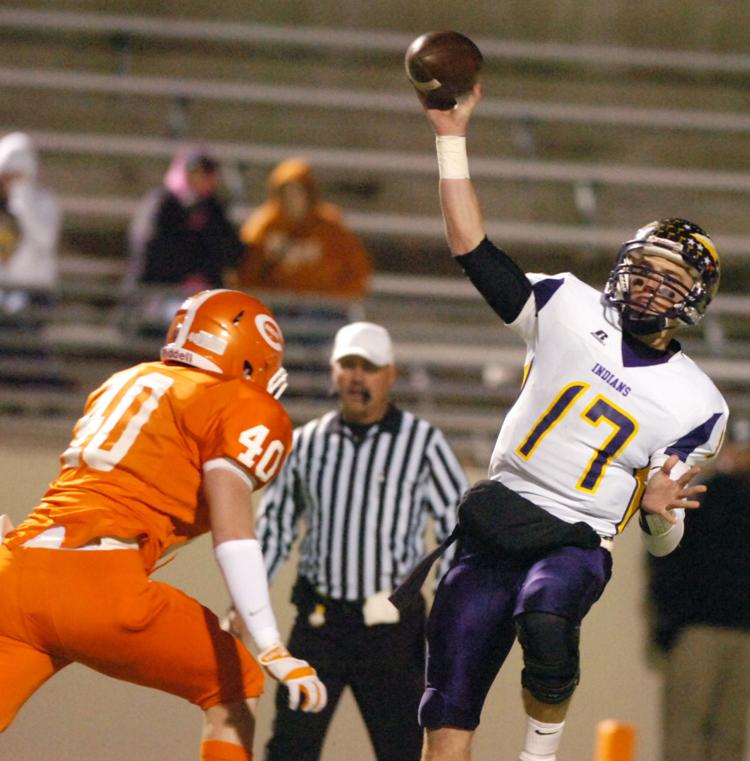 Evans threw for 9,074 yards and 94 touchdowns in three seasons at Sanger. He went on to play collegiately at Tulsa, starting every game in 2014 and 2015. While with the Golden Hurricanes, Evans became just the second quarterback in school history to surpass 3,000 passing yards in two separate seasons. He signed with the Philadelphia Eagles in 2017 and was waived before the start of the season. He's now the QB for the Hamilton Tiger-Cats of the Canadian Football League.