At this point in Seth Littrell's tenure as North Texas' head coach, it isn't exactly huge news when a publication expresses confidence in the Mean Green's prospects.
UNT is coming off back-to-back bowl seasons. But when it comes to preseason football magazines, Dave Campbell's Texas Football is considered the definitive source in Texas.
The magazine hit newsstands this week and added to the excitement surrounding the Mean Green and area high schools.
UNT was picked to repeat as Conference USA West Division champions in the league's preseason projections and had several players receive individual honors.
The Mean Green also were ranked No. 5 on the magazine's list of the top programs in Texas, trailing only TCU, Houston, Texas and Texas A&M.
DCTF projected UNT to finish 10-2 in the regular season with losses to Arkansas and Texas-San Antonio before taking on Minnesota in the Heart of Dallas Bowl.
Junior quarterback Mason Fine has been a key to UNT's success over the past two seasons. He threw for 4,052 yards and 31 touchdowns last season on his way to being voted as C-USA's offensive player of the year.
DCTF selected Fine as the state's best quarterback in addition to giving him a spot on its first-team offense on the All-Texas college team. Wide receiver Jalen Guyton and offensive lineman Jordan Murray also were included on the first-team offense.
Wide receiver Michael Lawrence and offensive lineman Sosaia Mose were on the second team. Cornerback Nate Brooks was UNT's lone defensive player to make the team and was a first-team selection.
Several of the players UNT has committed to join its 2019 recruiting class also were honored by the magazine. Dallas Bishop Lynch linebackers Gabriel and Grayson Murphy were on the "Super Team" that consists of the top high school players in the state.
Gabriel was a second-team selection, while Grayson was a third-team pick. Both also were members of the Texas Top 300, a list of the best college prospects in the state.
UNT has five players committed who are on the list. Manvel Running back Garrison Johnson, Beaumont West Brook wide receiver Damon Ward and Converse Judson linebacker Kevin Wood joined the Grayson brothers on the list.
The magazine also looks back on recruiting classes of 2013 for the state's 12 Football Bowl Subdivision programs. UNT's class that was highlighted by Fred Scott, Chad Davis and Turner Smiley is rated eighth.
At the high school level, six of the 11 UIL high schools in the Denton Record-Chronicle coverage area — Argyle, Guyer, Ryan, Lake Dallas, Pilot Point and Aubrey — are projected to make the playoffs this season.
For the second consecutive year, Ryan (District 4-5A, Division I) and Argyle (District 7-4A, Division I) are the only two teams predicted to win their respective districts.
Guyer is projected to finish second behind Southlake Carroll in District 5-6A, and Lake Dallas is predicted second behind Frisco Reedy in District 7-5A, Division II.
The magazine is especially high on Argyle's prospects this season; the Eagles are ranked atop the Class 4A standings after falling to Stephenville in the regional quarterfinals last year.
DCTF projects preseason all-state selections Preston Wilson and Chase Petter will lead Argyle to a state championship victory, dethroning back-to-back defending champs Carthage (No. 2) in the state final. Petter is the preseason defensive MVP in his district.
Although Ryan will have a much different look offensively without last year's Mr. Texas Football — former star quarterback Spencer Sanders, who is now at Oklahoma State — expectations remain high for the Raiders. Ryan enters the season ranked fourth in Class 5A and is No. 2 in the coaches poll for its district. The Raiders are projected to take the district championship ahead of Colleyville Heritage before again knocking off the Panthers in the Region I final.
Del'Shun Neal, a first-team all-district selection as a sophomore, is the magazine's preseason defensive MVP in district play.
At the 6A level, DCTF projects a strong bounce-back year for Guyer after the team was upset in the first round of the playoffs last season. The Wildcats are ranked No. 19 to open the season and have a load of young talent looking to make its mark at the varsity level. Guyer is predicted to finish second behind Southlake Carroll in District 5-6A before going on to knock off Cedar Hill, the team's Week 2 opponent, in the Division II Region I final.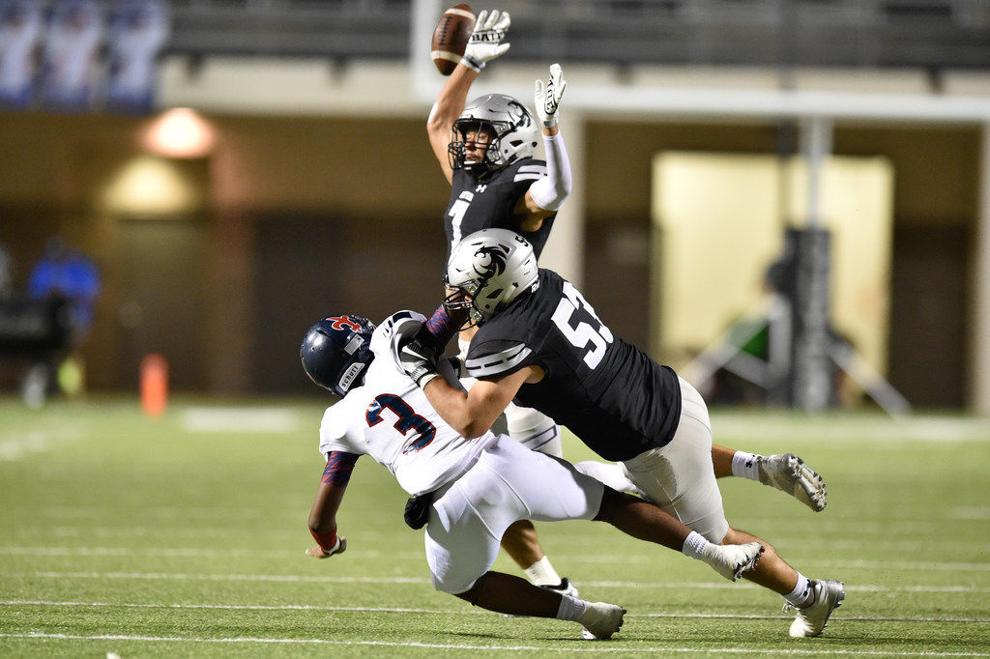 Grant Mahon, who burst onto the scene as a sophomore and has an offer from Oklahoma State, is the district's preseason defensive MVP.
Lake Dallas enters the season in a similar position; the Falcons are the No. 19 team in Class 5A. Quarterback Ryan Depperschmidt, who won a battle for the starting job before last season, is coming off a productive year and is DCTF's preseason offensive MVP in District 7-5A. Lake Dallas is predicted to finish second behind Frisco Reedy after going two rounds deep in the playoffs last season.
Pilot Point sneaked into the postseason last year with only three wins but is predicted to be better with coach Danny David back for a second season. The Bearcats are projected to finish third behind Brock and Whitesboro in District 4-3A Division I, which would give the team a good chance to pick up its first playoff win since 2014.
Aubrey has enjoyed a lot of success under coach Keith Ivy over the past few years, and the Chaparrals are projected to make the playoffs for the fourth consecutive season. DCTF predicts them finishing fourth in District 3-4A Division II behind Graham, Iowa Park and Vernon.
Liberty Christian, under first-year coach Steven Greek, is projected to finish second in TAPPS Division I District 1 while Calvary is predicted end up fourth in TAPPS six-man Division I under the direction of new coach Denver Bowden.