North Texas coach Seth Littrell and his players walked off the turf at Riccardo Silva Stadium with smiles on their faces and their bowl hopes alive on Saturday.
UNT's 49-7 thrashing of Florida International gave the Mean Green five wins, not to mention a load of confidence, heading into a game against UTSA on Saturday at Apogee Stadium.
UNT (5-6) can become bowl-eligible by spoiling a remarkable season for UTSA. The Roadrunners are 11-0, have won Conference USA's West Division and are ranked No. 15 in this week's Associated Press Top 25 poll.
Before we turn our attention to that game, it's time for this week's edition of What We Learned, a look back at the week for UNT and Conference USA.
1. Austin Aune might have been right about UNT not being far off
UNT quarterback Austin Aune consistently said the Mean Green were not all that far off early in the season, when the Mean Green lost six straight games.
He pointed to the small mistakes that UNT was making as the reason the Mean Green were not reaching their potential.
UNT has fixed those issues and has played its best while running off four straight wins. The Mean Green's defense has allowed just 15.5 points per game during UNT's winning streak.
UNT also seems to have found an identity offensively behind its running game.
UNT has averaged 268.8 rushing yards per game in its last four games. DeAndre Torrey, Ikaika Ragsdale and Isaiah Johnson have all posted 100-yard games in that span.
That kind of all-around performance seemed out of reach when UNT stumbled to a 1-6 start while tackling a challenging series of games.
There weren't a whole lot of people who believed UNT was capable of going on a run that would make its regular season finale meaningful.
Aune was one of the few. He turned out to be right.
2. UNT's defense has turned a corner
UNT needed some time to get going under new coordinator Phil Bennett but appears to have turned a corner.
One could explain away one or two good outings defensively. UNT has put together four in a row. That's a trend.
UNT gave up just 245 yards in its win over FIU and shut the Panthers out in the first half.
The Mean Green haven't given up more than 24 points in any of their last four games. UNT's schedule has become much more manageable in that span but that doesn't detract from what the Mean Green have accomplished.
Linebacker KD Davis finished with two tackles for loss, while fellow linebackers Jordan Brown and Larry Nixon III each posted eight tackles against FIU.
3. Tee it high and let it fly is so 2018
UNT coach Seth Littrell famously said during his introductory press conference that he would "tee it high and let it fly."
The nifty phrase described UNT's approach perfectly during the tenure of quarterback Mason Fine. The Mean Green still put the ball in the air plenty, but it's UNT's running game that is powering its resurgence the last few weeks.
UNT entered last week leading C-USA with an average of 223.3 rushing yards per game. The Mean Green rushed for a season-high 378 yards in their win over FIU.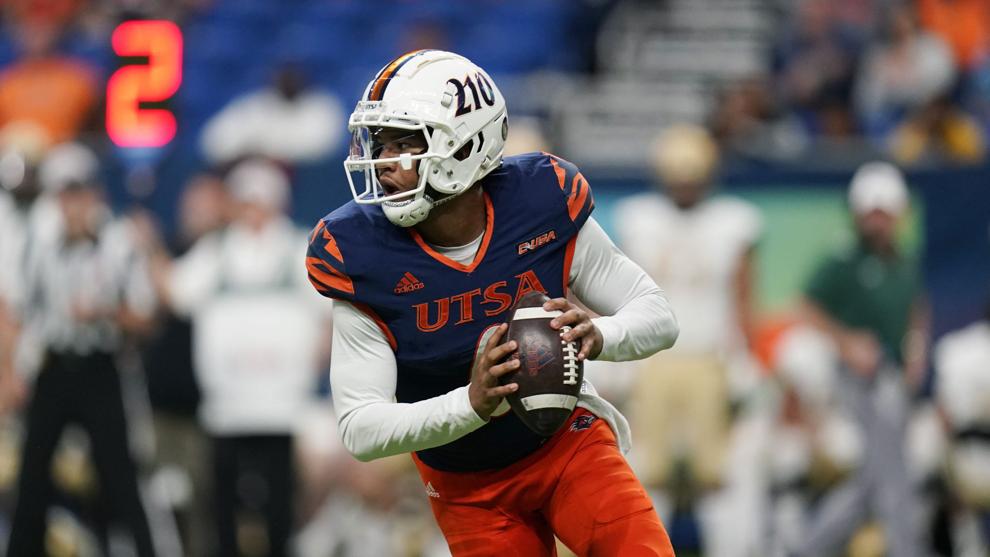 4. UTSA is one of the best teams C-USA has seen recently
C-USA has featured some terrific teams over the years.
Marshall went 13-1 in 2014. Louisville finished 11-1 with its lone loss coming at No. 3 Miami back in 2004, when the Cardinals were members of the league.
UTSA is already one of the better teams of recent years in C-USA and can go down as one of the league's best ever if it can continue winning. The Roadrunners have already wrapped up the C-USA West Division title and are headed to the league's championship game.
UTSA is a heavy favorite against UNT and will likely be favored over the East Division champion, especially with the game set to be played at the Alamodome on Dec. 3
Western Kentucky and Marshall will meet with the East Division title on the line Saturday. UTSA has already beaten WKU in Bowling Green this year and also took down Illinois and Memphis.
The worst that could happen for UTSA is an 11-3 year with three losses to end the season. If UTSA can win out, or even win two of its next three games, one would have to consider this year's Roadrunners as one of the best teams the league has ever produced.