Deion Hair-Griffin has been forced to make a few adjustments during his senior season at North Texas like all players in college football.
Adhering to the protocols UNT put in place to help prevent coronavirus infections within the program was no problem. It was the request from coach Seth Littrell to live up to his nickname that made the former Arlington Heights standout a little nervous.
Hair-Griffin used to be known as "Preacher Man" at UNT before his teammates cut it to just "Preach."
That's exactly what Littrell asked Hair-Griffin to do when precautionary measures prevented UNT's chaplain from attending team functions.
"I did it a little before," Hair-Griffin said. "It's different in front of my teammates. The No. 1 thing to do is deliver the message of Jesus Christ. When I get up there, I try to pull out what the Scriptures say about who God is and who we are.
"It's been fun being the team chaplain because I reach a wider body of our team than I normally do."
UNT's players and coaches credit Hair-Griffin with delivering messages that have helped them during a trying season that could end Friday in a game against UTEP at Apogee Stadium.
The Mean Green (3-5, 2-4 Conference USA) have had five games either canceled or postponed due to the fallout from the coronavirus pandemic and have seen a host of players miss time due to infections or contact tracing protocols. UNT is out of the conference title chase and is a long shot to receive a bowl bid even if it can knock off UTEP (3-4, 0-3). The NCAA's decision to rescind the requirement that teams finish at least .500 to receive a bowl bid leaves UNT a sliver of hope.
UNT's players have looked to Hair-Griffin as they press on in a challenging season.
"Deion's the alpha dog," senior safety Makyle Sanders said. "People listen to him. The leaders on the team look to him as a one of their leaders. He's that guy."
Littrell attributes Hair-Griffin's impact to his ability to connect with people.
"He's made a huge impact on this team not only as a player but because of the relationships he has built and the way he has mentored guys," Littrell said. "He's a great young man. It's been an honor to coach him."
That time is quickly coming to an end. Hair-Griffin has elected not to return next season and will pursue a career in the ministry. He has a job lined up with the Denton chapter of Campus Outreach, a national program that works with local churches to minister to college students.
"College students are the future," Hair-Griffin said. "They are going to be the ones carrying the torch for the next 20 to 40 years and shaping what our world will look like."
Helping young people is a pursuit Hair-Griffin can see himself sticking with for years to come. His teammates believe that pursuit is a perfect fit.
"That is what God called him to do," said tight end Jason Pirtle, one of Hair-Griffin's closest friends on the team. "He's reached out to a lot of guys on the team and been an inspiration for me and many of them."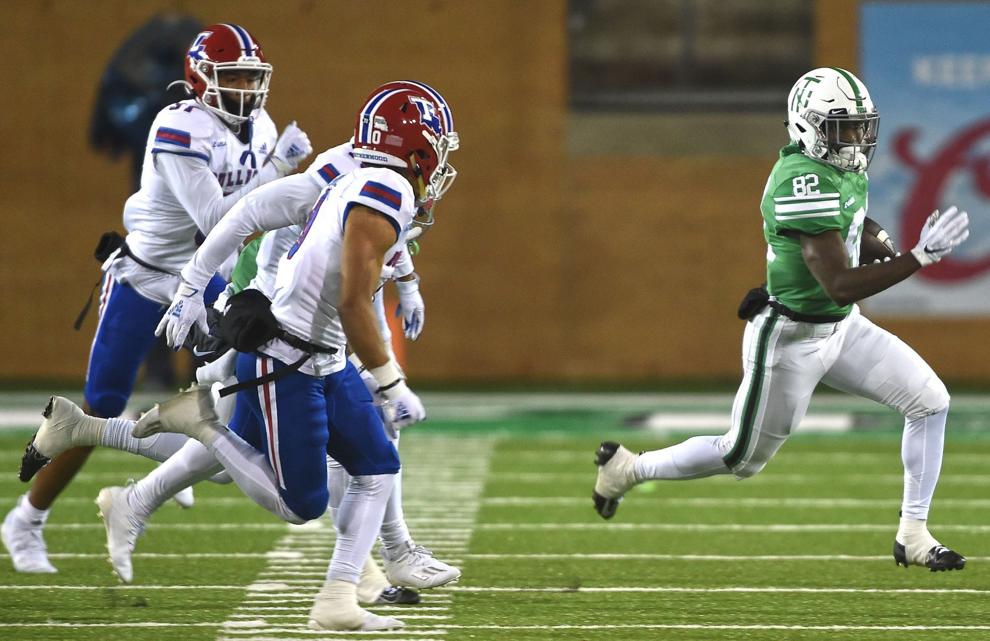 Hair-Griffin showed last week that he could provide a few more impact plays on the field before he wraps up is career. He has always been at his best when returning kickoffs and was back in form last week when he broke off a 56-yard return on his way to finishing with 115 yards on four returns in a loss to Louisiana Tech.
Hair-Griffin was a second-team All-Conference USA selection last season as a kick returner when he averaged 40.8 yards on 12 attempts. He scored on a 96-yard return in a win over Abilene Christian and helped set up a game-winning field goal against Middle Tennessee with a 50-yard return in the closing seconds of the fourth quarter.
"With his speed, he can take it to the house, which is what you are looking for," Littrell said. "It's not for everyone. It's different when you are back there and have 11 guys trying to hit you hard. You have to have something in you that allows you to hit it up in there."
Hair-Griffin has those instincts and recently returned to his familiar role after a series of minor injuries prevented him from retuning kicks. He's averaged 24.2 yards per return on his 10 attempts this season.
"That's my niche," he said. "I found what I was good at, and the coaches trust me."
Hair-Griffin found his calling off the field as a leader for UNT's football program and the athletic department in general. He's a member of the football program's leadership council, has been a member of UNT's Student-Athlete Advisory Committee and represented UNT at Conference USA's SAAC meetings.
The experience he gained along the way led him to his calling of helping others and sharing his faith.
"He's meant everything to this team," quarterback Jason Bean said. "He's one of those guys that anyone can go and talk to. He won't have any hard feelings and won't judge you for what you say. He'll just sit there and listen."
Hair-Griffin feels comfortable walking away after five seasons with the Mean Green because of what he's accomplished on the field as well as the impact he's had off it, particularly as the program's fill-in chaplain.
"North Texas has had an impact on me," Hair-Griffin said. "I have met people who mentored me spiritually and had great teammates. There are a lot of great memories I'll carry from this place."
Hair-Griffin isn't ruling out putting the experience he gained at UNT to use by leading his own congregation down the line.
"There's no timetable," he said. "I'm just seeing what the Lord wants me to do in life. Right now, that's having an impact on a campus though college ministry."
UNT wide receivers coach Tommy Mainord often sees Hair-Griffin conducting Bible studies with players and tending to his teammates' spiritual needs.
Mainord has been impressed with the messages Hair-Griffin delivers at Bible studies as well as those he shares when Littrell calls on him to preach.
"It's been great for him because that is what he wants to do in life," Mainord said. "His messages have been awesome. The players and coaches have loved them. He puts a lot of time and effort into it. I look forward every Saturday to hearing what he has to say."