North Texas coach Seth Littrell has admired Clint Bowen for years, dating back to his first job in coaching as a graduate assistant at Kansas.
Bowen was an assistant coach with the Jayhawks in the early 2000s when Littrell joined the staff.
"Clint has a wealth of knowledge and is great with the players," Littrell said earlier this summer. "He's really positive, has a lot of energy and is a great mentor."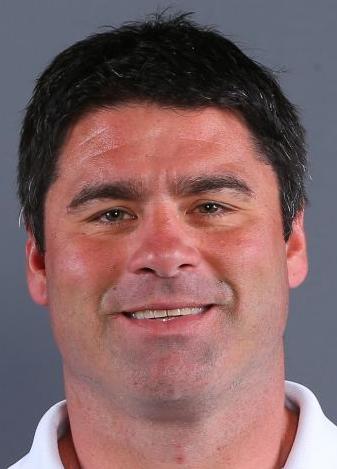 Those traits are the reason UNT is paying a hefty sum to bring Bowen back to the program as its defensive coordinator, a role he also filled in 2011.
Bowen, who spent the last eight seasons as an assistant at Kansas, signed a contract this offseason that will pay him $350,000 for the 2020 season, making him the highest paid assistant on Littrell's staff.
The Denton Record-Chronicle obtained the contracts for UNT's assistant football coaches through an open records request.
UNT's 10 assistants with on-field coaching roles will all make at least $100,000 in 2020. Each signed one-year contracts in the past few weeks.
Bowen is among five of those assistants who have joined the staff since the end of last season.
Littrell also added Mike Bloesch as his co-offensive coordinator and offensive line coach, Mike Ekeler as special teams coordinator, Eric Mathies as defensive line coach and Tate Wallis as quarterbacks coach.
"You have to trust the staff that you hired," Littrell said. "You can't do it all yourself and micromanage.
"They are doing an unbelievable job."
Bowen spent just one season at UNT in his first stint with the team before leaving for Kansas. He played for the Jayhawks, spent 21 seasons on Kansas' staff and served as the program's interim head coach in 2014.
"It had to be the perfect situation for me to leave KU and that is exactly what UNT offers," Bowen said in a statement when UNT announced he was joining Littrell's staff. "Coach Littrell is so well respected in the coaching profession and has established a foundation and culture at UNT that puts the program in position for tremendous success. I am excited to be a part of the future of Mean Green football."
UNT's revamped staff faces the challenge of helping get the Mean Green back on track after a tough 4-8 finish last season. UNT's struggles were largely due to a defense that allowed 32.5 points per game under Troy Reffett, who was fired after last season.
Reffett made $295,000 in 2019, when he was UNT's highest paid assistant coach.
The Mean Green played in bowl games in each of Littrell's first three seasons before struggling last fall.
Littrell elected to take over play-calling as part of a restructuring of his offensive staff.
Tommy Mainord retained his role as UNT's associate head coach, co-offensive coordinator and wide receivers coach. His salary of $265,000 ranks second among UNT's assistant coaches.
Mainord, Bloesch and Littrell will all play roles in running UNT's offense. Bloesch spent last season as Tulsa's offensive line coach.
Ekeler has worked at several high-profile schools, including Nebraska, LSU and Oklahoma in addition to serving as UNT's defensive coordinator in 2016.
Wallis spent seven seasons at Baylor from 2009-15 before working in the high school ranks. He served as Argyle's offensive coordinator from 2018-19.
Mathies coached Florida Atlantic's defensive line in 2017 and 2018 and also worked at South Florida and Western Kentucky.
"I most definitely like the new coaches," UNT linebacker KD Davis said. "I love the defense and the energy coach Bowen brings."
Two of UNT's returning coaches received raises.
Running backs coach Patrick Cobbs, one of the great running backs in program history and a member of the UNT Athletics Hall of Fame, picked up a $20,000 raise to $100,000. Linebackers coach Galen Scott will make $150,000, up $10,000 from last season.