KD Davis knew he was playing pretty well during North Texas' game against Rice last week.
The Owls were determined to run the ball and kept sending players the junior linebacker's way. More often than not, Davis was there waiting.
"I knew I was making a lot of plays," Davis said. "I take them one at a time and do what I'm coached to do."
That simple approach helped Davis put up a monster 18-tackle performance in the Mean Green's 30-24 overtime win.
UNT officials looked back after the game and determined Davis' tackle total was the high for a UNT player since at least 2000.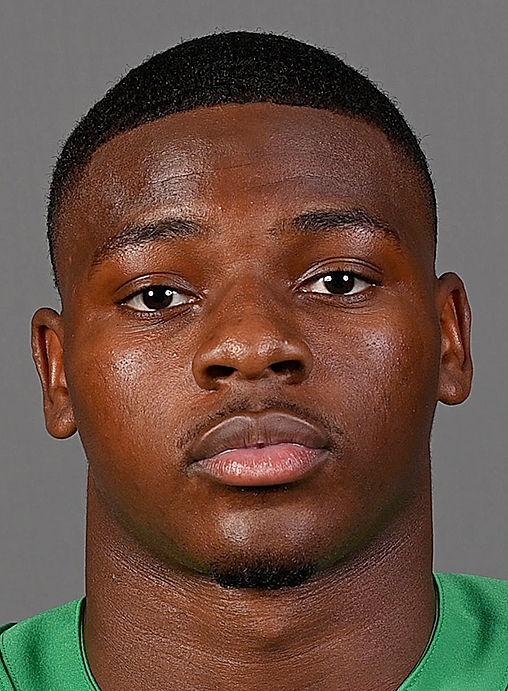 Davis' top tackle total previously was 14, a total he last reached in the Mean Green's season-opening win over Northwestern State.
"It was good to see that number," Davis said. "I felt good about it and then brushed it off. I'll try to get more than 18 this week."
He'll get that opportunity on Saturday when UNT travels to Southern Miss for another important Conference USA game.
UNT (2-6, 1-3 C-USA) backed itself into a corner by falling to 1-6 with a loss to Liberty two weeks ago. The Mean Green knew then that they needed to win out to become bowl eligible at 6-6.
A win over Rice was a good first step. The challenge now is to keep rolling, beginning with a game at Southern Miss (1-7, 0-4).
UNT knows it will need its best players to come through to reach that goal. Davis has been in that category for years and continued to solidify his standing as one of the best players in Conference USA last week in UNT's win over Rice.
Rice ran 12 plays in goal-to-go situations during an epic 19-play drive that was extended by by two unsportsmanlike conduct penalties on UNT in the first half. Davis was credited with four tackles on those goal-to-go plays and has continued to rack up stops.
It wasn't until after the game when he saw the figure 18 next to his name that Davis realized he had posted a career-best performance.
"KD had an awesome game," UNT coach Seth Littrell said. "A number of guys played hard and did a good job. I was pleased overall. We just have to grow from it."
UNT has shown signs of growth all season under first-year coordinator Phil Bennett. The Mean Green are allowing 33.6 points per game. That total might not sound all that impressive, but it is a dramatic improvement from a year ago, when UNT allowed an average of 42.8 points every time they hit the field.
There are a host of reasons UNT has improved, but there is little doubt Davis' contributions have been a factor. The Ennis product is in a three-way tie for second place among C-USA players with 59 tackles on the season.
Only Middle Tennessee safety Reed Blankenship has more with 64. Southern Miss safety Malik Shorts and Middle Tennessee safety Gregory Grate also have 59 tackles.
Davis has been an honorable mention All-C-USA selection in each of the last two years. He led UNT in tackles in each of those seasons and could be on his way to all-league honors again, thanks largely to the focus he has maintained during what has been a tough season.
"I give it my all every day and try to be coachable," Davis said. "I try to get better every week and focus on running to the ball. It's that simple. If you love the game, all you care about is giving it your all every time you step on the field."