Evan Frantum never paid a whole lot of attention to college sports growing up.
It wasn't until the Frisco native enrolled at the University of North Texas that he decided to expand his horizons beyond pro sports and ventured to Apogee Stadium to watch the Mean Green.
Frantum didn't realize it, but that decision helped transform him into an example of how UNT's athletics department hopes to grow its fan and donor base. He quickly became a fan of UNT's quarterback at the time, Mason Fine, then of the team and finally the school's entire athletics program.
Frantum passed on claiming the two free football season tickets UNT offers to students who graduated the previous year to join the ranks of fans who pay to watch the Mean Green. He spent nearly $700 to claim two seats near the 50-yard line after graduating in May.
"My hobbies are UNT sports," Frantum said. "It was a no-brainer on my part. I purchased tickets right in the middle of the COVID-19 lockdown because I want to be charitable to my school and the athletics program that I'm passionate about."
Finding more fans like Frantum is vital for UNT in the wake of the pandemic.
Spring sports, the NCAA men's and women's basketball tournaments and UNT's football game at Texas A&M this fall were all canceled due to the spread of COVID-19. UNT is looking at combined losses that could rise to $3.75 million due to those events being called off.
More cancellations could be on the way. The Mid-American Conference announced Saturday that it has postponed fall sports, prompting speculation that other leagues could soon follow. UNT is a member of Conference USA. The league said Friday that it plans to play all of its conference football games.
But Old Dominion, a member of C-USA, announced Monday that it has canceled fall sports, including football. The Mountain West Conference postponed fall sports later in the day.
The uncertainty the pandemic has caused makes a program's foundation vital.
UNT listed 1,411 donors in its 2018-19 annual report. The school sold 7,885 football season tickets through all avenues, including corporate sponsorships, last fall.
UNT ranked third among C-USA's 13 public schools with $40.8 million in revenue in 2018-19, according to USA Today's database on finances in college athletics. That total included $1.8 million in ticket sales. The school brought in nearly $4.6 million in financial commitments from donors that same year, according to its annual report.
Old Dominion's $47 million in revenue led C-USA and was bolstered by $3.8 million in ticket sales, according to USA Today.
UNT officials say the school has plenty of growth potential as it looks to close that gap. The school has yet to sell out Apogee, which seats 30,850. The venue opened in 2011.
UNT's best hope to build its fan base is to hook people like Frantum when they are students and convert them into season ticket holders and donors.
The school will give students and season ticket holders the first opportunity to claim seats in Apogee this fall, when capacity likely will be limited due to the pandemic. UNT also launched a ticket assurance program this summer to address fans' concerns about the status of the football season. Fans will now be able to ask for refunds, use the funds from unused tickets to pay for future tickets or convert payments to donations to the Mean Green Scholarship Fund if the season is canceled or altered.
UNT's hope is those measures will help it continue growing its fan and donor base, especially among young people.
"We are seeing an increase in every level of donor," UNT athletic director Wren Baker said. "Our fans are gaining trust in the program. They are starting out small and are getting to the point where they can give more. It's like any other relationship. You don't go from zero to 100. We are matriculating donors through those levels."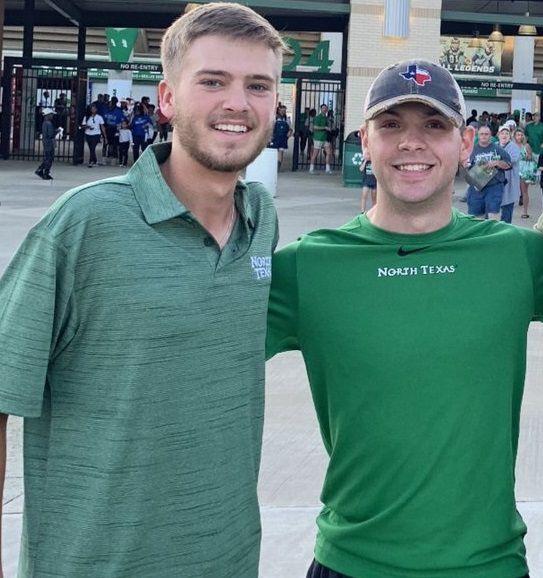 Courting the next generation
UNT has made a concerted effort to get young fans like Frantum into the pipeline. The school hosts events for freshmen pushing school spirit, promotes games on campus and, most importantly, makes attending games inexpensive.
UNT's students get into games for free.
In 2017, the school began offering two free tickets to alumni the year after they graduate. Those graduates then can purchase tickets for $55 per season for the next four years in a section of the stadium reserved for young alumni.
Add it all up, and a UNT graduate could attend every home game for five seasons for $220.
UNT adjusted its ticket pricing structure as part of a series of changes over the past four years that included renaming its donor-supported fund that was known as the Mean Green Club. It is now known as the Mean Green Scholarship Fund, a name that more clearly states its purpose.
"When we rebranded our scholarship fund, we created a couple of lower levels," Baker said. "We wanted to increase widespread participation. That has been effective."
Shea Sengelmann graduated from UNT in 2016 and is finishing up his master's degree at the school. His wife is also a UNT graduate.
"Inexpensive tickets were a big draw for sure when we first graduated," Sengelmann said. "It's a big help for people just getting started in their careers."
Inexpensive tickets help UNT officials combat the entrenched loyalties many students have when they arrive on campus.
Sengelmann's family purchased University of Texas football season tickets when he was young. Ryan Munthe, a 2015 UNT graduate, grew up as an Ohio State University fan. They are both UNT supporters now, largely because of their experiences cheering on the Mean Green.
Munthe was in the stands for UNT's win over the University of Nevada, Las Vegas, in the Heart of Dallas Bowl at the end of the 2013 season.
"At the end of the day, I'm a North Texas fan now," Munthe said. "I dropped Ohio State after the Heart of Dallas Bowl."
The numbers are on UNT's side, even if the school converts only a small percentage of its students into long-term fans. UNT has an enrollment well over 30,000.
The problem over the years is that not enough of those students were drawn in by winning teams.
UNT has posted just three winning seasons in football over the past 15 years. Too often those rare winning campaigns have been capped by disheartening bowl losses or been followed by down years.
UNT followed up a nine-win 2013 campaign capped by its Heart of Dallas Bowl win with three straight losing seasons.
The Mean Green cruised to a 9-4 regular season in 2017 but were hammered 50-30 by Troy University in the New Orleans Bowl.
UNT beat the University of Arkansas in 2018, when the Mean Green started 4-0. UNT drew 30,105 fans for a game against Louisiana Tech University, its first at home following its win over the Razorbacks.
The Bulldogs beat the Mean Green 29-27 when Amik Robertson blocked a UNT field goal attempt in the closing seconds. The Mean Green rebounded to win nine games but were trounced 52-13 by Utah State University in the New Mexico Bowl.
"For a lot of young grads, there is a frustration with the fact we have hit a ceiling," Munthe said.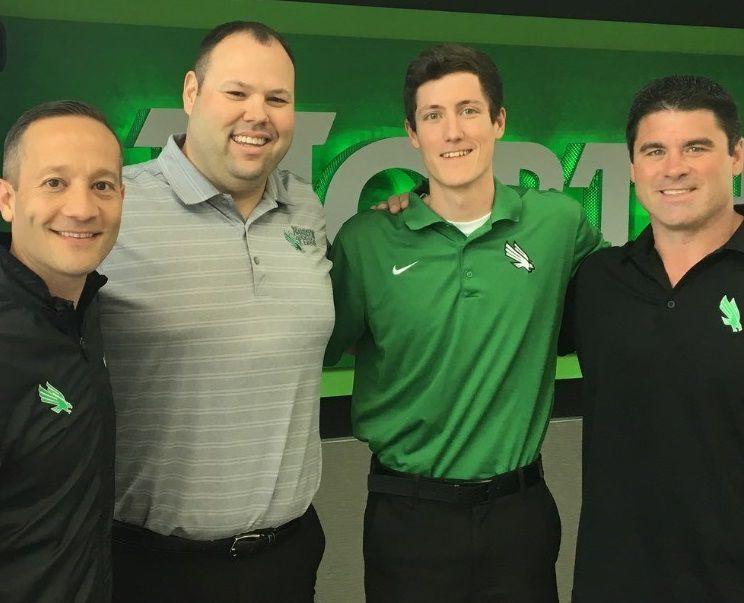 Hope for the future
UNT officials are quick to point out that while the school has missed out on opportunities to build support, the overall trajectory of its athletics program is encouraging.
The Mean Green have played in 11 bowl games in program history — four of them since 2013. The school's men's basketball team won the C-USA regular season title last spring.
Fans turn out in droves when UNT's teams are winning or hosting high-profile opponents, particularly in football.
UNT set an attendance record of 30,123 last season for a loss to the University of Houston. The top three most-attended games in program history have been played since 2018.
Those crowds have corresponded with UNT's rise under football coach Seth Littrell, who had the Mean Green on a roll with three straight bowl appearances before a down season last fall, when they went 4-8.
"There is more competition for younger people," Munthe said. "Fans will show up if you win. That's how you create die-hards."
Some of the young fans who have joined those ranks credit Baker and his staff for fostering their love of the program.
Alex Harlow, a 2018 UNT graduate, contacted the athletic department to see if Baker and Littrell would pose for a photo with him as a graduation gift. When he arrived for the shoot, men's basketball coach Grant McCasland was there to jump in front of the camera as well.
"That's the one thing that I really like about UNT," Harlow said. "You can have those types of experiences."
UNT's approach with fans also made an impression on Gavin Doolittle, a 2015 graduate.
"Baker has reached out and been open and honest," Doolittle said. "His approach resonates. He treats the guy who gives $20 a year like the donors who give $1 million."
The question now is if that approach will translate into a growing fan and donor base that will help UNT's athletic department cope with the financial stress the pandemic has caused.
Frantum set an example when he invested in the program and hopes other young fans will do the same.
"North Texas sports can be something special if people buy in and trust the process as well as the people in charge," Frantum said. "I encourage everyone to take the same position I did. Come out, support and scream for the team. It makes a difference to the people around you, the coaches and the student-athletes. You can get a lot out of it if you find ways to align with your school."