A photo of Wren Baker's daughters sat over his left shoulder this summer as he spelled out a harsh reality for University of North Texas boosters and fans from the comfort of his office.
UNT's athletic director normally delivers his annual address during the program's coaches caravan but was forced to issue a taped interview instead after the tour was called off due to the COVID-19 pandemic.
"I have been really candid in saying that people have gone through personal losses with their health and finances," Baker said. "For those individuals, all I can say is thank you for the support you have given us. If you can't do it at the same level this year, I understand. For the people who can, we need you now more than ever."
UNT has made significant gains in growing the fan and donor base Baker addressed that day.
Membership in the Mean Green Scholarship Fund has grown 30.5% from the 1,081 members UNT listed in the program's annual report for the 2016-17 school year to 1,411 for 2018-19. The school sold 7,885 football season tickets through all avenues, including corporate sponsorships in 2019, a 75.6% increase from 4,490 in 2016.
Baker and his staff also have landed five donations of at least $1 million since he arrived in the summer of 2016.
That growth has made a tremendous impact for UNT. The question now is if it's enough to offset the fallout from the pandemic.
Baker estimated earlier this year that UNT would lose up to $2.5 million due to the NCAA's cancellations of men's and women's basketball tournaments and spring sports.
And that's just for starters. The school was set to receive $1.25 million for sending its football team to play at Texas A&M University on Sept. 12, a game that has since been canceled. There is a $1 million buyout in the contract but no guarantee UNT will receive it after Texas A&M athletic director Ross Bjork said he believes a provision in the deal regarding unforeseen events releases A&M from that commitment.
Those are all significant losses for UNT, a school with an athletics budget of $39 million that is trying to improve its financial foundation.
UNT ranked seventh among Conference USA's 13 public schools in ticket revenue for the 2018-19 school year at $1.8 million, according to USA Today's database on finances in college athletics. The school brought in nearly $4.6 million in financial commitments from donors that same year, according to its annual report.
Longtime booster C. Dan Smith is confident UNT will survive the pandemic but is also concerned about its future.
"There are several donors who will pull together and help North Texas through this," Smith said. "But it's going to be the smaller contributors who determine how we come out financially.
"There are a lot of people out of work. It will be a difficult time."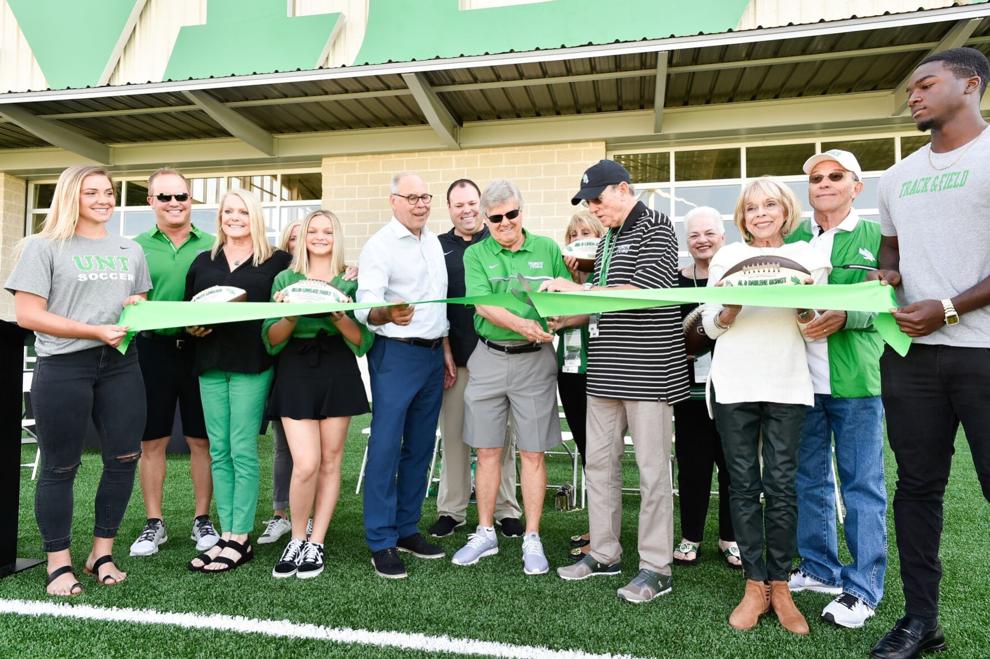 High-dollar donors fuel UNT's growth
Baker and UNT's boosters cite the slow and steady growth of the school's athletics program over the past few years as the reason for their confidence in its future.
The Mean Green played in bowl games three straight years before struggling last fall. The school's men's basketball team won the C-USA regular season title this year, while its women's soccer team has won each of the past three conference tournaments.
That success can be attributed partly to a handful of donors who have funded a series of critical facility projects. UNT opened Apogee Stadium, its $78 million football stadium, in 2011 and will play its 10th season in the venue this fall.
"Apogee has had a huge impact," Baker said. "It's rebranded the program for people who had the perception that North Texas didn't care or invest in athletics."
That change is evident in the steady flow of significant financial gifts UNT has received since.
The five seven-figure donations Baker's staff brought in fueled $45 million in facilities projects listed in UNT's 2018-19 annual report that have been completed since 2016. That total doesn't include Bruzzy's UNT Golf Practice Facility, a $3 million venue UNT broke ground on this summer.
UNT opened the Lovelace & McNatt Families Practice Facility, a $18.9 million indoor venue with a full-length football field, in the days leading up to the 2019 season. A $13.6 million soccer/track stadium debuted in spring 2019.
Those venues have sparked UNT's recent run of success and formed a solid foundation for its future.
"The new indoor facility is huge for a lot of different reasons, from recruiting, to elevating our brand and letting players know that when they come here we are going to get them what they need to be successful," UNT coach Seth Littrell said when the venue opened.
The challenge for UNT is continuing to bring in the donations that have powered its growth.
"Our donors and supporters see the momentum that our athletics program has built over the last few years and have enjoyed that success," Baker said. "They know that they are very much a part of it. Their loyalty is as strong as it has ever been."
Those donors are adamant in their support of Baker and what UNT is trying to accomplish.
The issue the program could soon face is that those donors may no longer be willing to give at the levels they have previously.
Jerome Max "Bruzzy" Westheimer Jr., a UNT graduate and businessman, recently gave the school $1.5 million to fund the golf facility that will bear his name, pushing his total contributions to the school to $5.5 million.
Westheimer said he will continue to give but plans to scale back on large donations and wonders if other donors will do the same.
"That is probably the case," Westheimer said of some of UNT's high-level donors being less willing to provide high-dollar gifts in the future. "When I started giving money, I found out that six or seven of us are giving the majority of it. I have talked to most of them. We believe it's a good time for others to step up."
He isn't the only UNT donor who feels that way.
Jim McNatt made his fortune in car sales and real estate. He and his family gave $3 million to the UNT athletics department in the fall of 2018 and followed up with another $1 million gift a year later.
When UNT officials wanted to send exercise bands to athletes after shutting down their facilities due to the pandemic, they went to McNatt again. He was happy to chip in another $6,000 to cover that cost, but he wants new donors to step forward.
"Every time something comes up, they go to what I call the circle of five," McNatt said. "The circle is worn out. We have to expand. The university doesn't want to go after someone for $1,000 a year, but that is what we are going to have to do. That person who gives $1,000 — if we can get them involved and their career escalates, they will become bigger donors. You have to start someplace. You can't go to the same people all the time."
Ernie Kuehne, another longtime donor who has given multiple gifts of $1 million to UNT's athletics department, said finding new large-scale donors is critical to the program's future.
Kuehne plans to dig deep and provide another six-figure gift to renovate the training room in the Super Pit that houses the school's basketball programs. He spoke highly of UNT's staff, including Ryan Peck, a senior member of the athletics department who plays a key role in fundraising.
"McNatt is spot on, we need smaller donors," Kuehne said. "But I don't know how you do it. Guys like Ryan Peck work so hard to cultivate donors. It's very challenging. We have a lot of fans who cannot contribute financially as donors but are very supportive of the university and the athletics program. The way they can help is to continue buying tickets."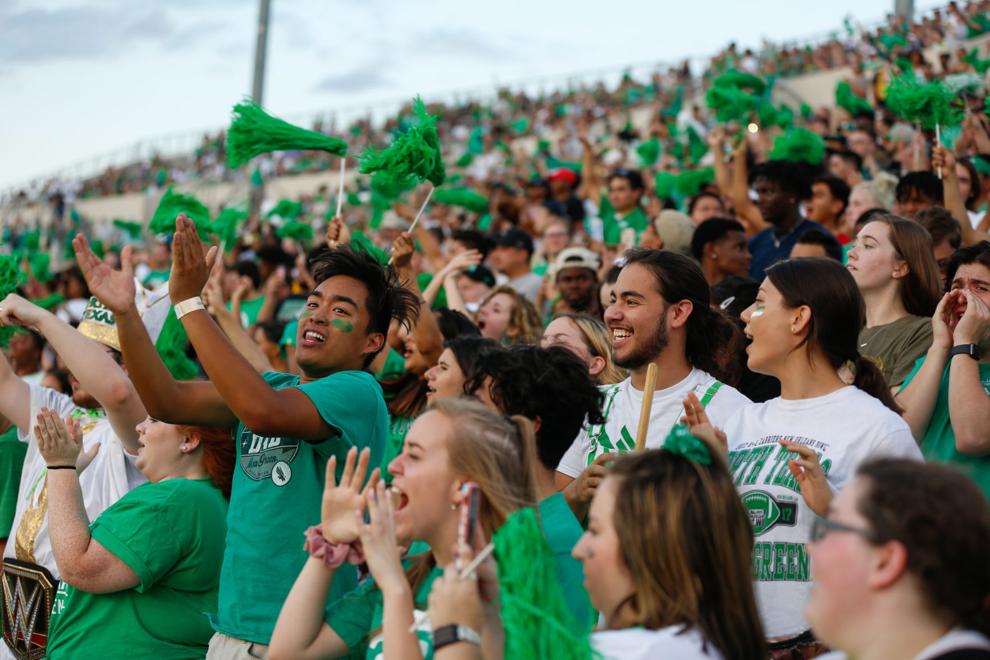 Pursuing the common fan
Kevin Cozort is the type of fan UNT is desperately trying to keep in the fold.
The UNT graduate has purchased season tickets off and on since 2011 and has donated to the university's athletics and English departments.
"It's my alma mater, and it's pretty affordable entertainment for my family," Cozort said of football season tickets. "It's turned into a good product with Seth Littrell coaching. When they built a new stadium, it became more of a draw."
UNT's recent success brought Cozort and his family back after they gave up their tickets during Todd Dodge's tenure. The school hired the former Southlake Carroll coach in 2006 in the hope that he could translate his success on the high school level to college.
Dodge went 6-37 in a little less than four seasons and was fired by then-UNT athletic director Rick Villarreal after a host of embarrassing losses, including a 77-20 loss at Rice.
"I told Rick after he hired Dodge that I couldn't do it anymore," Cozort said. "I couldn't come and watch us get beat by 40."
Cozort's experience illustrates one of the issues UNT is dealing with as it tries to grow its base of support.
UNT's football team has posted just three winning seasons in the past 15 years. The hope was that Apogee would usher in a new era of success. It has, to some degree. The Mean Green have played in 11 bowl games in 104 seasons. Four of those games have been played since Apogee opened.
UNT was riding a three-year postseason run and seemed like a shoo-in for a fourth straight bowl appearance heading into last season with star quarterback Mason Fine returning.
Nothing went right, and UNT crashed to a 4-8 finish. Home attendance fell for the first time in four years to 21,358 per game, a decline of 8.6% from a record 23,355 the previous season.
"I would love to see North Texas' program grow, but every time you think they are going to have a good team, it blows out," said Tony Barone, a 1992 UNT graduate who has purchased season tickets since 2002. "Almost all of my friends don't come anymore. We had a group of 27. There are only four left."
Barone cited a lack of consistent winning as the biggest factor in that decline. He's considering not coming to games this fall if there is a season, for that reason and others.
"What I spend my money on is a concern," Barone said. "I haven't renewed my tickets. I'm holding back to see what they are going to do. I don't want to go to a game in the heat and have to wear a face mask."
Mike Weber, a 1990 graduate, renewed his seats in the HUB Club, Apogee's luxury level. He, too, would like to see UNT's fan base grow.
Weber cited a lack of school pride at UNT as an obstacle preventing that growth.
"We don't instill it," Weber said. "It's a culture that is very hard to get past. A lot of people at North Texas root for another team or are not into athletics. I don't know what you can do to change that culture. The current athletics department is working really hard. What they need is to have a consistent program for five or six years or to have a breakthrough team that is nationally ranked."
UNT hasn't experienced that breakthrough moment that would drive dramatic growth in its fan and donor base, but the school has made significant progress in bolstering the foundation of its athletics department.
Smith has been a key part of that foundation for years and is optimistic it will help UNT's athletics program survive the pandemic.
"You have to keep pushing and fighting," Smith said. "We are going to get to where we want to be at some point. Is it going to be one year or five years? I don't know. I'm positive about athletics and the university. I just wish we could get more people excited. We need to get the alumni in Dallas and Denton involved."