Michael Gonzalez was overcome with emotion late last month after making that familiar fall into the pit at Texas A&M's E.B. Cushing Stadium.
The California native took up the pole vault back in high school and quickly grew into a prodigy of sorts. He set all kinds of records at Lodi High in California and competed for Southern Cal, a national powerhouse program.
One of the few goals that eluded him up until that plunge into the pit was earning a berth to the NCAA championships. He finally got there after sailing over a bar set at 17 feet, 10 1/2 inches at the West Preliminaries last month, his fourth appearance in the NCAA preliminary rounds.
"It was a dream come true," Gonzalez said. "It's been a long journey. I went out there thinking I was not going to not make it. Getting to nationals is something I have been fighting for over the 10 years I have been vaulting."
Gonzalez credits his breakthrough to transferring to North Texas and working with Derek Mackel, the school's longtime assistant coach who works with pole vaulters, high jumpers and multi-event athletes.
Mackel and UNT took Gonzalez in as a graduate transfer after USC cut him loose four years into his tenure in the program.
Gonzalez committed to USC for a host of reasons, including the opportunity to compete for a national track power. He focused more on fit the second time around and landed at what turned out to be the perfect place to squeeze that last bit of production out of his considerable talent.
He'll be in the field of 24 for the pole vault at the national finals that will run from Wednesday through Saturday in Eugene, Oregon.
The pole vault will take place on the first day of the meet at Hayward Field on the campus of Oregon.
"Fit was Michael's whole thing," UNT track coach Carl Sheffield said. "He felt like the pole vault was under appreciated at USC and that the program wasn't geared towards his strengths. He wanted to find a place where he could get better that also cares about the pole vault and jumping. That is exactly what coach Mackel is about. He wants guys who love to jump. They have a great connection."
Mackel has quite the history when it comes to coaching vaulters at UNT. Brock Hottel and Bailey Ashmore both set UNT records in the pole vault while working with Mackel.
Mackel found Gonzalez in the NCAA transfer portal and thought he had the potential to be his next success story.
Gonzalez quickly developed a connection with Mackel and committed to continue his career at UNT, a school he was somewhat familiar with. He originally committed to Rice, one of the Mean Green's Conference USA rivals, before changing course.
Mackel told Gonzalez he would get the attention from athletic trainers that would keep him healthy and the coaching that could help him break through and get to the NCAA championship meet.
A few months of hard work helped Gonzalez reach his goal.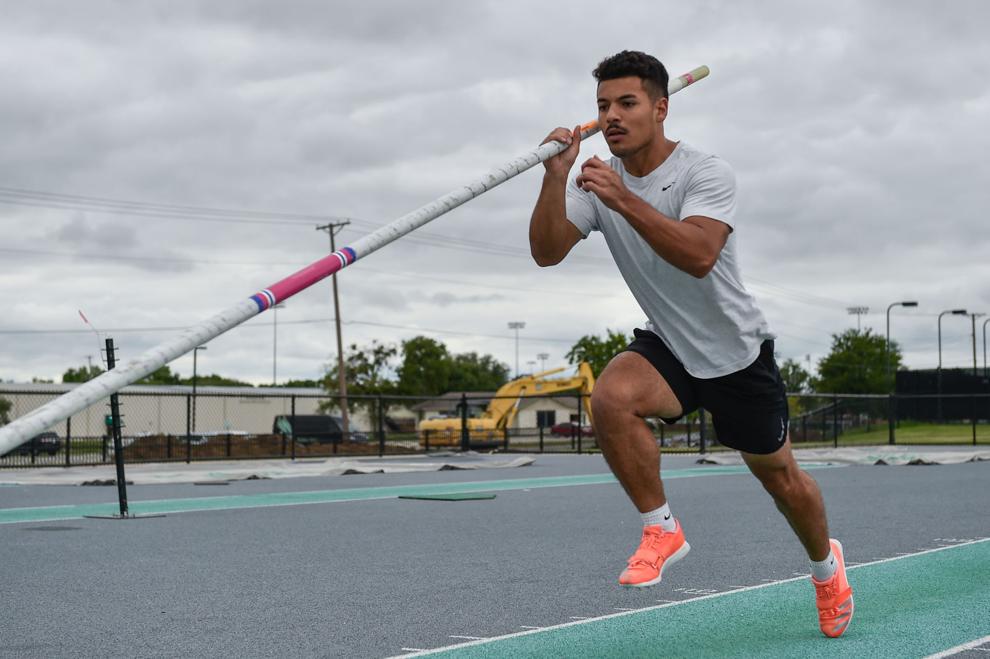 "My first goal with him was to develop consistency," Mackel said. "That took some time. It was rough. We went almost all of April going to meets without recording a height. That woke him up. He came to me, said he needed to figure it out and asked if I could help."
Mackel helped Gonzalez tweak his technique and establish a routine. Those changes helped Gonzalez improve.
"I trust coach Mackel because he has done it and knows what it takes," Gonzalez said. "I didn't have coaches I trusted at USC and took things into my own hands. After coming here, I have been able to trust my coach and let him take control of how I jump."
Gonzalez also credits UNT's trainers for playing a role in his success. This is the first season he has been fully healthy since 2015.
Texas is a different environment from what Gonzalez is used to in California. The change has been beneficial.
"It's different," Gonzalez said. "I enjoyed USC outside of track. It was an intense life socially, academically and athletically. Coming here was a step back that has let me concentrate on track."
The change helped Gonzalez break through at the preliminary meet and get to the national finals, the one barrier he couldn't break at USC.
Mackel believes Gonzalez has a chance to continue his rapid improvement at the NCAA finals this week. Gonzalez can earn first-team All-American honors by finishing in the top eight.
"I think he can go 18 feet," Mackel said. "We have to come into the meet humble. If we do that, the bars will come."
Gonzalez has enjoyed his time working with Mackel at UNT so much that he has decided to come back for the additional season the NCAA offered athletes due to the COVID-19 pandemic.
"I want to keep jumping," Gonzalez said. "We are going to keep doing the exact same thing I'm doing now. We're going to load the gun and let it fire [at the national finals]. I want to jump high, become an All-American and enjoy it."