Conference USA opponents have been trying to figure out for years how to beat North Texas at the Super Pit.
The only team that has had any luck — at least lately — has been Louisiana Tech. The Bulldogs were the lone team to topple the Mean Green in their last 19 home games heading into the opener of a conference series between the teams at UNT on Friday night.
It certainly looks like the Bulldogs know something everyone else doesn't after they escaped the Super Pit with another win, this time a 68-63 victory.
Louisiana Tech stormed back from a nine-point second-half deficit and dealt UNT a blow to its hopes to repeat as Conference USA champions.
"It's kind of like playing ourselves a little bit," UNT coach Grant McCasland said of facing Louisiana Tech. "They are physical and can score in different ways. They have an inside-out attack. It always seems to come down to a couple of possessions."
That was the case yet again in the closing seconds. UNT trailed by three after Exavian Christon made one of two free throws with 21.1 seconds left to give Louisiana Tech a three-point lead.
UNT got the ball to Javion Hamlet, who drove into the paint before turning the ball over with 12 seconds left. The Mean Green had one last chance after JaColby Pemberton missed a pair of free throws and got the ball to JJ Murray, who missed a 3 with 10 seconds left.
Pemberton capitalized on a second chance at the line, hitting two free throws to ice the game and end UNT's four-game winning streak.
UNT couldn't get anything going offensively after Rubin Jones hit a 3 to give the Mean Green a 56-49 lead with 8:04 left.
"We missed shots and didn't get stops late," Jones said. "We got the looks we wanted. We just missed them."
The Mean Green will look to bounce back at 1 p.m. Saturday in the second game of the series that looms large after UNT dropped the opener. The Mean Green are in a three-way race for the C-USA West Division title heading into the stretch run of the season.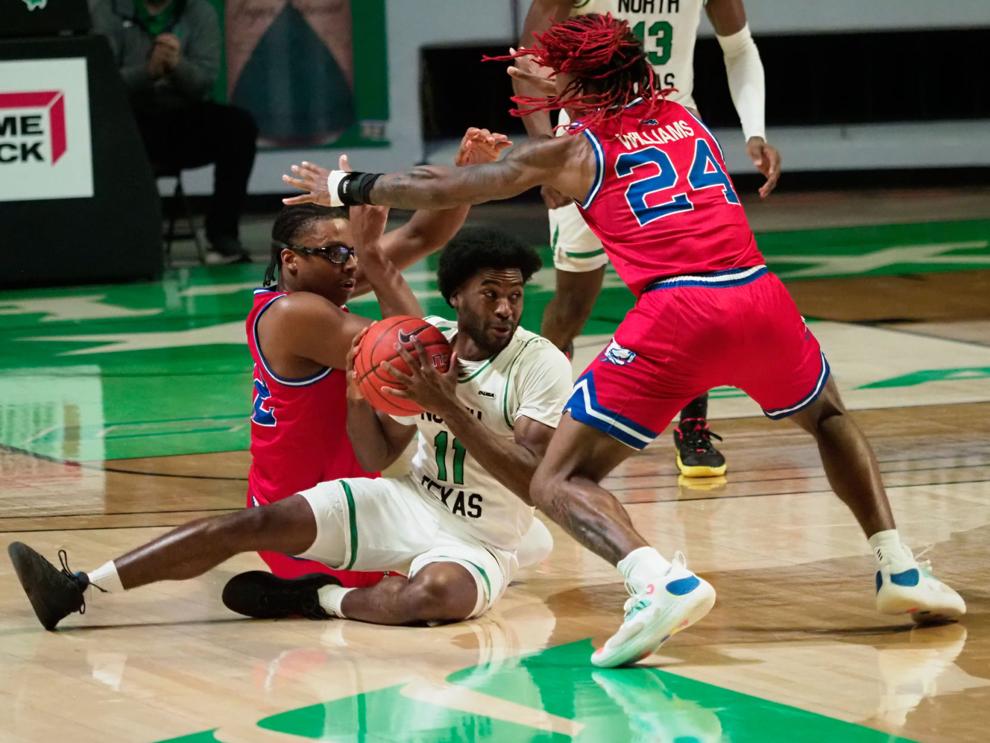 UNT (9-6) is 5-2 in conference play. UAB improved to 8-1 in conference play with a win over UTEP on Friday. The Bulldogs (15-5) are now 8-3 in C-USA and jumped over UNT into second place in the conference standings.
"This hurts but we have to get over it quickly," UNT guard James Reese said. "We have to talk more and do the little things."
Slowing down Louisiana Tech's forward duo of Isaiah Crawford and Kenneth Lofton would be big step in the right direction. Crawford scored a game-high 27 points, while Lofton posted a double-double with 14 points and 10 rebounds.
"Crawford made some 3s early and made us guard him," McCasland said. "Once we did, he drove and went over the top of us and got to his spots."
UNT didn't have enough firepower to overcome Crawford's big night. Thomas Bell scored 17 points to lead three Mean Green players who finished in double figures. Reese added 12 and Jones 10.
UNT was forced to lean on that duo after the Bulldogs shut down its top scorers. Point guard Javion Hamlet finished with seven points, while forward Zachary Simmons managed six on a night he tallied his 1,000th career point.
Hamlet came into the night averaging a team-high 13.9 points per game, while Simmons was adding 10.7.
"They packed the paint and made Javion pass it. They bottled him up," McCasland said. "I have a lot of faith in Javion. He will be fine."
McCasland and his players said they will have to be tougher if they are to bounce back Saturday against the Bulldogs.
"They got to the free-throw line more, got more offensive rebounds than we did and won points in the paint," McCasland said. "That is the name of the game. They were more physical and got to loose balls."
Louisiana Tech came away with another rare win over the Mean Green in the Super Pit as a result.
Louisiana Tech 68, North Texas 63
LOUISIANA TECH (15-5, 8-3) – Lofton 7-10 0-4 14, Pemberton 0-4 2-4 2, Crawford 12-15 0-2 27, Archibald 2-4 0-0 5, Williams 4-7 2-2 11, Ledoux 1-4 2-2 4, Christon 1-3 1-2 3, Gordon 1-4 0-0 2, Armstead 0-2 0-2 0. Totals 28-53 7-16 68.
NORTH TEXAS (9-6, 5-2) – Bell 7-11 1-1 17, Simmons 3-5 0-0 6, Reese 5-12 0-0 12, McBride 2-6 0-0 5, Hamlet 3-8 0-0 7, Murray 1-3 2-2 4, Lewis 0-2 0-2 0, Jones 4-7 0-0 10, Ousmane 0-0 2-2 2, Jackson 0-0 0-0 0. Totals 24-54 5-7 63.
Halftime – UNT 32-29 Three-point goals – Louisiana Tech 5-17 (Pemberton 0-4, Crawford 3-3, Archibald 1-2, Williams 1-3, Ledoux 0-1, Christon 0-2, Armstead 0-2) UNT 8-25 (Bell 2-4, Reese 2-8, McBride 1-5, Hamlet 1-2, Murray 0-2, Lewis II 0-1, Jones 2-3) Fouled out – Bell Rebounds – Louisiana Tech 32 (Lofton 10), UNT 28 (Simmons 6) Total fouls – Louisiana Tech 12, UNT 18. A – 1,535.