Phil Bennett was in the formative stages of his tenure as SMU's coach back in the early 2000s when he went to his athletic director Jim Copeland with a request.
Bennett was fed up with the daunting task of opening each season with games against major conference teams as he tried to rebuild SMU's program. The Mustangs faced Texas Tech and Oklahoma State in each of the first three seasons of his tenure that began in 2002 and traveled to Texas A&M in his fourth.
"We had no chance the first couple of games," Bennett recalled this fall. "Jim and I talked about it. I told him, 'Let's go regional.'"
That request was the first step in the long-forgotten story of the revival of the North Texas-SMU series that will once again take center stage on Saturday at Ford Stadium in Dallas, this time with Bennett on the Mean Green's sideline.
Bennett came out of retirement this year to serve as UNT's defensive coordinator.
Back when he was on the other side of the UNT-SMU rivalry, Bennett thought SMU playing UNT was natural and had an old friend who felt the same way in Darrell Dickey.
Dickey was UNT's coach when Bennett suggested reviving the UNT-SMU series. They were assistant coaches together at LSU from 1991-93 and remain close friends.
Both played a role in the renewal of the series that will bring back memories once again when the teams meet this week.
Bennett spent six seasons at SMU before his tenure ended in 2007.
"The people at SMU are great," Bennett said. "The fans who stuck with the team through the death penalty were loyal. There were not as many of them as when it was rolling, but the people there wanted success."
SMU's desire for more winnable games was a factor in the school reviving its on-again, off-again series with its neighbor 40 miles to the north. The teams first played in 1922 but have met just 40 times. SMU leads the series 33-6-1.
The politics of college athletics and scheduling issues have gotten in the way at times since.
The schools agreed to an extension of the series this summer beginning in 2030.
That agreement will leave a four-year gap in the series beginning after the 2025 season. UNT officials said the break is due to other series filling available dates, making it impossible for the teams to play from 2026-29.
There was a 13-year gap from the 1992 season to 2006, before Bennett, Dickey and the schools' administrators agreed to play again.
"I talked to Darrell about it," Bennett said. "He thought the same thing I did, that the teams should play."
UNT officials and supporters weren't the ones Bennett needed to convince. UNT had wanted SMU on its schedule to bolster its exposure in the Dallas area for years.
Former UNT coach Matt Simon famously said in 1994 that his team would play SMU anywhere, including a Safeway parking lot.
That challenge didn't move the series any closer to being revived. Bennett going to Copeland with the idea of playing UNT helped get the ball rolling.
The schools announced a home-and-home series in 2005, when Dickey cited his friendship with Bennett as a factor in the teams agreeing to meet in each of the next two years.
"Our families have always been close and continue to be close," Dickey said. "He is a great coach and, more importantly, a great person."
"It's only natural that North Texas and SMU should be playing each other every year. It will create a lot of excitement for both teams and fans. They deserve to be a part of such a special rivalry."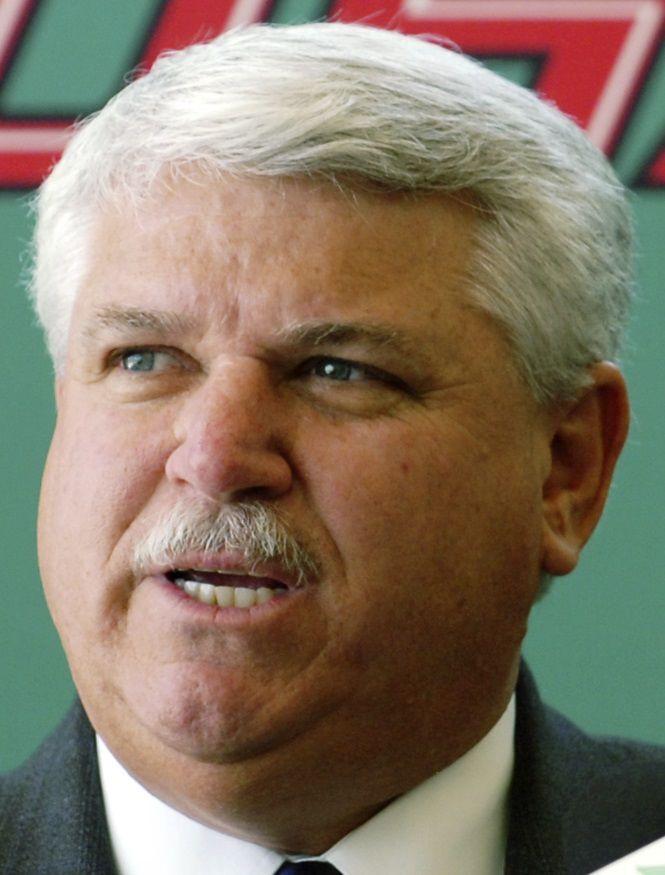 Former UNT athletic director Rick Villarreal also played a key role.
"There is such a tremendous history between the two schools, and it was disheartening to fans and alumni that the rivalry had become dormant," Villarreal said when the series was revived. "It has always been an effort of ours to renew the series with SMU."
Bennett remembers taking plenty of heat from SMU fans for his role in the return of the series.
"A lot of SMU people got mad at me," Bennett said. "They didn't want to play North Texas."
He was aware then of the animosity that a lot of UNT fans have for SMU due to the cultural differences between the schools. UNT is a public school with more than 40,000 students, while SMU is a private school with an enrollment of just over 12,000.
"I sort of knew that North Texas fans didn't like SMU," Bennett said. "SMU was always like that for a lot of people who thought the people at the school were uppity. I never thought SMU people were like that."
The administration and coaching staffs at UNT and SMU have changed since Bennett and Dickey were guiding the schools' programs. Dickey is now the offensive coordinator at Texas A&M.
Seth Littrell took over UNT's program before the 2016 season. UNT athletic director Wren Baker arrived just before Littrell's first game with the Mean Green that fall. Sonny Dykes took over at SMU two years later. Copeland retired in 2006 and died in 2010.
Baker and Littrell have a take on the series that isn't any different from the stance Bennett and Dickey took years ago.
"It's absolutely good for college football with the schools as close as they are for North Texas and SMU to play," Littrell said. "Having those opportunities to play year-in and year-out and compete for bragging rights across the city is important."
UNT's players are certainly looking forward to the opportunity.
"There's always animosity built up going against SMU," UNT senior linebacker Tyreke Davis said. "The tension is definitely there."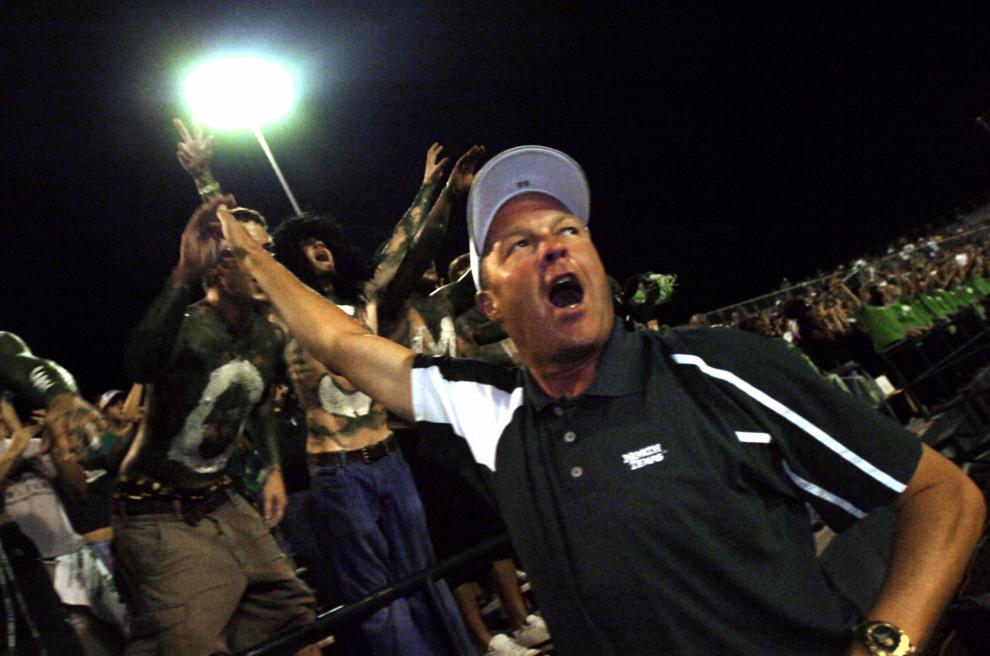 That was certainly the case when UNT and SMU met for the first time after Bennett helped revive the series. The Mean Green and Mustangs met in Denton in 2006 for what turned out to be one of the more memorable nonconference games in recent UNT history.
Johnny Quinn caught nine passes for 132 yards and Jamario Thomas rushed for 90 yards and a touchdown for the Mean Green.
Former Ryan quarterback Justin Willis was in his freshman season at SMU that fall and struggled against his hometown team. UNT rolled to a 24-6 win. The Mean Green's players carried Dickey off the turf at Fouts Field following one of UNT's rare wins in the series.
"I remember being madder than hell after they carried Darrell off," Bennett said.
Bennett and SMU came back to beat UNT 45-31 the following year. The Mean Green were in their first season under Todd Dodge. UNT fired Dickey, who went on to finish 3-9 after beating SMU in the last of his nine seasons at the school.
UNT and SMU went their separate ways following the 2007 campaign, Bennett's last year at SMU.
It wasn't until 2014 that the teams met again. They've played every year since.
As far as Bennett is concerned, that's the way it should be.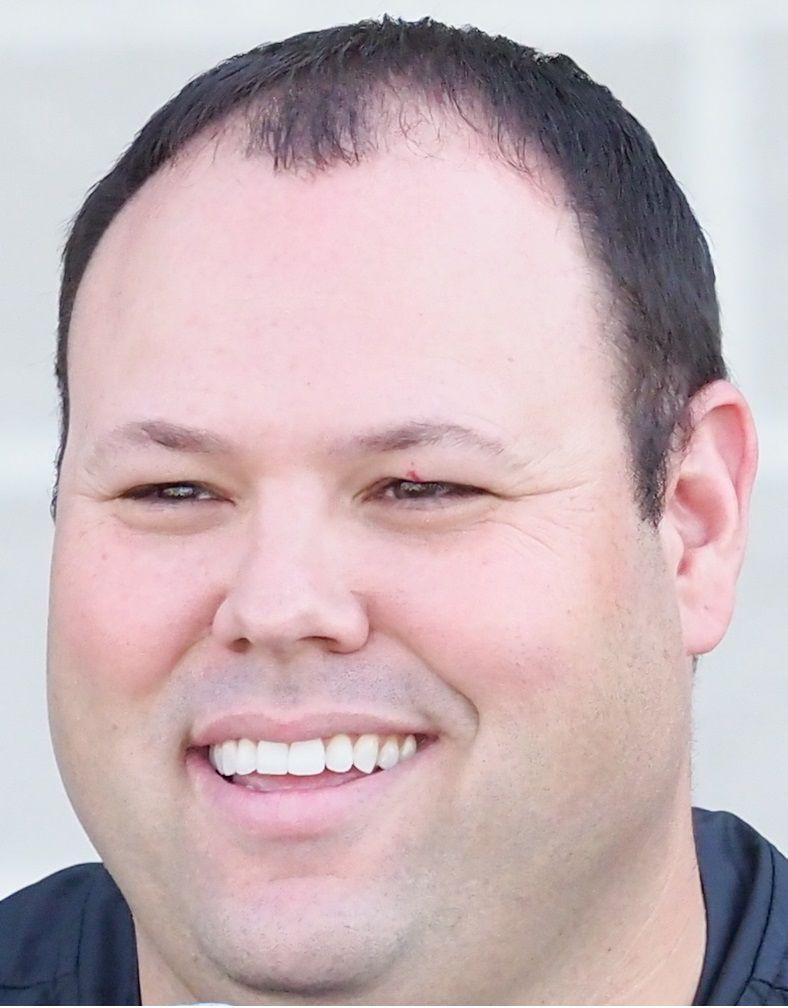 Baker has a similar take. He played a key role in the schools agreeing to extend the series Bennett helped revive this summer.
"It's good for both universities," Baker said. "Fans are hungry for rivalry-type games with programs they know as opposed to playing a team 2,000 miles away. While it may not always work to schedule the series as a nonconference game every year, it's important to keep the game on future schedules. It's a game that both fan bases and greater DFW have interest in."