North Texas began the process of rebuilding its defense during the opening session of spring practice on Monday.
New coordinator Phil Bennett hit the field with a whole new batch of defensive assistants and a few key additions in terms of players.
UNT coach Seth Littrell couldn't have been happier with the chemistry he saw, despite the fact the Mean Green were short arguably their most important defensive player.
Defensive tackle Dion Novil is recovering from undisclosed physical issues and will miss spring drills.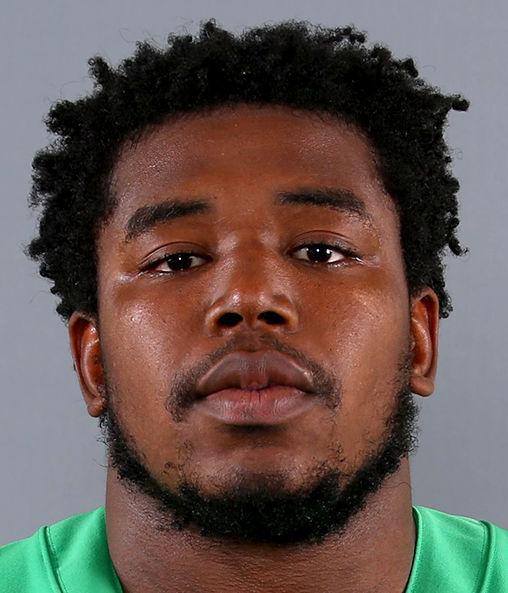 "Our energy and effort were really good," Littrell said. "I was excited to see the defense come out and actually do a lot better than I thought with it being day one install for them.
"I thought they did a great job of communicating and the coaches did a great job of getting those guys in position. The effort and energy were there all the way around."
Littrell brought in Bennett to revamp a defense that allowed 42.8 points per game last season. Bennett said earlier this winter that he will use multiple fronts. The Mean Green are expected to base out of a four-man look.
Novil played the nose in a 3-3-5 scheme last season. Bennett said he would like to see the senior drop weight and improve his quickness and agility.
Novil would have had the chance to begin adapting to a new role in spring. He'll have to wait until the fall now.
That isn't a significant concern for Littrell.
"Dion has a lot of experience, and he's very smart," Littrell said. "He'll be able to get there when the time comes. The important thing is that he heals up, can get his body back right and stay and stay in shape."
KD Davis will also be a key part of UNT's plans to make a big jump defensively. The junior linebacker led the Mean Green with 75 tackles last season. He was encouraged by what he saw on the opening day of spring drills.
"We focused on paying attention to detail, new techniques and going over the new defense," Davis said. "We looked at the four-man front and different coverages and gaps that we've got to fill. Coach Bennett is a great coach. He expects a lot out of us. His intensity is very high."
That energy could help UNT as it looks to bounce back from a tough outing in the Myrtle Beach Bowl. Appalachian State rolled past the Mean Green 56-28.
"There was a lot of intensity on both sides," running back DeAndre Torrey said. "As an offense, we were feeling out the new defense with four linemen."
Novil will be a key component of that line when he returns to UNT's lineup in the fall. The Abilene native finished with 8.0 tackles for loss and 2.5 sacks last season when he was a first-team All-Conference USA selection.
Novil was the UNT's lone first- or second-team All-C-USA selection on defense in 2020. The Mean Green are hoping to see a host of other players step forward to bolster their defense over the course of spring.
"I know our defensive guys are really, really excited about the system and coach Bennett and his staff," Littrell said. "You can really feel that that new energy. They were bouncing around today and having fun with it."
Shorter back, is fully healthy
Wide receiver Jyaire Shorter is participating in spring practice after missing the final seven games of last season due to an undisclosed injury.
"He's worked extremely hard and is back to full go," Littrell said. "He worked hard in the offseason just getting that leg back and ready.
"I thought today moved around very well."
Shorter caught four passes for 97 yards in three games last season. He was expected to be one of UNT's top threats after finishing with 24 catches for 473 yards and nine touchdowns in 2019.
Torrey thrilled to be back
Running back DeAndre Torrey is one of a handful of UNT players who elected to return for a second chance at their senior seasons after the NCAA granted fall sports athletes an additional year of eligibility.
Torrey led UNT with 656 rushing yards last season. He cited a host of reasons for his decision to return.
"I just love being a part of the Mean Green football team," Torrey said. "I wasn't ready to hang it up yet.
"I am trying to pursue a career to the next level. Now I wanted to come back and help my coach win another championship."
Briefly ...
Cornerback Upton Stout is still working his way back from injury and is not yet at full strength. Stout finished with 35 tackles and three pass breakups last season.