Anterrious Gray felt like he did everything necessary to earn an opportunity to play at the major college level.
The monstrous Mississippi native excelled in high school and at Northwest Mississippi Community College, where he started every game since his freshman season.
The 6-3, 325-pound sophomore finally picked up his first offer from a Football Bowl Subdivision program in the last few days and jumped all over it when he committed to North Texas on Sunday following a weekend visit.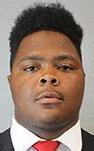 "It looked like a brand-new campus," Gray said. "I felt at home and like I belonged while I was there. Everyone treated me like they already knew me and that I was already a part of the program. That made me feel wanted."
The feeling of being wanted was especially important to Gray after he waited weeks for his first FBS offer.
Northwestern State and four schools that compete in the SWAC — Southern, Alcorn State, Jackson State and Prairie View A&M — also offered Gray a scholarship.
"I felt kind of down when I didn't get an offer from an FBS team," Gray said. "When UNT offered, it made my whole week."
Gray has two seasons of eligibility remaining and will enroll at UNT at the midterm break. UNT defensive line coach Marc Yellock recruited Gray, who got to know offensive line coach Chuck Langston later in the recruiting process.
UNT senior offensive lineman D'Andre Plantin hosted Gray on his visit.
"Coach Langston looks at you as a member of the family," Gray said. "I felt like he cares about his players outside of football. He was texting while we were on our visit making sure that we were OK."
Langston and the Mean Green entered the offseason looking for help along their offensive line after losing four starters.
Guard Manase Mose was the lone starting offensive lineman on UNT's depth chart heading into its season finale against UAB who is set to return.
Gray believes he is ready to contribute right away and help UNT rebuild its offensive front.
"Playing junior college in Mississippi helped prepare me," Gray said. "It's pretty tough league. Everyone is playing with a chip on their shoulder and has the same goal. No one wants to play two years down there and then not make it any further."
Gray is the first junior college player to commit to UNT among the 18 players who are set to join the Mean Green's class. The early signing period begins on Dec. 18.
UNT has hosted multiple junior college players on visits over the last several days and is expected to add several more transfers as it looks to bounce back from a tough season.
The Mean Green finished 4-8 and failed to earn a bowl berth for the first time in four seasons under coach Seth Littrell.
"It's a great idea," Gray said of UNT adding junior college players to its roster. "They told me that they don't have many older guys and had a lot of bad injuries last season. Getting guys with experience on the college level will help the team bounce back."